SakuraLive.com - delivering sexy Japanese babes to a PC near you!
Nice to see you here again, my cam-loving pals. Ready to take another exotic trip to the erotic East? Yep, I'm about to whisk you away to another oriental style web cam site. For the site I'm going to review for you today, I'll be telling you all about my experiences at SakuraLive.com. I hope you're in a positive frame of mind, because if you've come here for gushing praise and ecstatic applause, then you ain't gonna find it! I am a sex cam expert you know, as it says on my tin, and I know at which sex cam sites you're gonna enjoy yourself, and where you're gonna get frustrated and annoyed, and maybe even be left out of pocket!
I had to do a tiny bit of research to find out what "Sakura" actually means, although there are a few clues in the site's design if you look at the screen grabs I've taken. I've seen news reports about spring in Japan where all trees get covered in cherry blossom, and those good Japanese folk get all excited when they do, and probably romantic as well. The Japanese name for cherry blossom is "Sakura", which is where this site purloined its moniker from. The site has been around a long time - well over a decade in fact. It has the same kind of functionality as DxLive.com, and reminds me a lot of AsianWebCamModels.com as well, but I ain't been able to find a definite connection, but it seems very likely. That's the bones ... let's get on with the meat.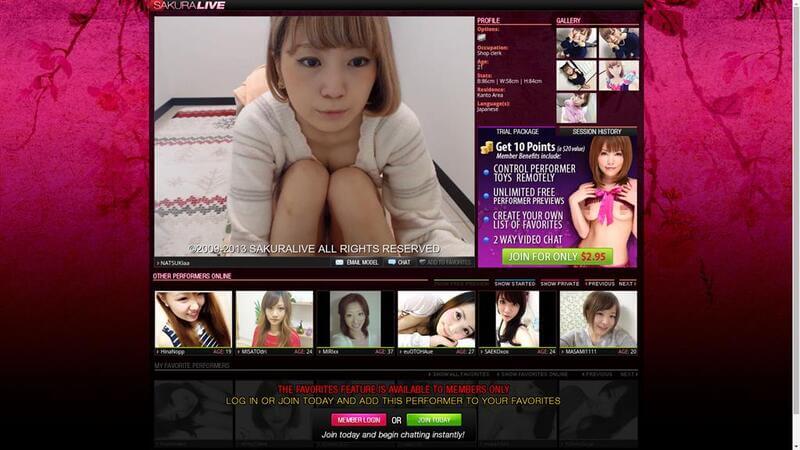 What do I think?
You get a nice enticement into the site, with an "are you over 18" page featuring four of the hottest, sexiest Japanese models you're likely to find anywhere. Unfortunately, that's about as good as things get here.
The site initially does not look too bad. There are plenty of models to choose from (it seems), and you get a sneak preview of some of them via a cam in the top left hand corner of the screen. This switches from cam to cam repeatedly, and you end up seeing much more of the spinning buffering circle than the models themselves. By functioning in this manner it shows you that most of the models sit with their face off-camera, as seems to be the norm with Japanese cam models. There's also a free "Chat Translation tool" which acts as another warning ... if you need to translate your chat, how satisfactory is the experience going to be? Why not head to a different site where at least some of the Asian cam models CAN speak English?
The menu along the top allows you to purchase points (SakuraLive.com is another Asian cam models site where credits are called "points"), read the FAQs (which are not exactly helpful), use the search facility, view some free videos (of which there are ... five), read the "how to" page (which you shouldn't need to if you're a sex cam expert!) or use the support options.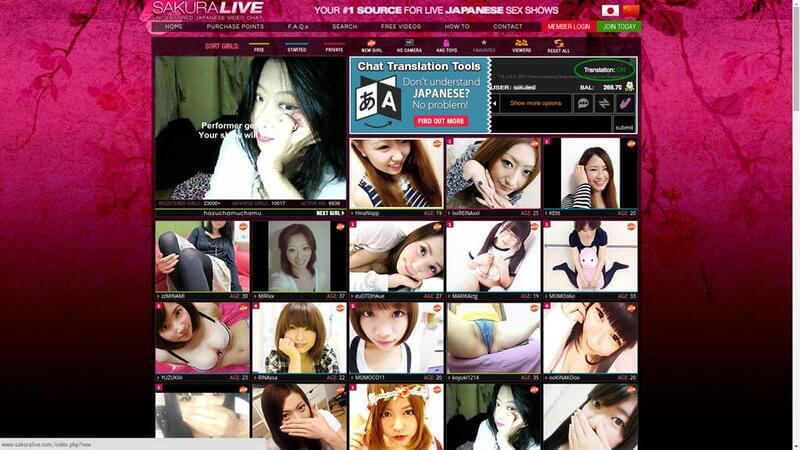 The second menu has sort options. You can filter by the kind of show the model is currently performing, or whether she's a new girl, has HD, or has sex toys you can remote control. You can also sort by the number of viewers currently in the Asian sex cam model's room - there's a number in the top left hand corner which tells you how many viewers are in each cam room.
The selection process is a bit complicated (I hope it's not just me!). If you find a sex cam babe you like the look of, you can use your mouse pointer to select. A slider pops up telling you what languages she can speak (mostly just Japanese) and the number of viewers in her room. You then have to wait from the little preview to load before you can go to the cam screen itself.
This is another pop-up, and if you can chat to the model (see later) then the chat applet pops up in another pop-up! I ain't no fan of pop ups I can tell you! From the cam room you get a little bit of extra info, but not a lot else.
Some little extras
The actual ability to chat is considered as an "extra" here! it's only available to paid-up members, and you are expected to pay for ALL chat. Freeloaders only get a 20-second free preview. Paid-up members also get the chance to enjoy unlimited free previews (but still no chat), to have cam-to-cam chats, to control sex toys and to create a favourites list.
Registration
Ah ... registration here is not free. It costs $2.95 to register, and you get ten points (worth $20) for doing so. You fill in your screen name, password and email address as usual, but then you need to register a credit card and pay the fees to continue. No card, no membership, and no chat.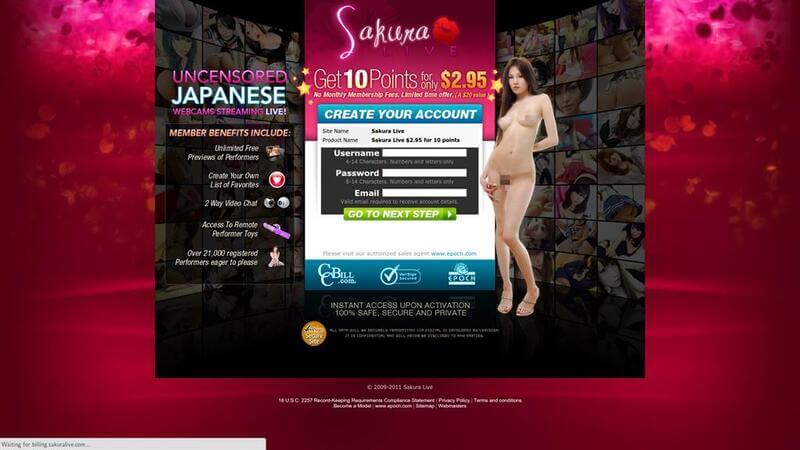 How to chat
ALL chat costs one point ($2). Private chat is half a point ($1) extra, as is using the remote control sex toys. You can also send messages to your top Japanese cam models for one point per message.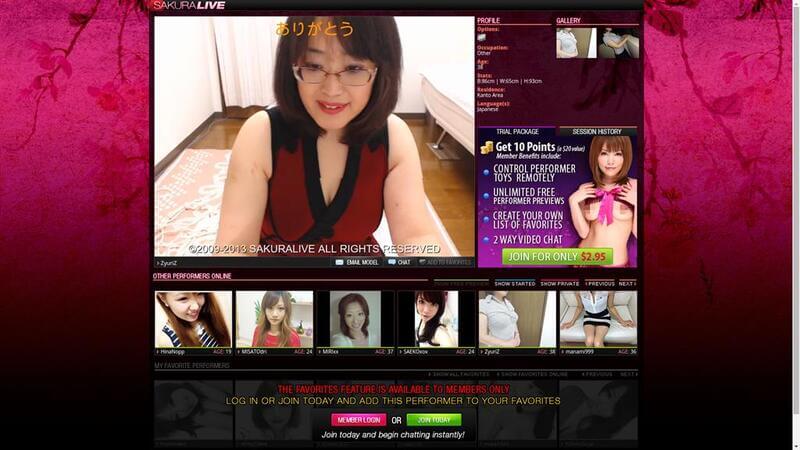 What's the video quality like?
From what I have seen of them, the vast, vast majority of the cams seem to be spot on, although the HD - though definitely sharp - could be a bit smoother. You only seem to be able to tell if an x-rated cam performer has HD by turning the HD Camera filter on.
Money, money, money
One point costs $2. There is no information on the site about the size of the "points packs" you can purchase.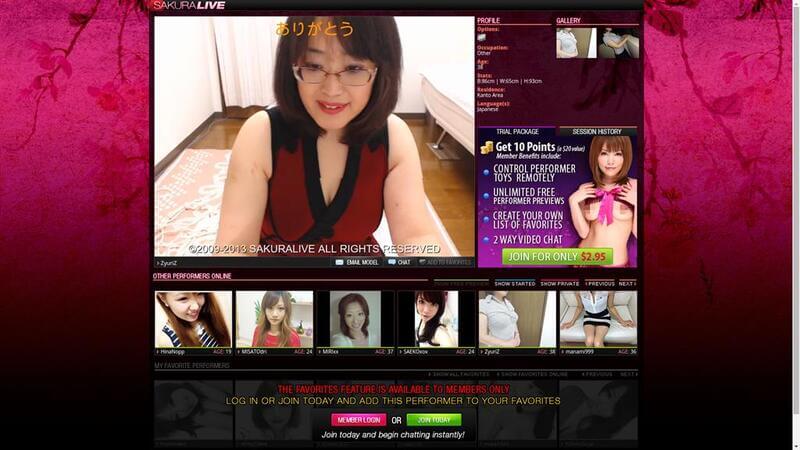 How to pay
Credit cards only - take your pick from Visa, MasterCard, JCB or Discover.
The number of models
The site has over 23,000 registered models. Over 10,000 of them are Japanese sex cam models, and just under 7,000 have HD cams. Despite such impressive numbers it's very difficult to work out how many actually are online. Several times you'll enter a cam room, wait for the buffering to stop, then get the message "Performer is not online".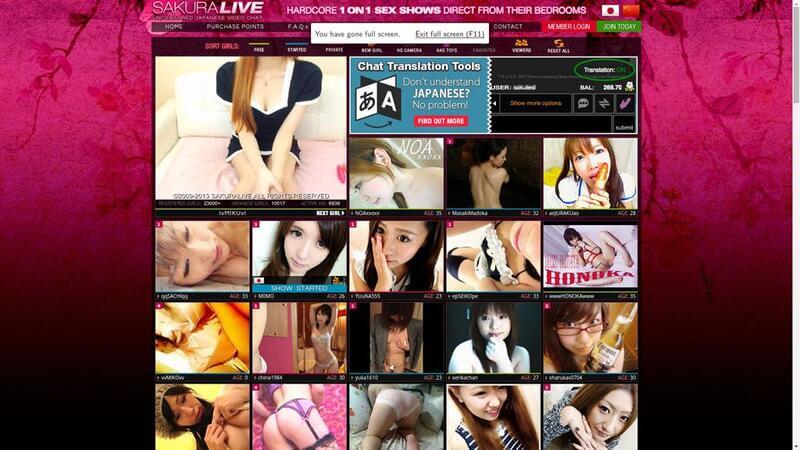 Customer service
Contact web form, and contact web form alone.
Thumbs up and thumbs down
Thumbs up
✔ - If you're willing to stump up the cash, then the standard of the cams is very impressive
Thumbs down
✖ - Models tend to ignore you if you can't chat in Japanese
✖ - Not enough information on the site
✖ - You select a model who is up for "free chat" only to find out she is not online
✖ - You can only join if you register a card
My considered opinion
You go use this site if you want, but I recommend that you go elsewhere. Try DxLive.com or LiveAsianWebCams.com for the same thing, but with more chance of a satisfactory experience.
Review of SakuraLive.com
- Reviewed by
sexcamexpert.com