GenderBenders.com - the shemale-only version of Flirt4Free.com
Come on in, don't be shy! I'm kinda guessing if you've found this particular part of my site then you're the kind of guy or gal who likes to see folk who are doing a little bit of bending when it comes to their gender. Well, if that's true, then you're definitely in the right place as the Sex Cam Expert (that's me, by the way, or should that be Cam Sexpert?) is about the educate you in the ways of yet another excellent cam site I've uncovered on the shemale side of the sexy web - namely GenderBenders.com. Sorry - I just can't say the name with giggling, especially because if I called one of my mates a gender bender I'd get a punch up the throat! Not that I have anything against transsexuals as it takes all sorts to make an interesting world, and what anyone wants to get up to with their genitals (unless it involves an unwilling participant) is no one else's bloody business!
I might have to crack straight on with this review as there's not a lot that can be determined by hunting around the web about GenderBenders.com. It's been around since 1997, I know that as much, but other than that - almost zilch. The site don't allow archiving so that's that option out of the way, so I've no idea just how long GenderBenders.com has been a tranny sex chat site. I do know that the company behind it is based in the US - in sunny California to be exact. Some adult chat sites such as GenderBenders.com tends to hide away personal details like that, but this site ain't shy! They even give you a business address so you can go right up and knock on their front door if you want!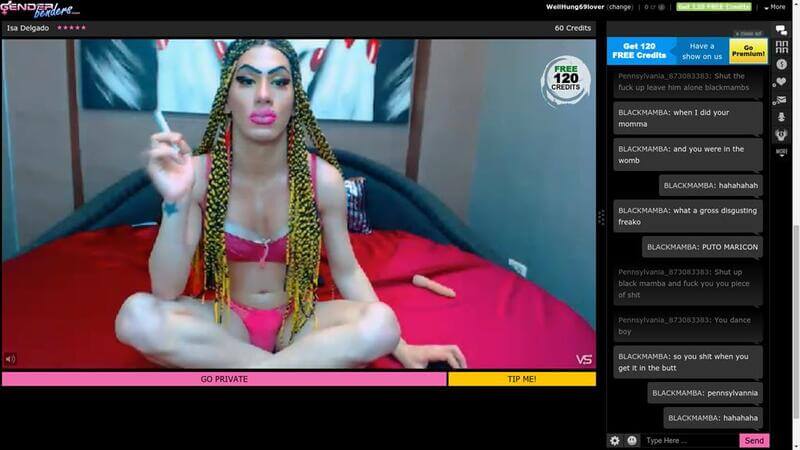 What do I think?
Right, so I promised I would get cracking straight on with the review, so that what I am going to do. There really is one thing that sticks out like a thumb with a nail through it at GenderBenders.com, and it's not the folk who are doing the bending. Well, I guess it is in a way, as there are so few of them. And I mean few, as in hardly any! When I first went on the site I was flabbergasted to see only FIVE models were on the site. Surely this was a bit of a cock-up by myself? I kept checking for a whole day, and the most models I ever saw there was seven! Wow - that's really unimpressive stuff, don'tcha think? I thought it might be because I wasn't registered, so I went ahead and registered, but that didn't change a thing. Perhaps you have to be a paid up member to see the 17,000 or so models GenderBenders.com claims are registered at the site, or a VIP?
Anyhow, the-set up of the site seems perfectly adequate, although an "unhide" models button may have been an improvement! There are two menus at the top and bottom of the landing page. The top menu has the following options:
Live Chat - start a freemium chat with a random shemale sex performer
Videos - a large selection of videos you can watch if you pay for the privilege
Profiles - you can search through 17,000+ tranny sex cam models
VIP - details of what's available if you can afford the $39.99 a month VIP fee
Support - email, phone numbers and even an address!
Join FREE - sign up to become a member of the site
There are a few more options at the bottom of the page, such as access to the site's FAQs.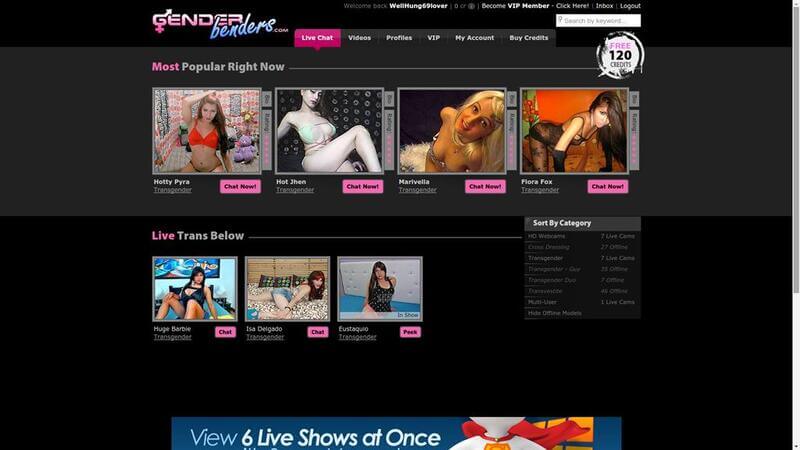 If you hop across to a free cam chat session (if you can find one) you can chat happily away for free for as long as you want ... as long as it is under two minutes and the sex cam tranny (the site has both transsexuals and transvestites) hasn't pre-emptively banned "Basic" members (i.e. ones who ain't bought any credits yet). Basic members only get around two minutes of free chat every 24 hours. To move beyond basic you need to register your credit card, or sign up to become a VIP. The chat room software seems fairly typical, although there's quite a bit of advertising, including random messages in the chat window itself.
Some little extras
The site does have extras, although you have to become a VIP to get your hands on them. VIPs can record the shows they pay for, and have access to some premium content, such as videos and photos. I also hope VIPs get the key to the door behind which all the sex cam shemales have been locked!
Registration
Easy as pie. Click on the "Join FREE" button and the vision of loveliness you can see below will appear as if by magic. Fill in your Club Nickname, Password and Email address and you're all set. No need to register a credit card at this stage if you're still trying to get as much out of the site as you can for free.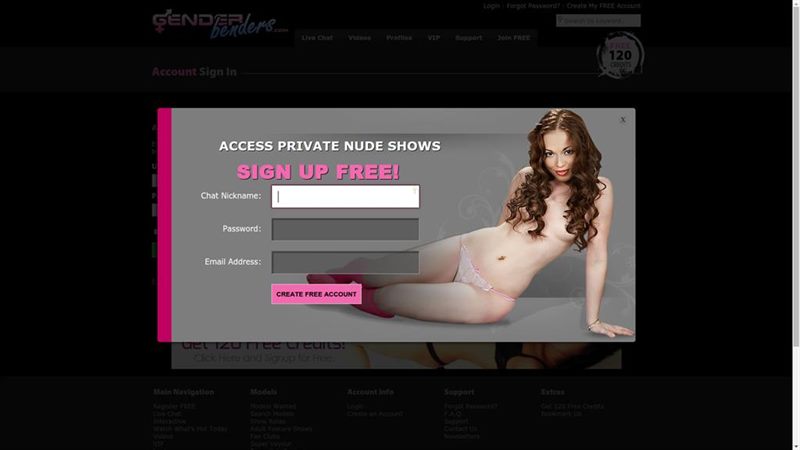 How to chat
Already told you about the "free" chat, and there are three types of "private" chat:
1on1 - the normal private chat, although some of the models seem to charge a helluva a lot to go private.
Groups - the model puts up a set price, and invites people to contribute. Once the target is reached, everyone who contributed can enjoy the show.
Voyeur - view someone else's 1on1 chat for a third of the price, but you can't interact with the porno cam performer.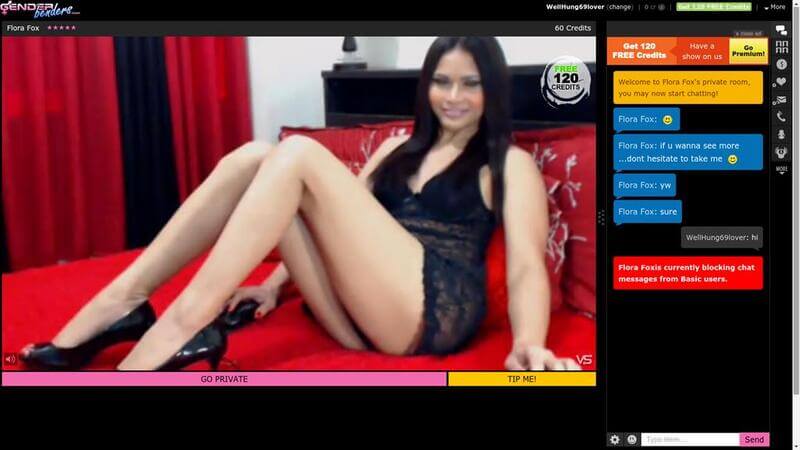 What's the video quality like?
It was hard to tell, as there were so few models whose cam I could see. Of the ones I viewed they weren't that bad, put I but the HD filter on and I wouldn't say what I got back was HD. You might be luckier when and if you visit the site.
Money, money, money
If you don't want to go VIP at the site (for which you only get 120 credits a month anyway) you can buy credits in packs of 300 for $29.99 or 600 for $59.99. You can grab 120 free credits free if you register a credit card, and you get 120 free credits with every purchase.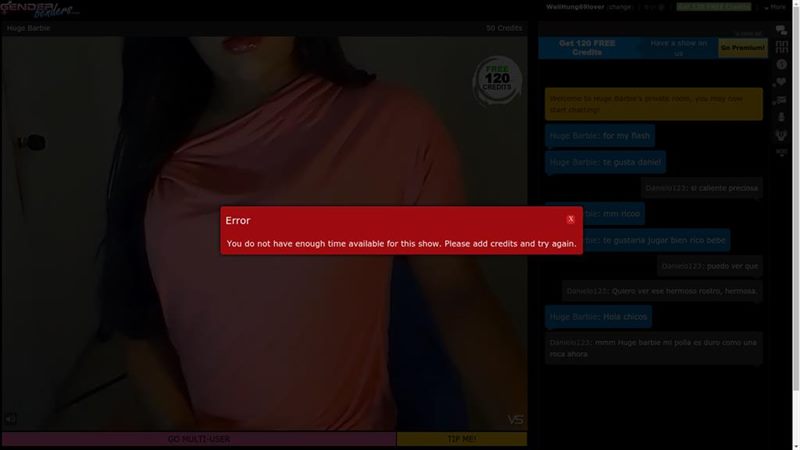 How to pay
Only credit or debit cards:
Diners Club
Discover
JCB
Mastercard
Visa
No bank transfers, wire transfers or eWallet solutions.
The number of models
Allegedly, 17,000+. In reality? Unless I've been really unlucky, not a lot ...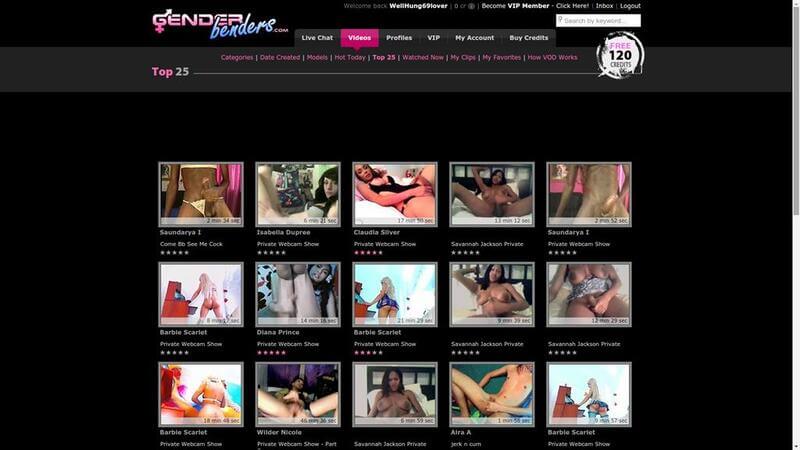 Customer service
Thumbs up for support - email, phone numbers for US and non-US, and a mailing address and a contact form. Just live chat that's missing.
Thumbs up and thumbs down
Thumbs up
✔ - Voyeur chat is a good option if you're new to the sex cam scene
✔ - Good levels of support
Thumbs down
✖ - Obviously, the real lack of porno cam trannies
✖ - The free chat isn't really free, and there's too much nudging to go private
✖ - Expensive - according to the FAQs "Premiere" Chat can cost up to $12 a minute!
My considered opinion
Well, you can't really say anything about this site without mentioning the complete paucity of models! I've seen sites go down to less than thirty or so before, but at times I saw the number of models fall to two! No idea how GenderBenders.com is gonna survive with those kind of numbers, and I can't see why anyone would want to spend money or become a VIP at the site. My mind is well and truly boggled.
Shame really, as the site is really nicely designed and if it had more models ... okay a lot more models, it would be ideal. Perhaps they ought to change that godawful name?
Review of GenderBenders.com
- Reviewed by
sexcamexpert.com