Asians247.com - want hot Asian sex shows for under a dollar? You got it!
It's wonderful to be able to say a great big hello to you again, or, if this is your first visit to my site, then where the bloody hell have you been? You're very probably a sex cam lover, so why haven't you been reading the views of the internet's leading sex cam expert?! Hey, don't take offence, we all make mistakes! Anyway, you're here now, which is what counts. And if you're here, in this specific section of my site, then you're more than just any old adult x-rated chat lover, you're an adult x-rated chat lover with a love of Asian babes, and that's what I am shortly going to be bringing you.
The site I have just spent the last hour or so examining in explicit detail (and in more ways than one) is Asians247.com. First of all I must tell you this is the "mother" site to the clone site to LadyboyCams.com - the tranny performers on this site provide the trannycams to LadyboyCams.com. Asians247 has been around a little bit longer than its clone site - 2007 as opposed to 2011, but the sites are basically one and the same. I did mention when I reviewed the shemale site that most of the sex cam models seemed to be Asian - I guess I now know why.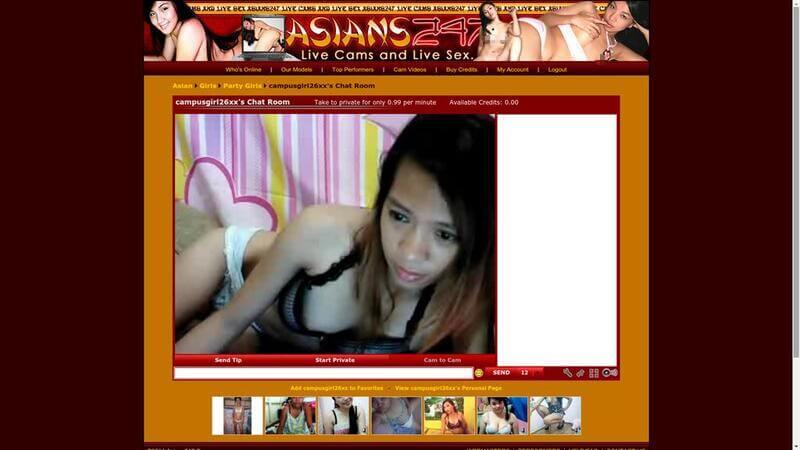 What do I think?
One of the chief complaints I had about LadyboyCams.com was the lack of models, but that's not really an issue at all here. There are certainly plenty of models online - perhaps not the 34,000 the site claims (I think that's just the number of people who have registered a performer's profile at the site). Whenever I checked there were over one hundred models online at all times, and closer to two hundred (and more) some of the time.
This site was put together in 2007, and it hasn't been altered since. It's really in need of an update, as it looks about as fashionable as I would wearing a shell suit and a head band! Sites like this really need to get their act together, as punters are only likely to hand over their vital financial statistics if they're convinced there's someone interested enough to look after the site. These guys need to take a leaf out of LiveJasmin.com's book.
There's kind of a sparse menu on the landing page, and you can choose which particular kind of sex cam model you're currently seeking to engage you a little, although aside from "girls" the numbers in the other categories are pretty low. From the menu screen you can also see the top 100 current sex cam babes as decided by regular users of the site. You can also access the cashier's page and your login screen if you're a member and the "Join" section if you're not.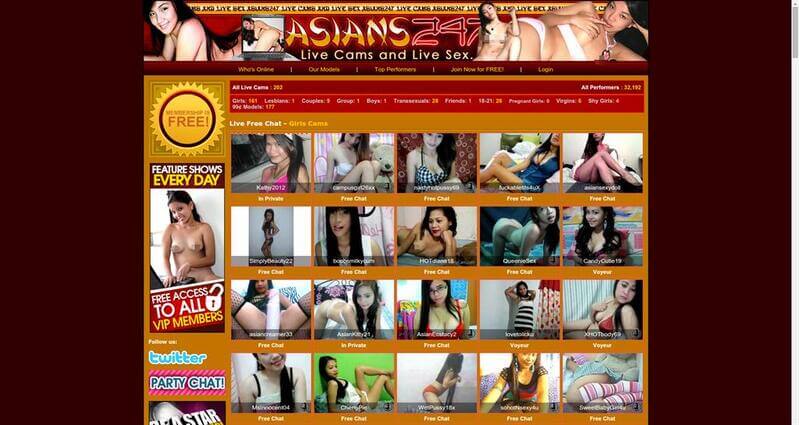 The thumbnails at the site are pretty bloody useless. All they will tell you is the screen name of the performers, and the kind of show they're either currently doing or available for. if you move your mouse over a thumbnail you'll see a camera icon which will show you a still from the model's cam.
You'll also see that a handful of models are only available for full members. Don't worry if you prefer free chat as not many seem to go down this "members only" option. From each Asian sex babe's cam screen you can see a selection of pics if the model has uploaded any, and the vids you'll be able to see if you join up and if you're willing to pay for them.
Some little extras
Registering with the site gives you the chance of going into private or voyeur chat with the model if you're willing to shell out for the necessary credits, plus you can make the cam screen a bit bigger while you are chatting. You can go to full screen but I must warn you the standard of the cams when you do so is pretty poor!
If you can afford it, you can sign up for a $29.99 monthly fee to become a VIP. VIPs get some preferential treatment, including ten percent off all their credit purchases.
Registration
If you're already registered at LadyboyCams.com then you'll find out that your registration is also good for this place. Otherwise, all you need is a username, a password, and a valid email address. Once you've replied to the confirmation email you'll be able to use more of the site.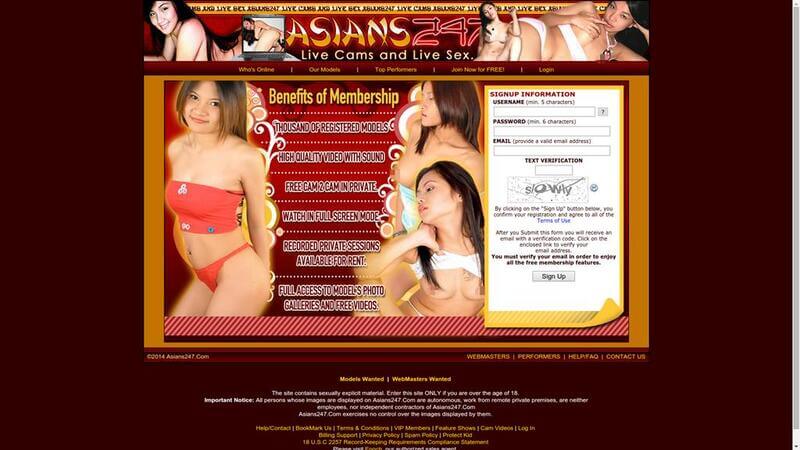 How to chat
There are only three real chat modes at Asians247.com. Free chat is what you'd expect (but don't forget some of the Asian sex cam babes will block you). One-on-One chat usually costs between $0.99 and $1.99 a minute, and the vast majority of the porno chat performers only charge $0.99 a minute, making this one of the less expensive chat options when you want some special xxx entertainment. There's also voyeur chat mode where you can peek at a performance (but without any interaction) for the same cost as private chat.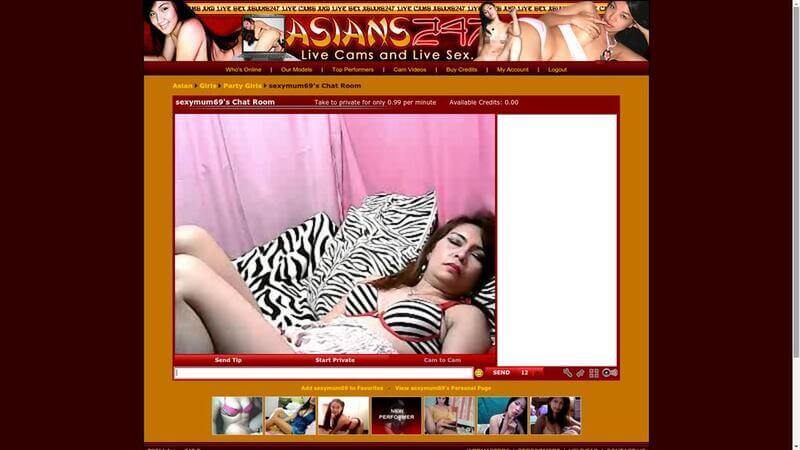 What's the video quality like?
You can't head to this site expecting the best in cams. The quality is like watching a video - and I mean the old fashioned kind where you used to have to load a tape into a machine. There's lots of blurry action on hand, and you can forget HD.
Money, money, money
Packs are available in $29.95, $49.95, $79.95 and $99.95 values. You basically get one credit for one dollar. Don't forget the VIP option at $29.99 a month for which you get preferential treatment, 10 percent off your orders and some special VIP-only image and video galleries.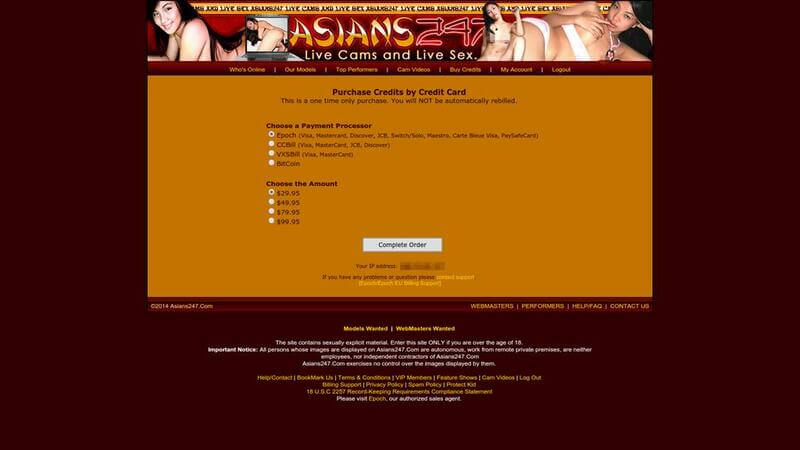 How to pay
Mostly plastic, and you should be okay if you have one of the main brands. If you like a little anonymity and you're in a participating country, then you indulge yourself by using a Paysafecard.
The number of models
Take no notice of those 32,000 profiles! When you enter the active cams page it gives a number much closer to 4,000, which is fair enough, but you only ever find between 100 and 200 models online at any one time.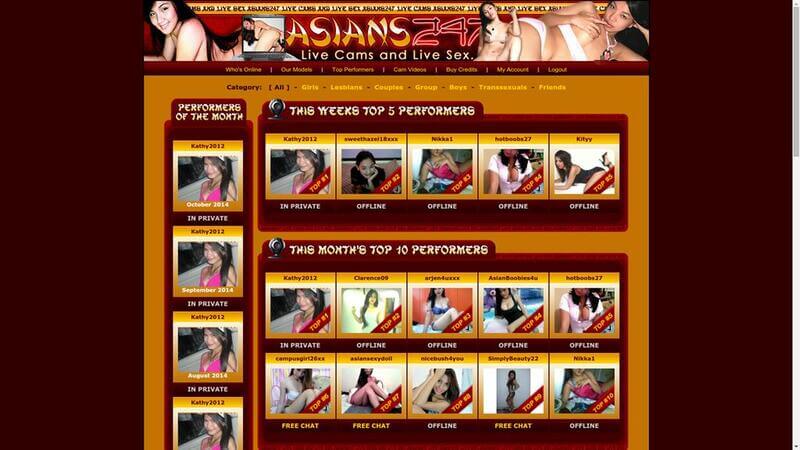 Customer service
You get the same options as at LadyboyCams.com, and the same telephone numbers and email addresses to use. The only thing that is missing is a live chat applet, but then again I haven't used any of the support options, so I've no idea how supportive they'll actually be.
Thumbs up and thumbs down
Thumbs up
✔ - You don't need to spend a great deal of cash here to get to see some live cam action
✔ - There's comfortably enough models online for you to be taken care of
✔ - The rating system makes it easy to select models likely to make that special time, special!
Thumbs down
✖ - Quality of the cams leaves a lot to be desired
✖ - Site hasn't really been updated since 2007
✖ - Some of the Asian sex cam babes look really, really bored.
My considered opinion
If this site improved the way it looked and its streaming servers then this would be a five star review. As it is, that's two stars knocked off, which is a shame as everything else about the site definitely deserves a star. The models are generally very nice and super sexy, although some looked bored (and I even caught one fast asleep - no kidding!). There's a very nice site here with lots of erotic possibilities - a few issues just need ironing out, that's all!
Review of Asians247.com
- Reviewed by
sexcamexpert.com