ImLive.com Review - the place for x-tra sexy, x-tra x-citing webcam babes
Hello mates. It's that time of the week again when I lend my considerable expertise to reviewing another of the sexy adult chat sites I encounter in my carnal explorations around the somewhat seedier side of the world wide web. So, pull up a beer, settle in, and I'll get to yapping on about ImLive.com.
First, the detective stuff. I always go beyond the call of duty and do some background stuff for you, so I know a site's legit and you ain't just likely to get scammed. Imlive is one of a number of adult chat cam sites owned by Internet entrepreneur Muly Livtak, and is operated out of Israel. Now, that makes it slightly controversial as Israel is a very religious country, and adult chat sites really doesn't fit in with that does it? Anyhow, they must be doing okay, as ImLive.com has been providing hot models to adult cam fans since 2002.
Another oddity is that if you read the T&Cs (and who doesn't) on the site, it says "company organized under the laws of the Principality of Andorra." Now, I've never bloody heard of Andorra - I thought it was one of those made up places like Narnia, but apparently it's real, and is somewhere between Spain and France. Oh well. As I said, ImLive.com must be doing something right, as the porn industry magazine Adult Video News awarded them the "best live chat website" award in 2011 and 2012, which is nice of them.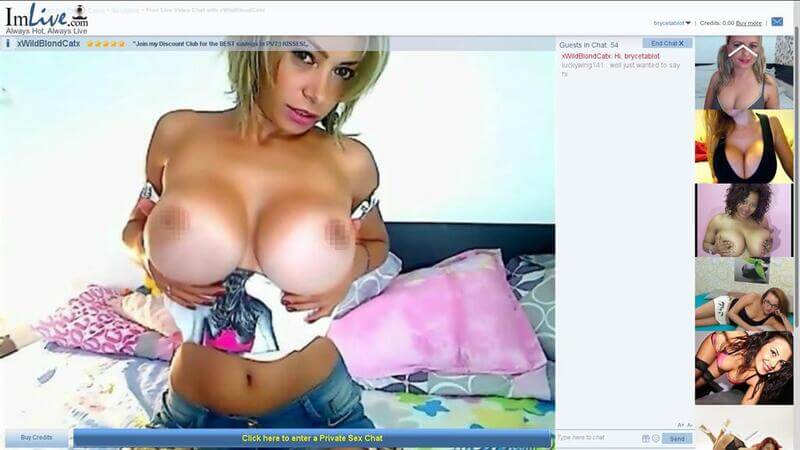 What do I think?
Well, that's the boring detective work over, and I think you'll be okay at ImLive.com. Anyhow, I headed over there and was quickly impressed. There's no boring stuff to get through, you leap straight in and you're presented with some of the scantily-clad lovies waiting to get deep and dirty with you. There's the usual "highly effective" "Are you over 18" pop up to get through, so if you ain't got no pubes in yer pants, you really ought not to be looking, sonny. You can choose your own way of viewing the models, which gets a thumbs up from me (sadly there's no "view all models naked" option), and many of them are up for some free chatting. Of course you're ain't gonna get to see a great deal that's gonna inspire you from the free chat, but it helps you to get a little taster of what ImLive.com's all about. The registration button you're probably interested in is in the top right hand corner of the screen, and registration is free.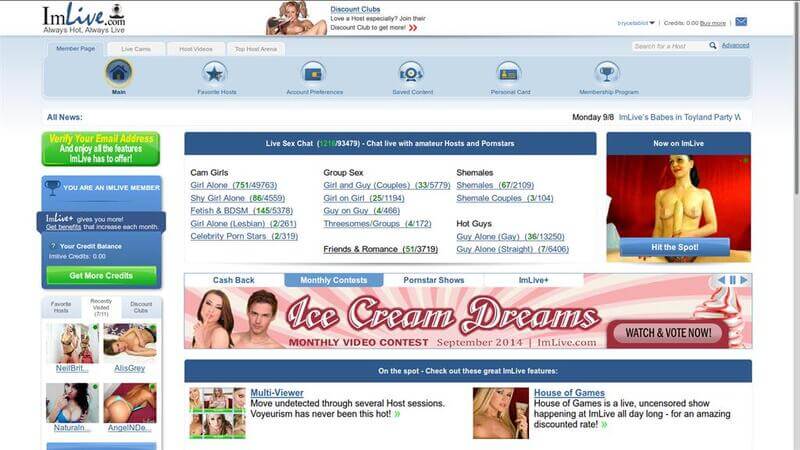 Once you've signed up (which is virtually painless) you get to see a little more of what the site is all about. Now, if you read my reviews (and why wouldn't you?) you'll know that I'm a real straight-up guy, but I ain't got a thing against anyone who likes to take a walk on the wild side when it comes to their carnal interests, as long as it's legit. If you're that kind of person, then you'll no doubt be ecstatic to see some exotic web cam tastes accounted for at the site, such as shemales, or "chicks with dicks" as I like to call them, and BDSM if you're into the really kinky stuff. There's also a section for Group Sex, but I ain't really sure how that's supposed to work - wouldn't that just be like watching a porn video? Still, I suppose you can call the shots ... especially maybe the cumshots.
When you've discovered whatever floats your lustful boat at ImLive.com then you can find a tasty x-rated babe and have a bit of a chat. Now, when you enter free chat don't think you've instantly made the model a little hot and damp but she says hi to you immediately - it's just a robot faking it. You can view any of the photos your chosen model has in her gallery, plus she may even have a little video she's recorded from a previous sesh that you can watch as a taster of things to come. And talking of things to come ... once you're sure the sexy babe is worth getting to know a little better, you can see her privately.
Some little extras ...
ImLive.com does its best to keep you interested beyond free chats and private chats, and has more tasty bits than some of the cam models. Every couple of hours there's a freebie prize draw where some lucky sonofabitch wins between 25 and 100 free credits, so you might get lucky in a way that will enable you to get lucky. There's contests that the models can enter so the punters can vote on who's doing the biz, adult chat wise, and as a paid-up punter you can view the previous winners if you're willing to shell out a few credits. Some of the sexy girls have had special "trailers" made to try and entice you into their extra-naughty private chat sessions, and you can enjoy those for free.
Registration
Registration is so simple you can do it without looking. Supply your email, a username and a password. Job done.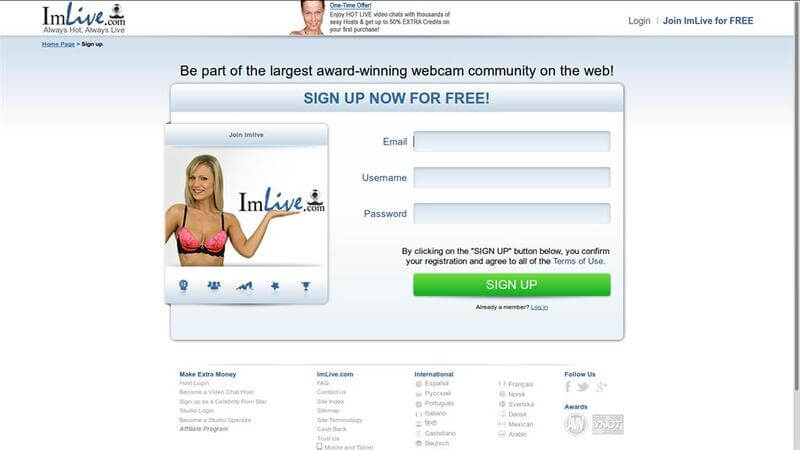 How to chat ...
There's the slightly interesting free sex cam chat of course, and then the paid private chat as well. If you're not willing to pay full price, then you can head over to a special sexy room called the "House of Games" where I think some of the cam models end up if they ain't seeing enough action. You can watch them perform for a cut-priced fee, and the first 20 seconds come gratis.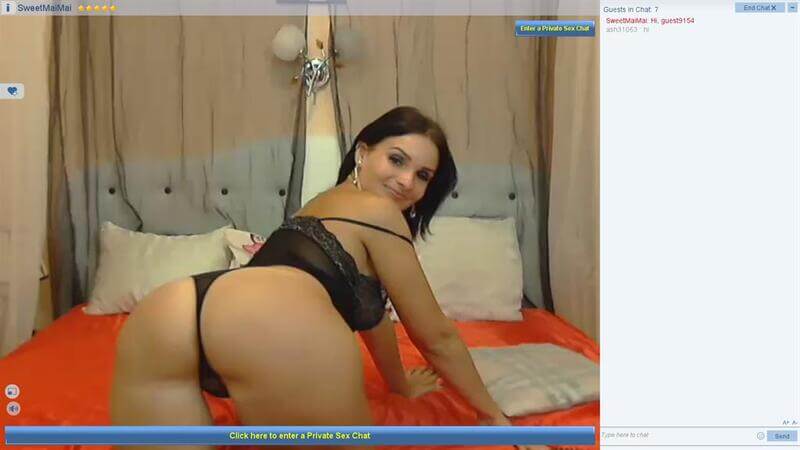 What the video quality like?
Do you have to ask? Why do you think I've reviewing a bloody site if HD wasn't available? If you can stream it, then ImLive can supply it. The SD seems a bit pixelated to me, so HD is a much better option.
Money money money
They have this special payment deal at ImLive.com called "ImLive+", where you pay 29.99 per month in your chosen currency, and you get a few extra deals and bonuses as a thank you. It's a pretty good deal if you're going to use ImLive.com on a regular basis ... but if you're not, then you need to take care as whenever you buy credits at the site, the "subscribe to ImLive+" comes up checked, so you might subscribe to it without meaning to. That's the only warning from yours truly you're gonna get. Pricing for normal credit buying is as follows:
USD $
Price
Credits
$25
25
$50
50
$100
100
Here's another fun fact - I can now proudly announce that Imlive.com offers my readers an exclusive deal of free 25 credits on their first purchase. Now this means that you can get a double return on your first payment if you get the lowest package of 25 credits. This is so far the best deal Imlive has ever offered, or at least the best that I've seen, and if I were you, I'd take advantage of it while it's still available.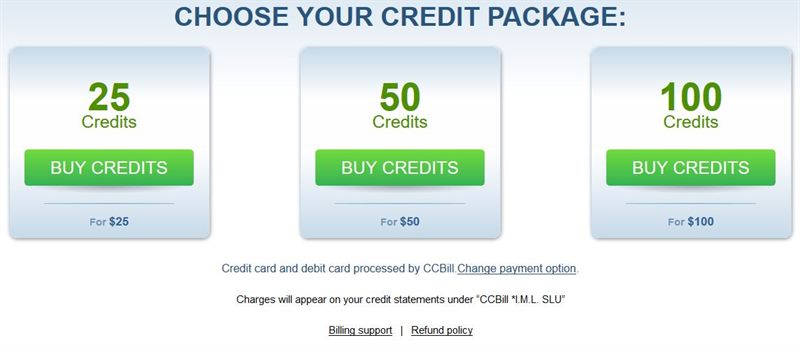 How to pay ...
You need a credit card, and either Mastercard, Visa, JCB or Diners Club at that. No ways to pay via eWallets at all.
The number of models
Well, the site says it has 80,000 web cam models registered, which I can well believe, although I have to kinda think how many of them are actually active. When you hunt for some x-rated pussy there's usually "only" around 1,000 online at a time.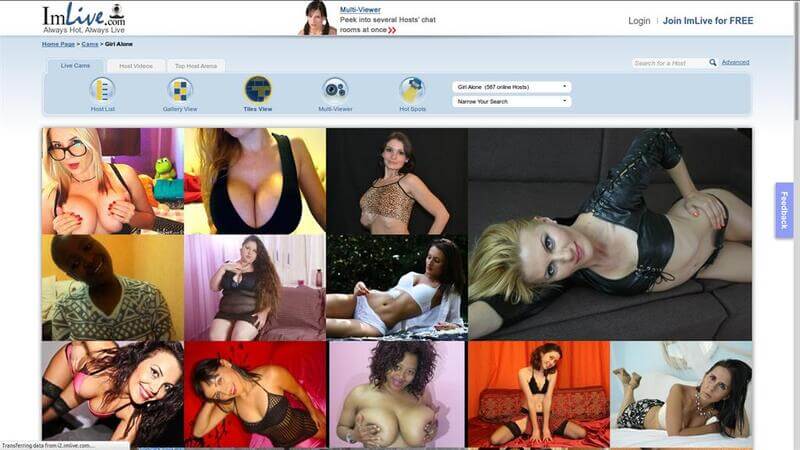 Customer service
The site's got a really impressive FAQ section that will answer most queries, but if you're a bit of a drongo you can use the phone line or send an email.
Thumbs up and thumbs down
Thumbs up
✔ - More "individual" adult chat options than most other sites
✔ - Lots of girls (and a few guys, and a few ... inbetween) for you to enjoy
✔ - The site has a mobile version if you like "porn on the go"
Thumbs down
✖ - Some of the sexiest performers do seem to charge quite a bit
✖ - No ways to pay other than a credit card
My considered opinion
Yeah, well ImLive.com does all right by me, and I'm guessing it's gonna do all right by you as well. Apparently ImLive had started to become a little stale, but has made numerous improvements of late that has seen it soaring back to the top of the porno tree. For me, I do like the little extras, such as the "trailer" videos and the contests. The only things I don't like is the way it can be easy to be "fooled" into opting in of "ImLive+", and the fact that the site has only four payment options (and who bloody well has a JCB or a Discover card?). If you can leave those moans to one side, then ImLive.com is well worthy of your x-rated patronage.
Review of ImLive.com
- Reviewed by
sexcamexpert.com