Sexier.com - Free, Happy Hour and Private Chat, and PayPal accepted
Good'day again mates. I found myself with half an hour to spare when the cricket broke for lunch, so I decided that was a real beaut of an opportunity to have a gander around another adult sex cam site and scribble a few notes about what I - the self-styled sex cam expert - thinks about it all. The site I chose to go sniffing around was Sexier.com.
So, what do I think about Sexier.com? Well, first let me tell you that when it comes to xxx cam sites, Sexier.com is kind of the granddaddy of them all - not that there are any granddaddys on it, or at least any I could find anyway. Sexier has been around since 1997, so when something's been alive and kicking for over 15 years, you kind of get the idea they must be doing something right, and as they're supplying the world wide web with plenty of sexy cam girls ... well, in my mind that's really doing something right! The site is hosted in New York City, the city that never sleeps, because I guess all the beautiful girls are on showing their stuff on Sexier.com, and all the guys are looking at them!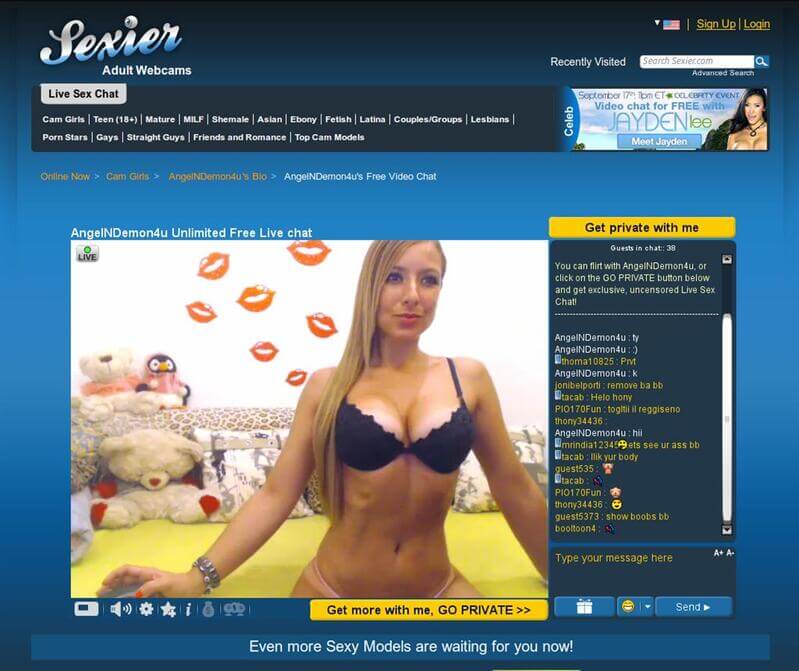 What do I think?
Right. let's get down to the nitty gritty, First up, I can tell you straight off that there's everything legit about Sexier.com. I known sex cam sites have a bit of a dirty reputation, but as long as it's all good dirty adult fun, who's complaining? No, you're not going to get ripped off there, I can promise you that. The second thing I'm going to tell you I'm kind of loathe to as I know as soon as I say it you'll probably be heading straight for Sexier.com to see all the busty babes and sexy cam girls the site has to offer, but I'm going to tell you anyway ... you don't have to sign up for the site if you just want to have a look around. Now, I think that's fair dinkum of an idea, because you can see what the site has on offer without the chance of any prying eyes seeing what you get up to. Now, before you get too excited thinking about all the lusty ladies you're going to be looking at, I can tell you that you ain't going to see a whole lot unless you're prepared to part with some of your hard-earned cash. True, there are some really beauts in terms of pics and videos on the site, but no more than you'd find on your normal porno site. To get the real experience at Sexier.com with the xxx cam babes you're going have to part with some cash.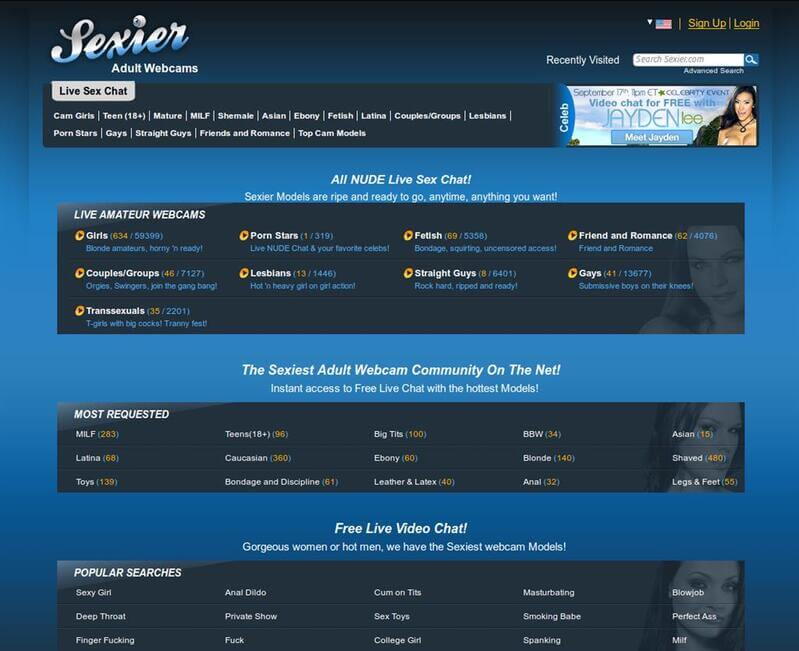 If, like me, you went on a bit of a reconnaissance mission to see what's doing down on the site, you've found all the lovely ladies (and a few blokes) are all conveniently located in different categories, so if you like something that's a little off the beaten track, then you are well covered. If you like lesbians (and who doesn't), transexuals or different fetishes, then you can find something that's really going to tickle your fancy, and other bits as well, come to think about it. If you're the shy and retiring type (although I wouldn't be talking to you now if you were) you can check out the "Friend and Romance" section. The main section at Sexier.com is of course - "Girls", and lots and lots of sexy girls at that. Choose that section and the screen becomes flooded with lots of pics of gorgeous xxx models - boy, will you be spoilt for choice, You can nip in for some "free chat" if that takes your fancy, but you ain't gonna see anything x-rated. To do that you have to sign up with the site (I'll explain how later) and buy some Sexier.com credits. One tip though - if you are still in free chat mode and you see a xxx model who gives you a tingle in that special place, if you hover your mouse over her pics you'll see a short video of her strutting her sexy stuff!
Some little extras
If you like porn stars then you'll be more excited than a koala on Christmas day when you learn that you can chat with genuine porno models at the site. There are over 300 registered there, and there's usually a handful on site to ... ahem ... chat. Poking my nose in I can tell you I saw some real, genuine beauties. Also, the site will run special porno shows from time to time - when I looked there was an upcoming show for Jayden Lee, who is simply stunning.
The second special feature is that you can buy your Sexier.com credits using PayPal, which is really good news if you want to keep your secret activities secret! You still have to pay to fund your account of course, but you won't get any details on your credit card bill that you'll need to explain!
Registration
As I said above if you were paying attention, to experience all the free chat options at Sexier.com there's no need to register. If you do want to register I'm going to give you a word of warning - you cannot register WITHOUT buying some credits. The minimum spend is $/£/€25 for which you get 25 Sexier.com credits and 10 bonus credits free. Don't think you can register through a back door so you can experience some sexy xxx chat, because, quite simply, you can't. It's your money or nothing ... aside from the bonser free stuff that is!
You can pay by PayPal when you register, but the site doesn't make that clear. When you decide to spend your cash, just go through the usual registration process of handing in your username, password and email address, and then when the times comes to buy, select, "Payment Via Epoch". That will take you to a second screen where you can then select PayPal as your chosen payment method.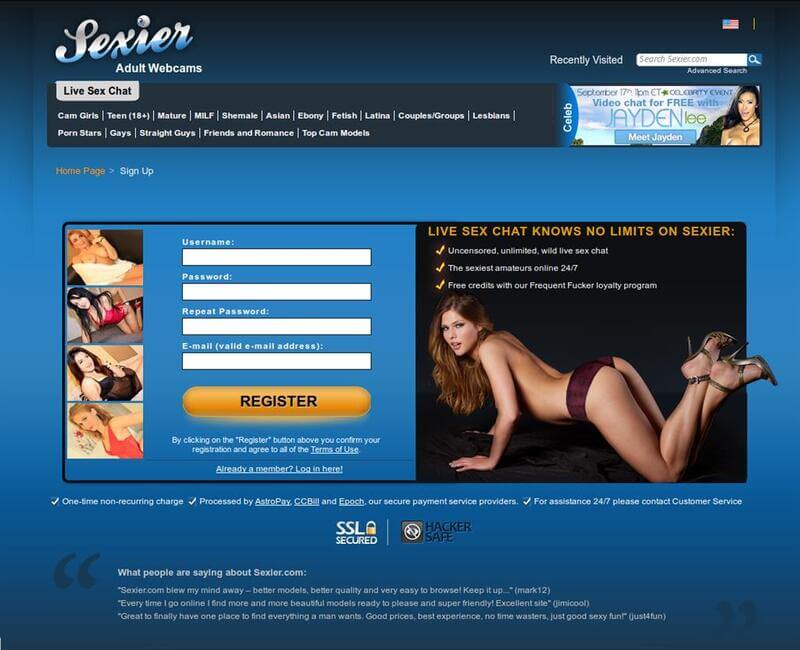 How to chat
There are three types of chat - "Free chat" which is of course free, "Happy Hour" on which you can look in on a private show for a reduced fee, and "Private Chat" in which you pay the per minute price where you can have some excellent sexy fun with your x-rated lady.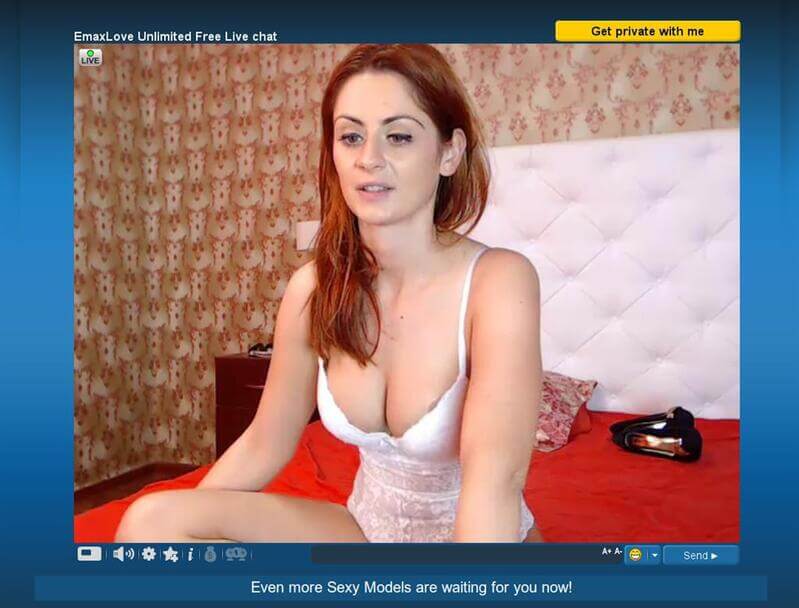 What's the video quality like?
Many of the hot babes can chat to you in HD - you can see which ones because of the "HD" symbol on their pic. You'll need to have the bandwith else your video chat will start jerking around all over the place, and not in a good way! If you can manage around at least 2MBps you'll be fine. The rest of us will have to make due with SD.
Money, money, money
As usual, it's up to each cam model how much they feel you ought to pay to see them perform - usually anything from 0.98 to 5.99 credits per minute. Sexier.com credits can be bought in the following packages:
EURO €
GBP £
USD $
Price
Credits
Price
Credits
Price
Credits
€25
35
£25
35
$25
35
€50
60
£50
60
$50
60
€75
85
£75
85
$75
85
€100
110
£100
110
$100
110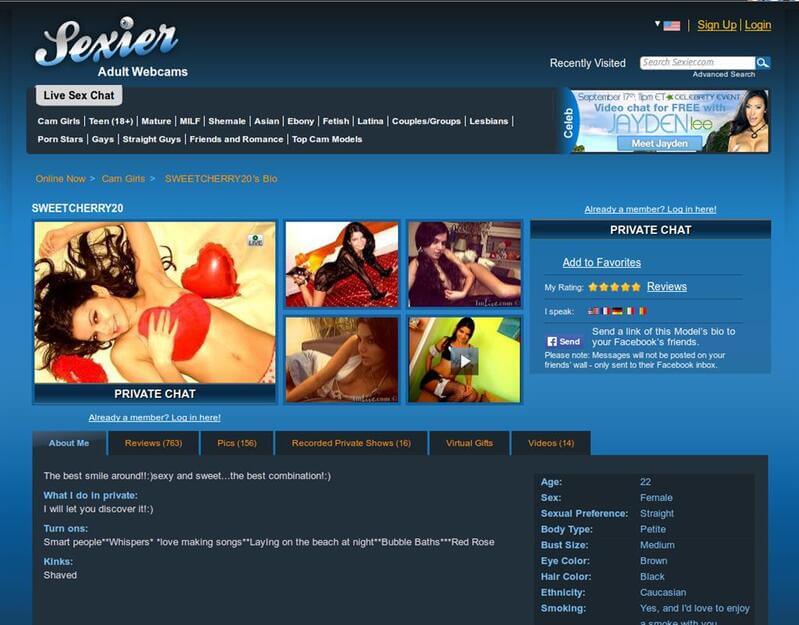 How to pay:
Firstly an obvious tip. For each payment you get 10 bonus credits, so instead of paying £/$/€100 for 110, pay £/$/€25 four times for 140! As I mentioned above, you can pay with your PayPal account, but normal plastic (Mastercard, Visa, JCB, Maestro, Switch, Discover) is fine, as are eWallet transactions like PaySafeCard and UKash.
The number of models
The site claims there are over 100,000 models registered at the site, but I do wonder how many of those registered are still at the site, as every time I logged on to have a lot at the gorgeous girls, less than 1,000 were actually online.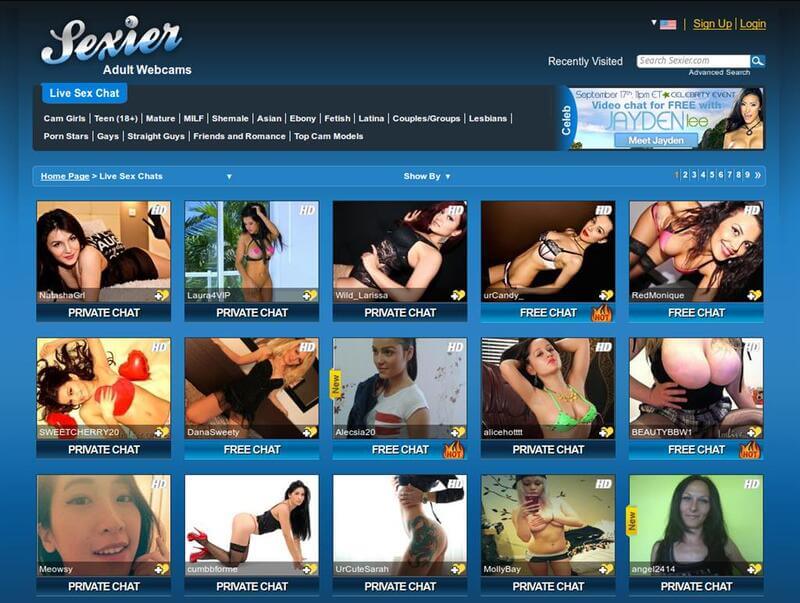 Customer service
I wasn't happy with the level of customer support, as the only way to contact them is by email, which I just don't think is good enough in this day and age.
Thumbs up and thumbs down
Thumbs up
✔ - A BIG PLUS for being the only sex cams site as far as I know so far to take PayPal payments
✔ - I like the way you can have a slight browse around the site without having to register
✔ - Porn stars! And real chats with genuine porn stars! And live shows with genuine porn stars!
Thumbs down
✖ - You can only contact customer support by email, which is a BIG MINUS
✖ - Not many porn stars on at any one time
My considered opinion
So, does Sexier.com get the thumbs up form the Sex Cam Expert? It sure does, with a little bit of a wobble. Sure, there are plenty of gorgeous babes there, and the real selling point is the chance to get dirty with genuine porn girls, but that's difficult when so few are online at any one time.
Now I didn't experience any difficulty at Sexier.com, so I didn't need support, but then I am the sex cam expert, so what happens if someone does get stuck? Email only just ain't cutting it, and that's something that needs to be changed. On the positives, there's the PayPal option, which is real neat way of stopping those awkward discussions about entries on credit card statements, and there the sexy girls themselves, and I saw plenty that's gonna put a smile on anyone's face. Sexier.com gets the thumbs up from me!
Review of Sexier.com
- Reviewed by
sexcamexpert.com