MyFreeCams Review - Is it as free as you'd want it to be?
G'day again my sex cam mates! Once I again I'm heading out into x-rated cam land to find another batch of web cam beauties to cast my appraising eye over. So, keep reading on if you want to discover the Sex Cam Expert's opinion of MyFreeCams.com.
I must say, despite the name, there's not that much that's actually free at MyFreeCams.com, but I'll come (as might you!) to that later, but if you're expecting to have all the kinds of freebie fun that you can have at the likes of Chaturbate.com then I think you're going to be very sadly disappointed. Having said all that, MyFreeCams.com must be doing something right, as XBIZ, the adult industry news portal, voted MyFreeCams as their most-approved Cam Site three years running, and the last time as recently as 2013. According to those in the know, MyFreeCams has over 100,000 models, and there are well over five million, cam-site-gawkers registered at the site.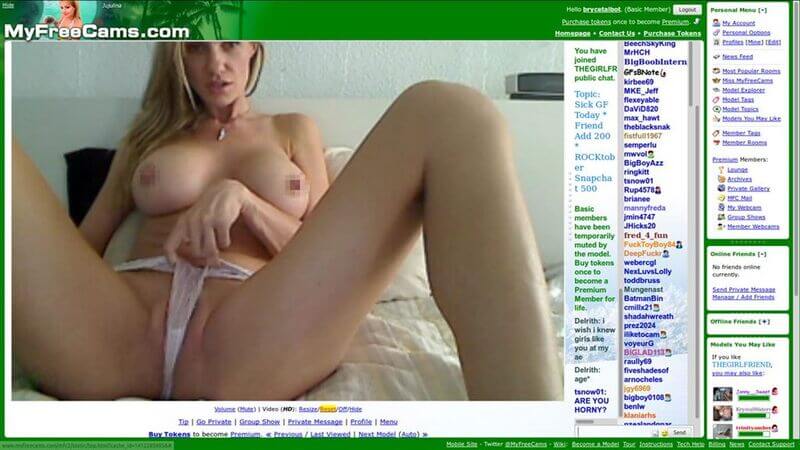 What do I think?
When you see a site for the first time, something usually does grab your attention - it certainly does mine! Usually, with adult chat sites, you hope it's the mile after mile of amazing pussy that's on offer. Unfortunately, that's not the case at MyFreeCams. The first thing you think when you see it is "How old IS this site?". I gather that MyFreeCams has been around since 2004, and they obviously don't believe in keep up with all the latest web trends, as I don't think the design has been touche since the first launched. If you've ever played with that Internet Archive "Wayback" machine you'll understand precisely where I'm coming from. There are lots of tasty-looking babes on offer, but come on guys, would it really hurt to gather a few web coders in and make a few improvements?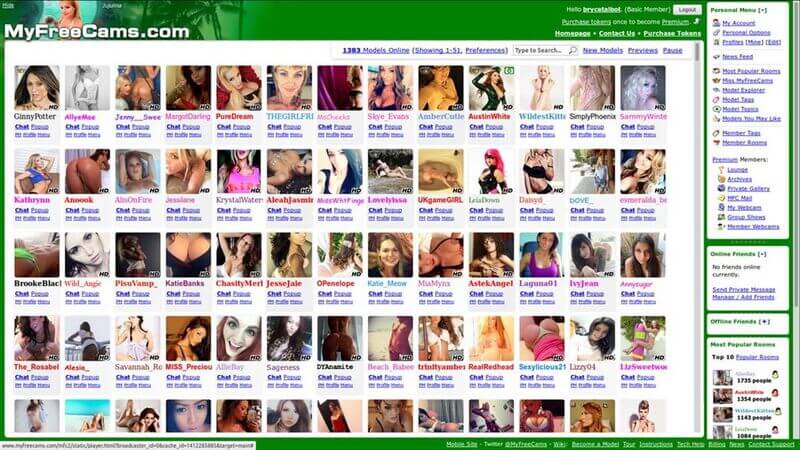 Anyhow, design aside, MyFreeCams does have more of its fair share of delicious xxx cam girls for you to get to know a little more intimately - and xxx cam girls only it seems. Most of the sites I've reviewed so far seem to have some acknowledgement that some guys prefer guys, or some guys and girls prefer guys and girls and transsexuals and BSDM and kinky stuff. Nothing like that at MyFreeCams unless you encounter a sexy girl willing to give her ass a few lashings. Come on guys (again), what year is this, 2004? MyFreeCams does really seem to be stuck in some kind of time warp.
You can navigate through the x-rated cams via still pics or via the "Preview" view where you can see a quick screen capture of what the xxx babe is currently up to. These can be a little surprising, as you'll find a lots of the babes have their tits on show or are completely starkers, which just isn't something you see on other sites that offer free chat cams. If you head over to an individual cam site you'll see why they get a little frisky - they're begging for tips and for people to go private with them. Despite the "MyFreeCams" claim, a private cam at the site is quite expensive - around one token (about ten cents) per second. The sex cam models also have to chance to ban Basic Members from their chats (you can still watch) which may seem a little unfair, but as soon as you buy any number of tokens, you become a Premium Member, and you do so for life, or so the site says. It's all a little bit confusing, to be honest. If I see a site claiming "Free Sex" then that's what I expect to get, and although you do get to see some heavenly bodies (it seems that most of the money earned by cam babes at the site is kept by them, unlike other cam sites that take a hefty cut, which is why perhaps there are lots of hot girls at the site), that's at each individual model's discretion.
Some little extras
Again, I have to say it, but there's so much to persuade you to go to Premium and pay your money at the site, the "Free" part of the site's name is more than a little confusing. I guess maybe they started off as a free cam site, but then demand grew and they need more cash for more servers? Anyhow, that's not really helpful. If you do make the switch to Premium Membership, then you do get some extra sexy goodness, such as the ability to record your private show, and you get sent random gifts like sexy photos and the odd video. You also escape the "Premium Members Only" chat ban that most cam models automatically seem to put up.
Registration
You only need to register for MyFreeCams.com if you intend to buy some credits. You can enjoy all the freebie stuff just by being a casual browser, including some of the cams. You just need to pick out your username and send MyFreeCams.com your email address, so they can send an activation link to you. Once you've clicked on the link, then your registration is complete. Moving to Premium Membership is easy - you just need to buy some credits.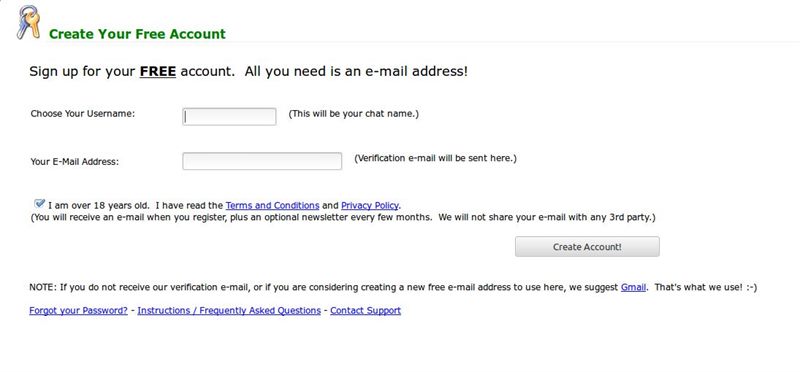 How to chat
Chatting is a little difficult when you're just a Basic Member. You can see what's occurring, no problem, but usually the sex cam models ban non-Premium members from chatting - however, as I said above, you only have to buy tokes ONCE and you're a Premium Member. There's always Private chat, if you're willing to splash out for it.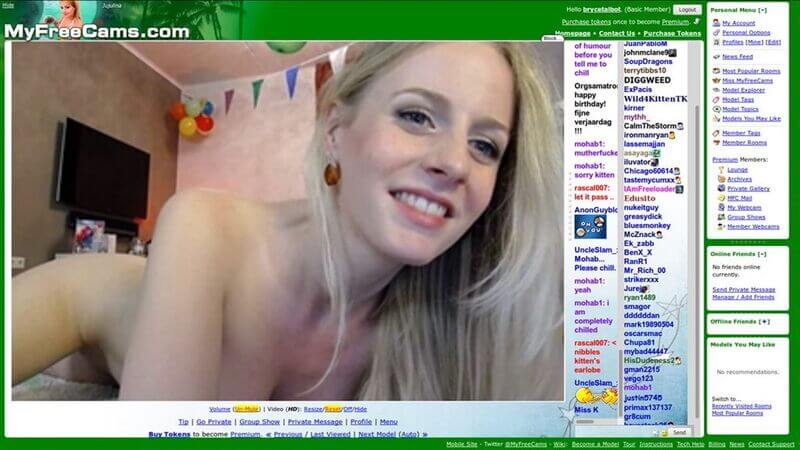 What's the video quality like?
That's the one thing I really have to mark MyFreeCams.com down for. The quality of the video, although smooth, just ain't very good. It might be better for you, but I have no problems with glorious HD at LiveJasmin.com, for example. Most of the girls have HD. There are quite a few complaints about the video quality at MyFreeCams on the net if you look. The video cams also seem to take a long time to load, and sometimes you have to refresh your screen a couple of times to get them to work at all.
Money, money, money
The site is another that operates on a tokens basis. You can buy tokens as set out in the table below. There is only one rate for all the private cams at the site, and that's one token a second, or $6 per minute. If you think that's kind of expensive, then I think you're right - especially for a "free" site!
USD $
Price
Tokens
$19.99
200
$49.99
550
$74.99
900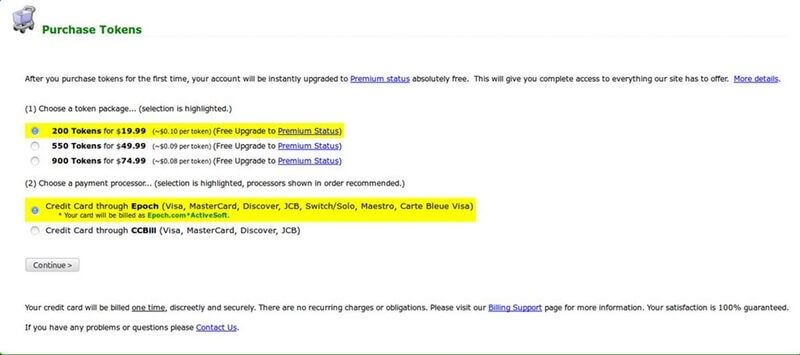 How to pay
The site takes credit cards, and credit cards only. Mastercard: Visa, Discover, Switch, Solo, JCB and Carte Blue Visa.
The number of models
Over the years, the site has amassed over 100,000 models, but I'd say less than 20,000 are currently active, off the top of my head. Usually, there's about one thousand online when you visit the site.
Customer service
Let's hope you never have to get involved with MyFreeCams customer services, as there are a lot of complaints about the lack of customer service there. The site does have a really substantial wiki, which you can explore for answers to most of the obvious questions, and some not so obvious.
Thumbs up and thumbs down
Thumbs up
✔ - The girls are great, and you'll see lots of lovely, sexy ladies
✔ - You can get a lot of stuff for free, but perhaps not as much as you'd hoped
✔ - You only have to buy some tokens once to become a Premium Member for life
Thumbs down
✖ - The girls typically ban Basic Members from chatting
✖ - Support seems to be non-existent
My considered opinion
I'm really not sure what to make of MyFreeCams.com. I think I'd be a lot happier if the site looked at it had been brought kicking and screaming into the 21st century, instead of looking like it was held together by cardboard and sellotape. The best think about the site is the girls, as there are plenty of sexy models to keep both you and your little fellah occupied, and you see quite a bit in free chat, although of course you ain't gonna be able to direct the action. Private chat seems really expensive to me, so I guess you'd want to keep private chat for the occasional treat on special occasions. My final thought - go to the site and make your own bloody mind up!
Review of MyFreeCams.com
- Reviewed by
sexcamexpert.com