TSMate.com - head here if red-hot shemale sex shows are your thing!
A very warm welcome to all you budding sex cam experts out there, and a special warm welcome to all you shemale lovers out there! You're no doubt here because the Sex Cam Expert is about to impart his special wisdom on a speciality site that connects tranny sex cam models with tranny sex cam model-lovers! If you are, then good news, as that is precisely what I am going to do! The shemale speciality site I am going to review for you today is TSMate.com.
I won't hang around for once with the old background info about the site, other than to say that TSMate.com (you're probably thinking like me that the TS in "TSMate.com" stands for TransSexual) is a sister, tranny-only site operated by the good folk at Streamate.com. The deal these guys have is like the deal between LiveJasmin.com and MyTrannyCams.com, so the sex cam shemales at TSMate.com are just, more or less, the same models you find under the "Transsexuals" tab at Streamate.com. Just a different domain name, that's all. TSMate.com was created in September 2007, and has been entertaining shemale sex fans ever since. So, how do I think TSMate.com compares to its "big sister" ? Keep reading to find out ...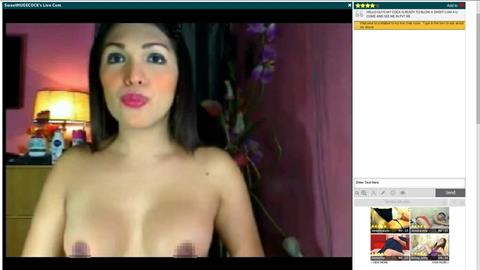 What do I think?
Okay-dokey ... Hmm, well they've definitely gone for a different site design at TSMate.com than at Streamate.com. A lot more so than MyTrannyCams.com, which is basically LiveJasmin.com with a lick of brown paint. I'm not really too keen on the difference, actually, as it just makes TSMate.com looks like an older version of Streamate.com. Perhaps they will get around to updating TSMate.com in a short while, because I think the site needs it. The landing page is your typical sex cam site landing page, with big thumbnails of all the models available for the different types of chat. There are some filters you can set above the models, and some speciality cams categories, like Big Cock, Latino or Uncut, via the left hand menu.
You can learn a tiny bit about the models via some small bios underneath each model's pic. Every model also has a five-star rating if they have been on the site long enough to earn one (the ratings are given by users of the site who've seen the shemale model in sexy action), and you can also see how old each model is (although if you want to believe some of the models are as young as they say they are is entirely up to you!). There's no cam-sneak function here - pick the pic and nothing happens aside from an invite into your chosen model's cam.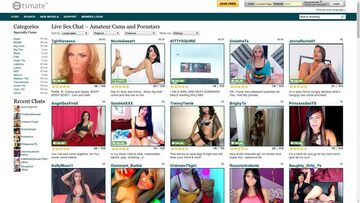 Everything I've described at the site so far is available for free, and you can access all this without registering. When you do get involved in free chat, you might be a little surprised, as most of the models are quite happy to show you more than their sexy, clothed curves, if you see what I mean! Unfortunately, most of the models are only really interested in getting you to go private, and you can't really chat for free without them asking you to go 1-2-1 every other line. They can kick you out of their room if they think you're not playing ball as well. Oh well, I guess they are in the money-making game after all, so if you're only interested in what you can get for free at TSMate.com, you might be a little disappointed!
Some little extras
You'll also be a little disappointed if you head to TSMate hoping for loads of little extras!
Registration
First up, just like Streamate.com, you can't complete your registration unless you have a credit card. Bear in mind, you only need to register if you intead to spend, but then again you don't get much tranny bang for your buck if you rely on freebies forever. You start the registration process by filling in your chosen username and password and email address. The next page is where you plug in your credit card details to finish up your registration. Oh, and if you ain't guessed, if you're already a member of Streamate.com, then you're already automatically a member of TSMate.com.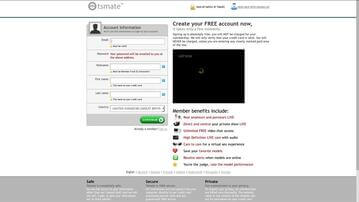 How to chat
You know about free chat, and paid chat is typically like other 1-2-1 chats at other sex cam sites, except that people can pop in and watch what you and the tranny sex cam model are getting up to. If you don't fancy that, you can pay a little extra for "Exclusive Chat". There's also Party Chat which is like free chat (and is free) except that you can see what everyone else is typing (you can't here in free chat, which can be a bit confusing). There's also the Gold Show, just like at Streamate.com - check out my Streamate.com review as I really can't be arsed to go through it all again.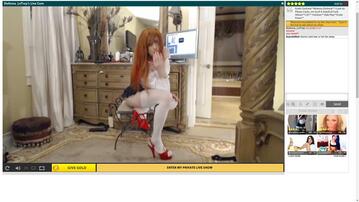 What's the video quality like?
The best I can say about it is "hit and miss" - some of the HD cams are really, really good. Others ... not so. I must say though the shemale cam sex action is always smooth, not at all jerky like some other sites I have seen. The SD is hit and miss as well.
Money, money, money
Everything you spend at TSMate.com just comes off your card. The tranny cam models can charge what they like for the various shows, from $0.99 to $9.99, but most charge between $1.99 and $3.99 a minute. Gold for the gold shows costs $1 a piece.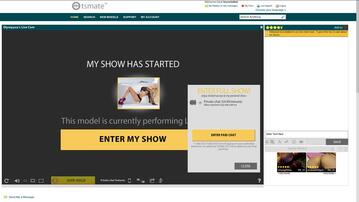 How to pay
Plastic, and nothing but plastic. If you have a MasterCard, Visa card or Discover card, you'll be fine.
The number of models
There's about 1,400 registered at the site, and you'll usually find a good selection online whenever your sex cam odyssey sees you end up at the site.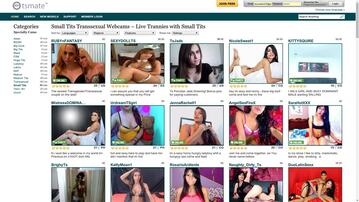 Customer service
The support isn't half bad - I have used the live chat and found it to be a worthwhile experience. There's also support phone numbers and email addresses you can use.
Thumbs up and thumbs down
Thumbs up
✔ - A good selection of models and many are very accomodating and chatty
✔ - You know precisely what you are spending at all times
✔ - Quite a few chat options, and the gold shows end up saving you money if you're lucky
Thumbs down
✖ - No plastic, no membership
✖ - A bit more variety would not go amiss
✖ - You feel a bit lonely in free chat, and the models can quickly get bored with you and kick you
My considered opinion
The sexy shemale models are definitely the greatest thing about the site. If you strike lucky, and don't mind the feeling that you're largely on your lonesome, then free chat can be both entertaining and sexually stimulating! The party chat is a bit more fun, but it's usually just a ruse for the tranny models to lure enough punters in to start up demands for a gold show. I don't like the fact you HAVE to register your credit card to become a full member at TSMate.com, and some little extras would be a very good idea.
Well, that's enough from me - if TSMate still appeals, then head on over there pronto!
Review of TSMate.com
- Reviewed by
sexcamexpert.com