Flirt with Breathtaking Gay Webcam Guys on Cameraboys.com
It's safe to say that there is no exceptional shortage of sexy gay cam sites. In fact, as I am writing these lines, there are probably three new websites uploaded and add even more options to this booming industry. Quantity is not everything of course, and not every one of these live adult webcam sites deserves users' attention. This is where I and my reviews come in: I will tell you exactly which gay cam sites have enough hot guys, good live chat rooms and the kind of price tags that won't give you or your banker a heart attack. On this page you will find a complete Cameraboys.com review with explanation about costs, features and the live porn shows. I am telling you: You're in luck. This is definitely one of my own favorite gay sex cam services. Start reading and you will see why.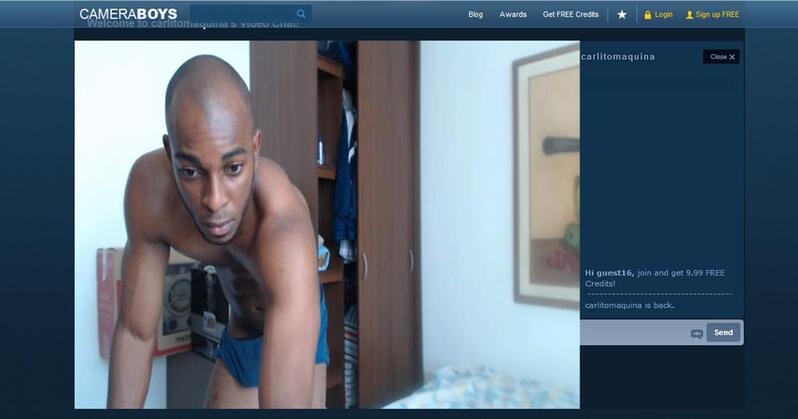 What do I think?
I was very optimistic when I visited this gay webcam sex site for the first time and I am happy to say that for the most part this sexcam service has even exceeded my expectations. I was amazed by how stunning the men were – seriously, I have very rarely seen such a delicious pile of handsome hunks in one single place. I did what any guy in my situation would do: Clicked on an image of a stud and hoped that this is one of those websites that let you chat for free and what do you know? It was. I instantly found myself in a video chat room with an Ebony guy who looked so good that I could lick him up in a cone. I was already feeling good about this Cameraboys review, but I still had some stuff to check before I made up my mind.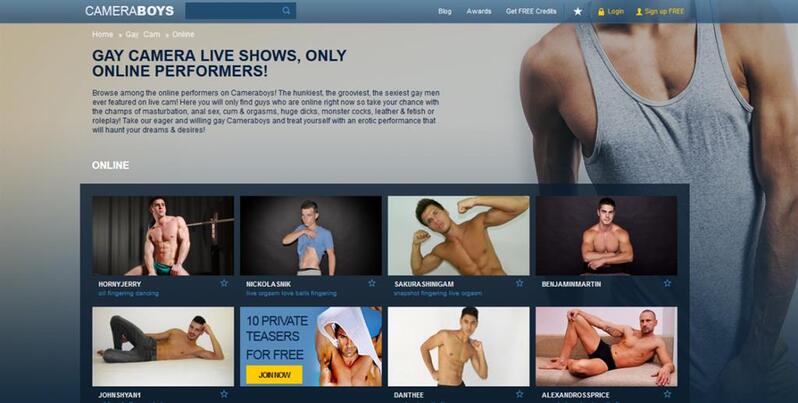 I was happy with the selection of homosexual guys and was just about ready to chat with every man I saw, but I was less impressed by the features. There weren't all that many, which was surprising, considering that this site was evidently planned by professionals. The guys have some pics on their profile pages, and they're fun to look at, but other than that you really only have two activities online: Free chats and paid chats. Luckily, the free gay chat rooms are entertaining and they're open to everyone. On some gay sex cam sites you get kicked out of the free chat after a while if you don't have credits in your account, but on Cameraboys.com you can chat away – the only reason you'll stop seeing the live streaming was if the guy you're free chatting with will be invited to a private session. How are the private shows? Incredible of course – and I have had more than a few on this site – I just couldn't help myself.
Some little extras
I know that anyone who has read this review so far is under the impression that I believe that Cameraboys.com is the best thing since sliced bread, but as far as features are concerned, this is not the greatest option ever. There are basic features, and they work fine – Favorites, Cam2Cam, there's even a blog, but this is where it ends. This gay webcam site wants you to watch live porn shows and nothing but.
Registration
Want to join Cameraboys.com? Just fill in some details: Username, password, email – that's it actually, and if you want to get some bonus credits, verify your email when you're done. This membership is free and forever, but if you want to become a premium member and enjoy some extras, simply buy credits – you'll be a premium, no added cost.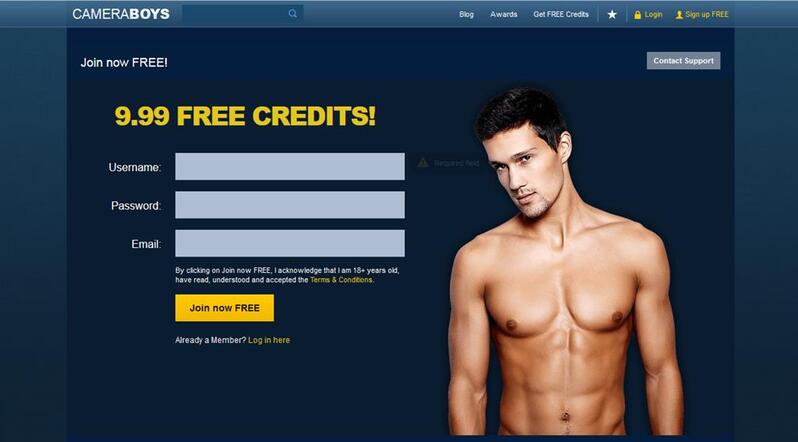 How to chat
Chatting with the homosexual guys on this sexcam service is very simple. You can chat for free with any guy you want, for as long as you like, even without being a member. Once you're done flirting though, you will need to buy some credits and launch a private sex chat with one gay guy – or two. Once you're a premium member, meaning you buy credits, you can peek into other guys' chat rooms – not like a spy chat, it's just for a few seconds, but it's hot.
What's the video quality like?
Cameraboys.com features the best quality platform that I've seen in a long time and the streaming is fantastic. Most of the guys have advanced web cameras and it's very easy to enjoy top-quality sex shows. As I mentioned several time in this Cameraboys review – it is more than clear that this is a professional adult cam community and it shows.
Money, money, money
After reviewing more adult webcam sites than I can remember, I don't fool myself by thinking that my readers care much about my detailed insights or even my helpful suggestions. For most of you guys, the most important part of this Cameraboys review is not the selection of features or even the hotness of the live gays but the price info. Well, I have all the information and I am more than happy to share it.
Cost per minute ranges from one to five credits per minute, and that is actually quite cheap considering the men you will get to chat with. When you buy credits for the first time, Cameraboys.com will treat you to a nice bonus, which will vary according to the size of the package you choose, although note that the smallest package does not include any bonus – it is what it is. This is a onetime offer and only available on your first purchase, so try and take advantage of it. Now, here are the packages.
| | | | |
| --- | --- | --- | --- |
| Number of Credits | Cost in US Dollars | Cost in Euros | Bonus Credits |
| 17.99 | $21.99 | €20.99 | None |
| 27.99 | $31.99 | €30.99 | 1.99 |
| 67.99 | $71.99 | €70.99 | 5.99 |
| 97.99 | $101.99 | €100.99 | 7.99 |
| 157.99 | $161.99 | €160.99 | 9.99 |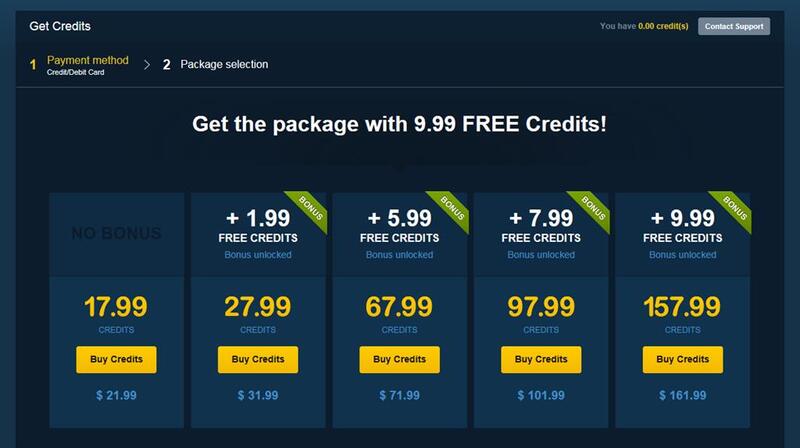 How to pay
Cameraboys.com may be a very welcoming adult webcam site that allows you to chat for free with the sexy gays, but it's still a commercial website and private chats cost and in order to pay, you will need to get credits and in order to get credits, you will need to choose a payment option. This is a safe and secure sexcam service and it uses safe and secure payment methods. Visa and MasterCard are accepted, of course, but so are Electron, Bleue, Maestro, JCB, Switch, Solo and Discover. See anything you like? You better, because this is the end of the list.
The number of models
Cameraboys.com has around 9,000 registered male models. This is a very nice number and their quality… Well, let's just say that it is well above average. As far as online performers, you can expect to see at least 70 live sex chat rooms, and sometime as many as 90. That is more than a descent choice, especially considering that this is a fairly diverse website with Caucasian, black, Latino and even Asian gays – although those last ones are a bit more rare.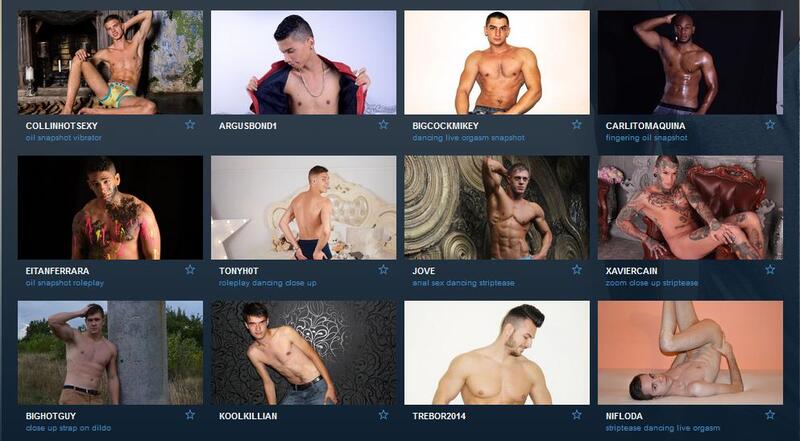 Customer service
By clicking on the Online Support link at the bottom of every page, you will be sent to a designated page that offers both live support and a Customer Support phone number. If you follow the Contact Us link, you will also find email support and there is a billing support number. If you want the FAQ page, the FAQ tab will take you directly to it.
Thumbs up and thumbs down
Thumbs up
✔ - Spectacular gay porn shows
✔ - Bonus credits on your first purchase
✔ - It's very easy to get help
Thumbs down
✖ - There isn't much to do between the live sex shows
✖ - Everything is slick and perfect, so it won't do for amateur chat fans
My considered opinion
You didn't even need to read my entire Cameraboys review to figure out that this is one of the best gay webcam sites around. What's not to like? There are loads of guys, spectacular streaming, amazing porn shows and cutting edge features – what else can a guy hope for? This gay sex cam site is not even expensive, which it could have – I, for one, would have paid any price to watch those stunning homosexual studs stride on nude webcams and do their thing. Luckily for me, prices are average, or even a bit below average, so you see – this really is an option that you simply have to check out.
Review of Cameraboys.com
- Reviewed by
sexcamexpert.com