The only place you can journey along the milky way all the way to Uranus!
Hello again, friends. I hope you're good and ready for another useful guide to yet another super hot cams site. I must at admit I'm just a tiny bit out of my depth here - yeah, I know, amazing to think of the self-styled Sex Cam Expert admitting to such a thing, but there you go. This section of my site deals with people who like certain fetishes, and wish to connect to others who like the same kind of thing. As you might know, I'm a straight up kind of fella, so I don't have much experience at all with these types of sites. My review I promise will of course be as great as ever, but if I sound too much like a virgin at the doors of a whorehouse, then you'll know why!
The site that I am going to review for you today is called FetishGalaxy.com, which is a pretty stellar name for a site of this nature. The site was born all the way back in 1999, but then as a site where fetish-lovers could get together and chat and maybe arrange meet-ups, and to post and view loads of dirty and devious porn videos. eventually those guys moved elsewhere, and it became a dormant domain for a long, long time until some other guys snapped it up in 2013, and constructed the FetishGalaxy.com website that I am about to review for you.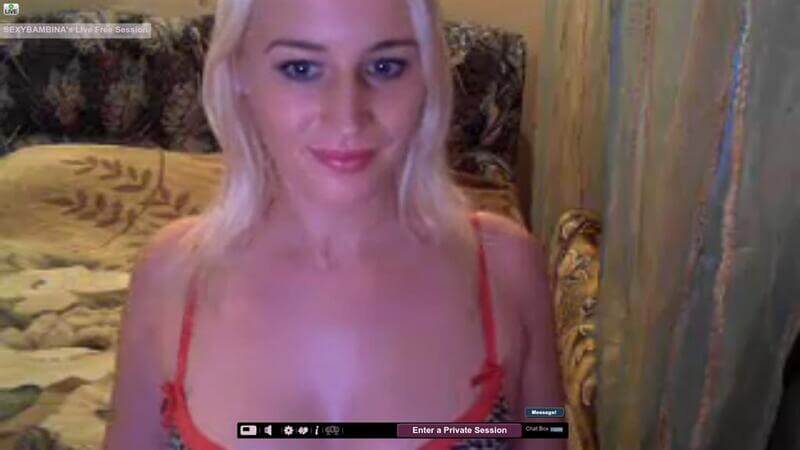 What do I think?
Although FetishGalaxy.com IS an adult sex chat side with several bolt-ons, it does seem to like to do things a tiny bit differently than other sites - and that doesn't just mean they like to tie the punters up in chains and stomp up and down on their balls! The landing page isn't all thumbnails and deviant divas and dudes - you start off with a kind of Twitter-like interface of the site's news feed, including all the pervy individuals who have signed up. What's probably going to excite you more is the list of fetishes you'll find on the left hand side - such deviancies as BDSM, Electrosex (is that sex with robots?), Humiliation (I get that for free from my ex-wives!) and Medical. The truth is, if you have a (morally ok) fetish, then it has probably made the list!
The fetish cam models are listed under the "Live Experts" tab on the landing page. Clicking on this will take you to the kind of typical cams screen you should be very used to seeing by now. The pics are nice and big, and there's no censorship, so you'll see plenty of tits, pussies and dicks. You'll also see the performer's name, age, how they rate out of five and what type of session they are currently up for.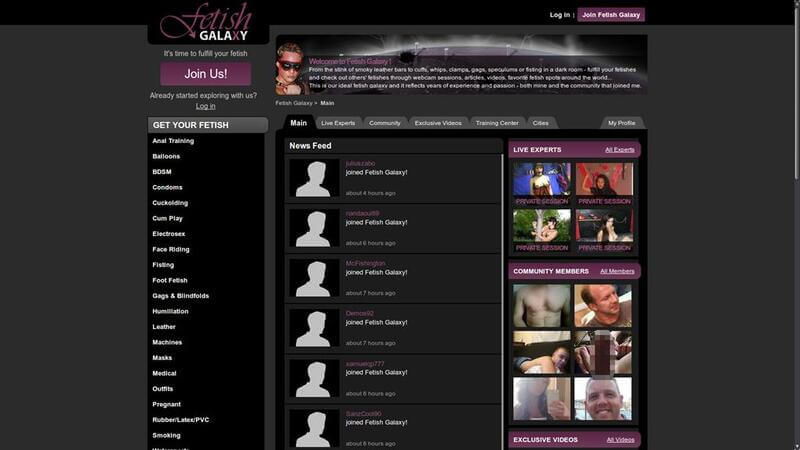 You can use your mouse, or anything else you might have in hand, to hover over any fetish cam model you want to get to know better. You'll get a view of their cam if they are not currently in private, and you can access their bio and any pics or images they may have uploaded. You'll also be able to tell which language they are able to converse with you in.
The cam rooms are great - really up to the minute coding-wise and they work brilliantly. You can easily expand the view to any one of four settings, and muck around with loads of other controls. The chat screen is well placed and not distracting at all. Looking great so far!
Some little extras
As I said earlier FetishGalaxy.com does do things just a little differently - and the whole place has much more of a community vibe than most other adult sex cam sites. You can get into contact with other fetishists if you want, by reviewing their profiles and noting the kind of kinks that gets them all hot and bothered. Whatever x-rated niche takes your fancy, you'll probably find someone else here who gets turned on by the same things as you.
There's also a few super sexy porn videos to watch (for a price) and what the site calls a "training guide" which will allow you to learn how to get the most out of your deviant lifestyle choice.
Registration
Registration could not be simpler. There a big button near the top of the screen marked "Join Fetish Galaxy" which you can click to take you through to the registration screen. Fill in your chosen username and password and supply an email address. Click "JOIN" and you're automatically added to the membership list.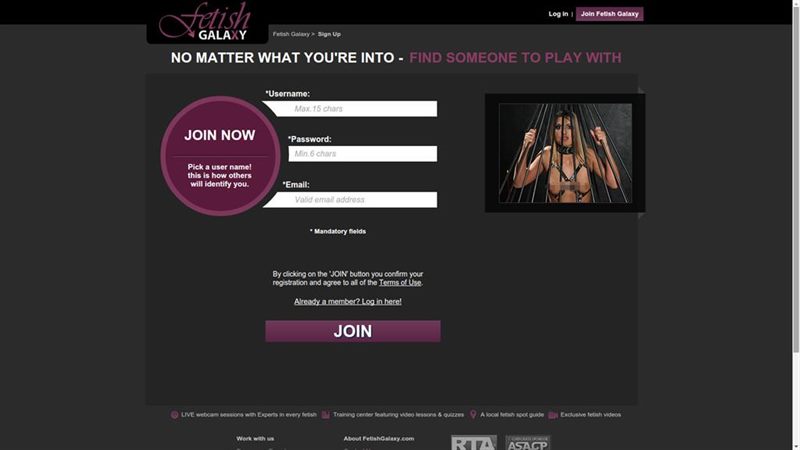 How to chat
This is a free/private chat only site. Free chat is free and limited if you're not a member of the site, and unlimited if you complete the sign-up process. Private chat is one-on-one chat where you can ask your chosen fetish cam performer to get up to some really naughty stuff. The FAQs say models can charge between 0.99 and 5.99 credits a minute, and most models place themselves at the cheaper end of the market.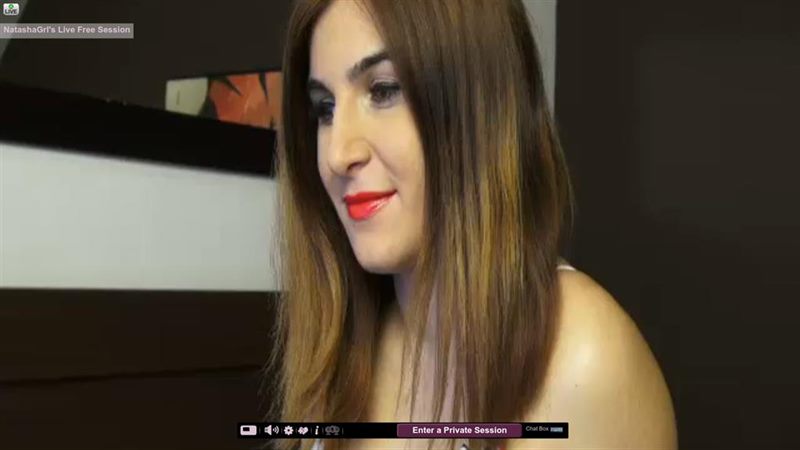 What's the video quality like?
Some of the cams are really good quality - right up there with the likes of LiveJasmin and co. Others are not so good, so it depends I guess on the ability of the models to stream.
Money, money, money
It's basically one credit per dollar, or whatever currency you use. You can buy pack sizes of 25, 50, 75 and 100 credits.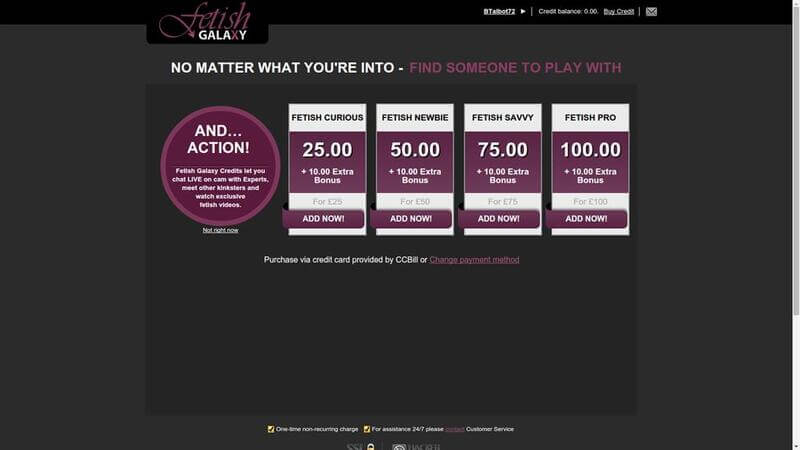 How to pay
Payment is achieved by using your plastic friend and either CCBill or Epoch. Unless you have a really obscure credit card provider, your card will be good here.
The number of models
There are no details about the number of deviant sex cam performers available at FetishGalaxy.com either at the site or anywhere on the web that I could find. There's usually over 150 fetish cam models available online when you visit, which to me means there's around 2,500 to 3,000 registered.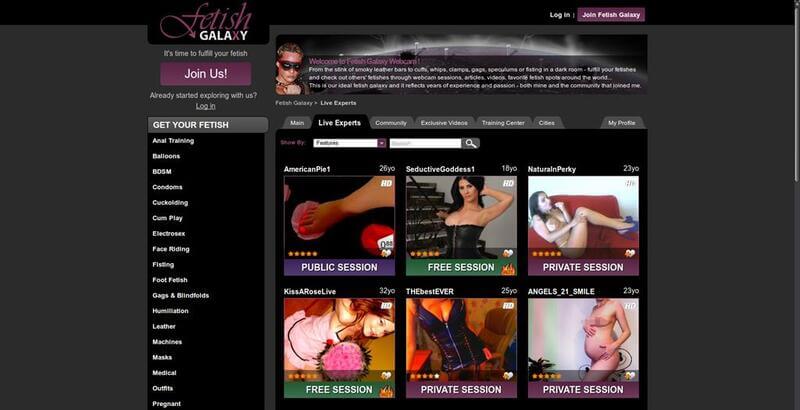 Customer service
This is the only major thumbs down for FetishGalaxy.com. The only support option is an email web form, which is simply not good enough in my book.
Thumbs up and thumbs down
Thumbs up
✔ - Good quality cams at a very nice price (most of them, anyway)
✔ - All major deviancies covered, as far as I know, anyhow!
✔ - Good community vibe to the whole experience
Thumbs down
✖ - I'd like to be feel happier about the support options
My considered opinion
As I confessed in my intro, I'm not really any kind of expert when it comes to these kind of sites, but if this is the standard of sex cam site you can expect if you're a fetishist, then I'm jealous! FetishGalaxy really does seem to tick all the necessary boxes, aside from my reservations about the lack of support options. Everything else really is spot on, so if you have some particular sexual niche in your online life, then you can find all you want at FetishGalaxy.com.
Review of FetishGalaxy.com
- Reviewed by
sexcamexpert.com