DxLive.com - if you don't mind paying top dollar, sexy Asian fun awaits!
How are you my beaut buddies, and how does this glorious day find you? If you've got nothing better to do than read another one of my expert cam reviews (and I've just really had nothing better to do than write it!) then welcome again to my site! Of course, you must be after a specialist type of review for folk who love to see Asian girls doing all that they need to do to entertain in erotic ways. Well, I've been giving DxLive.com a good going over to see what a cam expert like me would feel about it. Read on!
I ain't got a bloody clue what "DX" stands for, so if you don't know either than your guess is as good as mine. All I can tell you is that this is a Japanese-based site, and as a result it is full of lovely Japanese cam models - and really bloody lovely ones at that! The site's been around since 2002, so they really ought to know what they are doing by now, dontcha think? Let's find out ...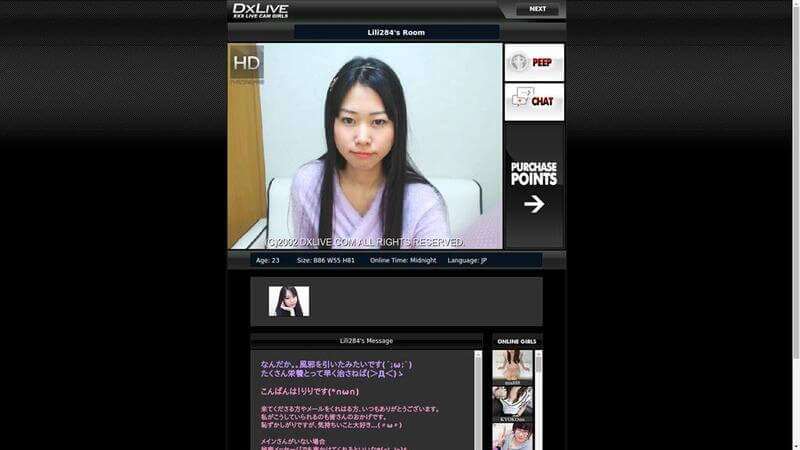 What do I think?
The first time you enter the site you'll see a pop-up window that's mainly in Japanese, but you can see the important English text "This site contains sexually explicit material. Enter ONLY if you are over 18" - click the "Continue" button, or "Leave" if you actually are under 18. As soon as you click this, the site will recognise your locale and change the default language to suit.
The site looks pretty good from the off, and in that most sensual of colours of black. There are two menus: the uppermost has a not-all-that-useful search function, and three sets of FAQs - one of which is aimed at sex cam site virgins. You also join up or login if you have already joined up.
The lower menu is for filtering all these hot Asian babes. You can sort by popularity, or just select new girls, or porn cam models who are miked up or have a remote toy you can play with.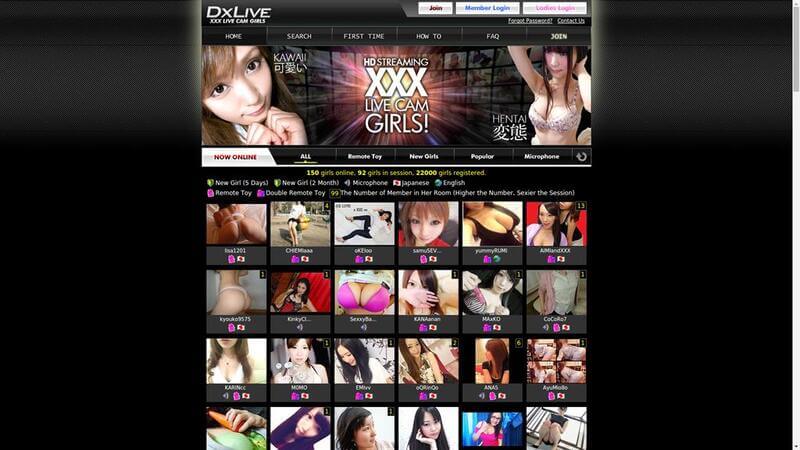 The thumbnails menu is of course where it all starts to get a little bit exciting. The pics are tiny and of course with this being an Asian site, don't expect to see anything explicit or, in half the cases, the cam models' faces. There's a little flag to show the languages that the model can converse in - either Japanese or English. There are also indicators for new girls, and those with either single or double remote toys. The last bit of interest is a number in the top right corner which tells you how many punters are currently watching the cam model's show.
The cam rooms have bit more info, including the model's vital measurements. if the model has uploaded any pics you can see them here. There's also a little welcome message from the model but on most occasions, unless your Japanese is very good you'll find that it adds no value.
Some little extras
Not really, although the chance to remotely operate a sex toy when you're viewing a cam is a pretty novel idea. There's not much else, and no concept of VIPs here.
Registration
This is where you really have to put your money where your mouth is, as not only do you have to register a credit card to get full use of the site, you have to buy some "points" as well (this is what DxLive.com calls credits). Plus, the MINIMUM amount of points you can buy is $49.95 worth, which will get you 25 minutes of chatting time. If you're happy to do this, then you can see the registration screen below: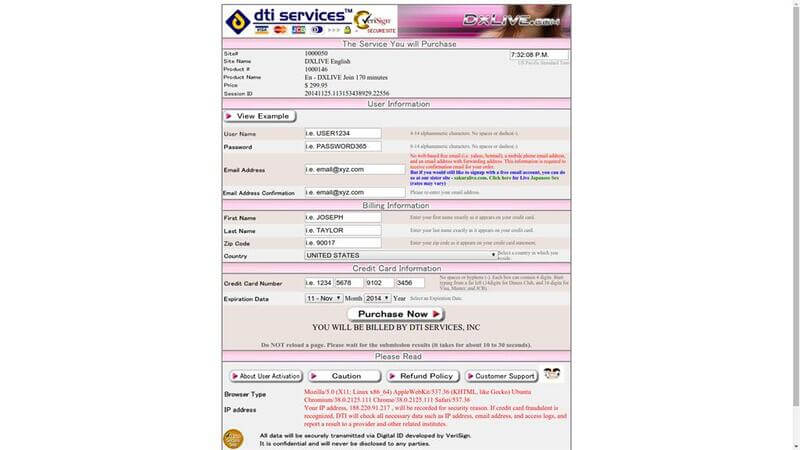 How to chat
The "How to" section on chat doesn't seem to make sense. For a start there's no such thing a free chat here. You can enter a cam room for a free preview, but don't expect to be able to chat to the models, as you won't be able to. "Peeping mode" (see a live show with no interaction) or "Chat mode" cost 1.2pts per minute. Private chat and two-way chat costs 1pt per minute, which makes it cheaper than just chatting, or peeping, which I can't understand. Controlling a sex toy costs 1pt per minute per toy. You can also send sex cam girls messages (1pt) or gifts (3pts to 15pts).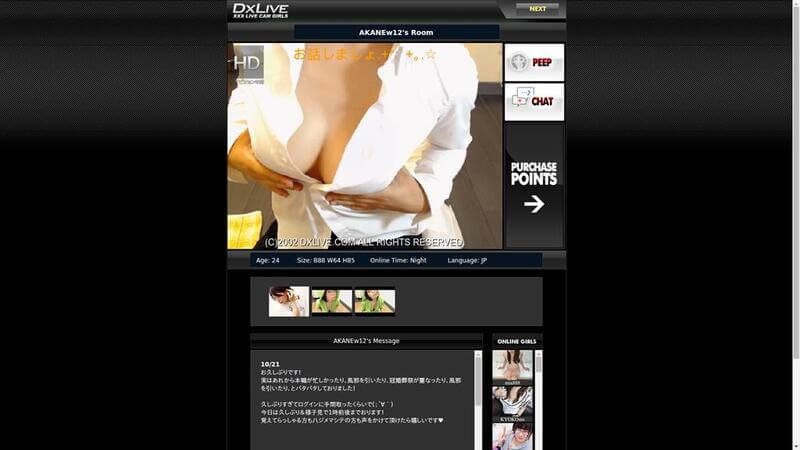 What's the video quality like?
This is where your money goes, as most of the cams cannot be faltered, The HD is on a par with the best HD cams I've seen at other sites, and the normal quality isn't bad either.
Money, money, money
What do points make? Pleasure!
USD $
Price
Points
$49.95
25
$99.95
50
$199.95
110
$299.95
170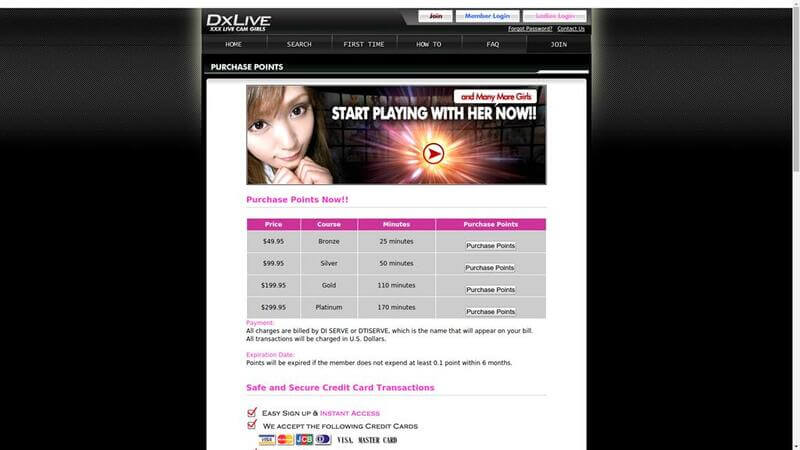 How to pay
Only credit cards, and you've got a choice of four: Visa, MasterCard, JCB or Diner's Club.
The number of models
The site has just under 22,000 Asian sex cam models registered, but that's probably including dormant profiles, to be honest. Whenever I viewed the site there were around 150 or so online.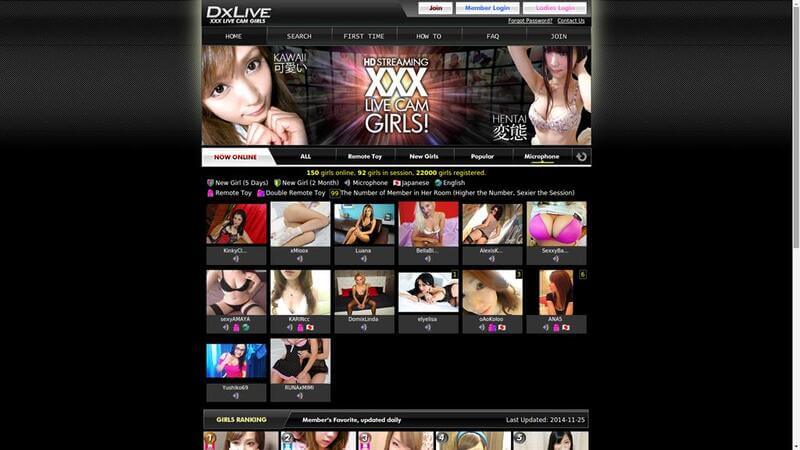 Customer service
The only way to contact the people behind DxLive.com is through a contact web form. No phone numbers, no email addresses, and no live chat.
Thumbs up and thumbs down
Thumbs up
✔ - Really nice Asian sex cam babes, and plenty of them!
✔ - The streams are of a very high standard
✔ - Good FAQs, especially for noobs
Thumbs down
✖ - $49.95 is a lot to pay to see if you just like a site
✖ - Support needs better options
✖ - Headless models, sleeping models, and lots of non English-speaking models
My considered opinion
Okay, so $49.95 is a lot to spend for an initial outlay, and if you don't get on at the site, then you're just going to grind out those 25 minutes without a lot of interest. If you really do love Japanese sex cam babes, then you're going to be very happy here, although if you can speak Japanese, you're going to find that a real help. In short, if you don't mind the payments, and paying "just" for free chat, and you really get turned on by Japanese sex cam babes, then you're really going to happy at DxLive.com!
Review of DxLive.com
- Reviewed by
sexcamexpert.com