LiveAsianWebcams.com - live Asian sex for only $2 a minute!
Read this: As of December 2019, LiveAsianWebcams.com merged with SakuraLive.com. Read our full review of SakuraLive, here.
Greetings yet again to all my webcam loving fans out there, and I know there must be millions of you by now, all vying to become as big an expert in sex cams as your leader, Mike the Sex Cam Expert! Okay ... so I'm being a little tongue-in-cheek, but I'm gonna keep churning out these reviews, and I hope you are going to keep right on reading them!
I'm glad you've found your way into another specialist section of my site. If you're here reading this, then you're obviously the kind of person who's going to be turned on by lovely, sexy Asian ladies. So, it's pretty bloody good that the site I've been giving the old Mike once over for the past couple of hours is LiveAsianWebCams.com! And don't think they're just any old web cams, they are definitely adult chat cams! Lots of lovely Asian cam babes await your attention at the site, I can tell you that, and for free. Unfortunately, you don't really get that much for free at the site as you will discover in just a short while. LiveAsianWebCams.com has been around since 2011, so it's still a toddler on the sexier side of the internet. It's based in California, and that's about all I've been able to find out about the site!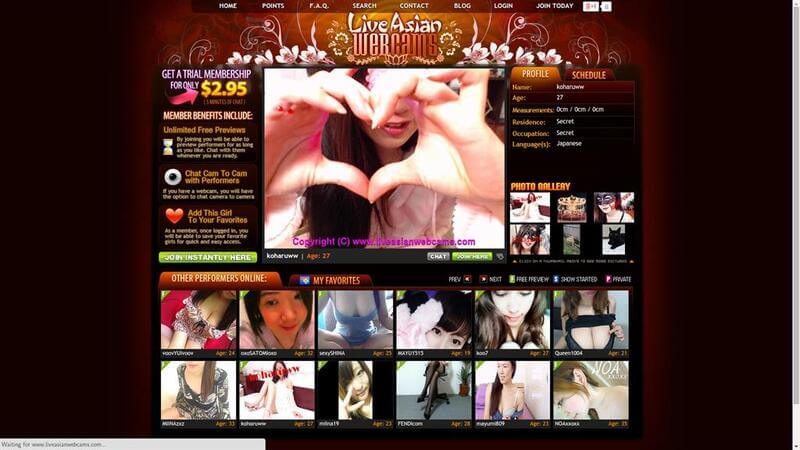 What do I think?
First up, I must say that LiveAsianWebCams.com doesn't like to give a lot away. You can't even find out how much credit packs are to buy at the site! There's not much customer engagement at all, or promise of it, aside from the cam models themselves of course! I'm not in favour of sites that ain't very transparent.
You start off with an "are you over 18?" screen which is certainly worth paying close attention to - in more ways than one! That screen grab is at the bottom of the review if you want to see what I mean! Once you've confirmed you're not a whipper-snapper you get through the main menu screen (see below). It's the fairly typical set up, although the graphic design artist for the site I think really earned his corn on this job! The site just looks great ...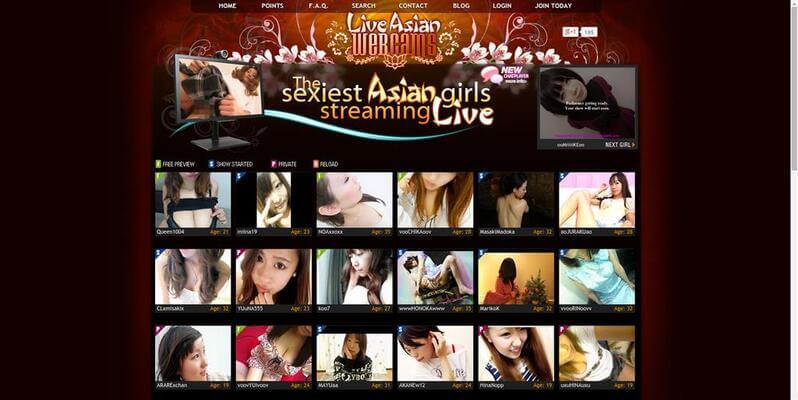 Well, the site may look great, but it ain't so great when it comes to using it. The thumbnails give very little away - just the type of chat the model is currently available for, the name she performs under (and it's cam girls only here - no guys or shemales) and her age. There's no way to preview the cam.
There's a menu on the top of the page, but it's not at all useful. The "Points" section is where you pay out to buy "points", which for some reason is what LiveAsianWebCams.com calls credits. There's access to an FAQ section which reads as if it is badly out of date, and a search function which isn't very useful. There's the very poor contact section (see later in the review) and a Blog that doesn't even bloody work! Other than the "Login" and "Join Today" buttons, that's your lot!
The chat rooms are okay, I guess, although if you're not registered you can't even bloody chat! There's a very brief profile and six profile photos to get excited about.
Some little extras
Registered users have all the restrictions listed and can actually chat! They can also go cam-to-cam and save a favourites list, but that's about all.
Registration
The first step of the registration process is as you'd expect - username, password and a valid email address. Sadly, the next step is to register a credit card, so if you don't like registering credit cards at cam sites, then it's no dice for you. It costs $2.95 to register, and you get five free chat minutes for doing so.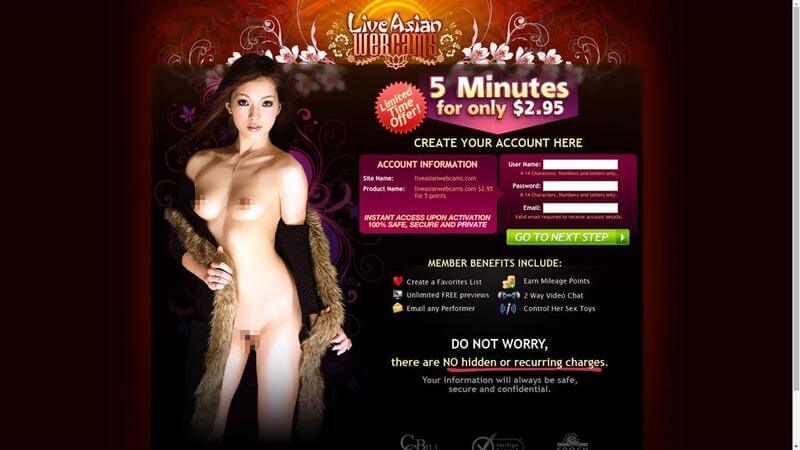 How to chat
There's "free preview" which means you can watch the cam action (unless the model is in private chat) but no chatting is allowed. According to the FAQs (which seem badly out of date, as I mentioned) you have to pay at least one point per minute for any kind of chat, and double that for one-to-one chat. It's hard to be sure as the information on the site is hard to find. There are some other options but they just seem weird. You can head to the site and read the FAQs if you want to check them out.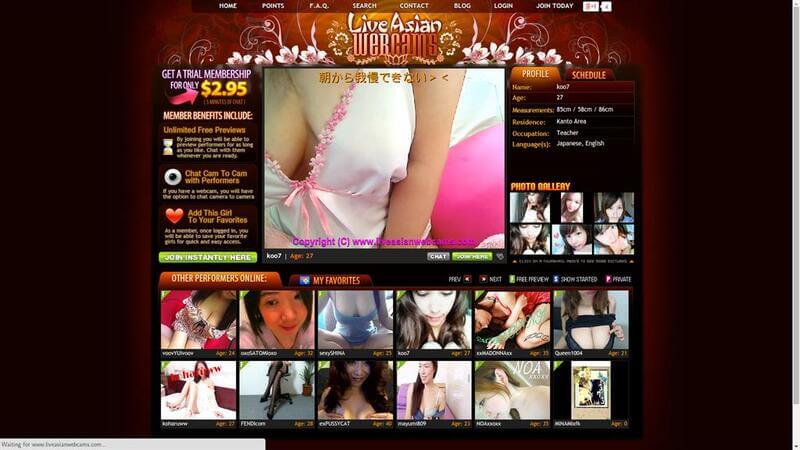 What's the video quality like?
No real problems with the video quality, although some cams are very poor - blurred and jerky (good name for a comedy duo, eh?). Others are top notch. There's no indication of whether the cams are HD or not.
Money, money, money
One point costs between $1.80 and $2.50, depending on how many points you buy. Info about the type of packs you can buy is only available to registered members.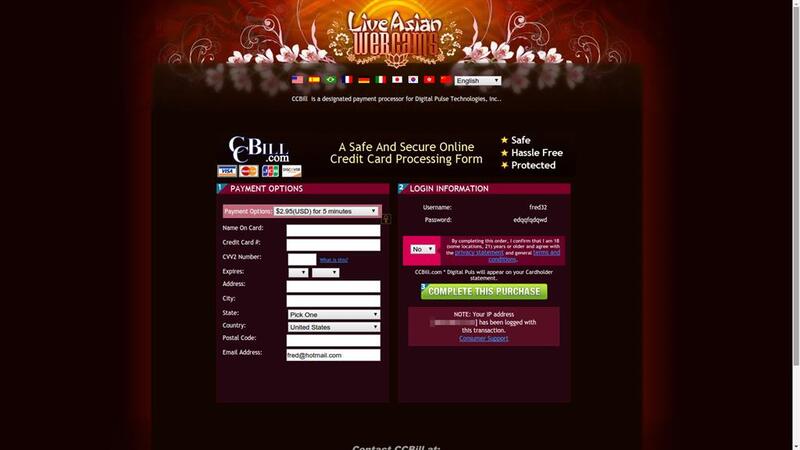 How to pay
Credit cards only, via EPOCH or CCBill. Visa, MasterCard, Discover or JCB.
The number of models
If you hop along to LiveAsianWebCams.com you'll find around 100 models online of the 2,000+ registered at the site.
Customer service
Really not good enough - just a contact form to fill in. No phone numbers or email addresses, and certainly no live chat.
Thumbs up and thumbs down
Thumbs up
✔ - A decent enough selection of Asian sex cam models
✔ - Nicely designed site, with a few bugs, sadly
✔ - At only around $3.50 a minute for 1-on-1 chat, it's not that expensive
Thumbs down
✖ - Not enough information about the site, on the site
✖ - Nothing beyond looking at a cam for a minute for non-registered members
✖ - Support options do not inspire confidence
My considered opinion
One thing I haven't mentioned so far, because I don't know really where to put it, is that most of the Asian sex cam models at LiveAsianWebCams.com hide their faces in "preview" mode. I thought this was just an accident, but about 95 percent of the cams I've checked are focused so you cannot see the model's face. That's another "odd aspect" to chalk up for this site! How can you be sure the model's going to perform for you in private if she's too shy to show her face in public?
Other than that, I personally don't think that LiveAsianWebCams has that much going for it, I'm afraid. Why not check the site out and see if you agree?
Review of LiveAsianWebcams.com
- Reviewed by
sexcamexpert.com