LadyboyCams.com - want top tranny performers? You'll find them here!
Good to seeya again, mates! Welcome back to the site of the self-styled "Sex Cam Expert". I genuinely think if there is something I don't know about sex cams, then it really must not be worth knowing. Hopefully you've read plenty of my reviews by now, so you're well on the way to becoming a sex cam expert, all of your very own. Of course, an expert has to explore every nook and cranny if he is truly to be regarded as an expert, which is why I have continued my explorations of the shemale side of the sex cam business with a review of Ladyboycams.com. So, if you're a dedicated ladyboy lover, then strap yourself in, hold on tight, and away we go!
Let's get the nuts and bolts of the site out of the way first. It's been around since 2004, although if you look back into the archives there wasn't a whole lot to it for many, many years! I wonder if it got any visitors - ladyboy lovers or not! Anyway, after presumably stuttering along for some time it was cut to ribbons and reconstructed in 2011, and has been the same way ever since. The company who own it are another based in Nevada, United States, which does seem to be the hotbed of tranny porn cam sites in the US ... especially Asian ones, for some reason. Okay, next step ...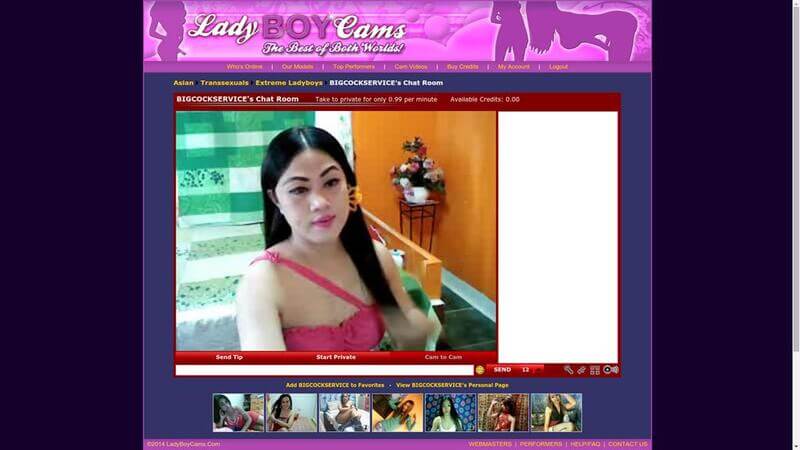 What do I think?
Okay, so Nevada may be a hot-bed of tranny sites in the US, but I don't think that LadyboyCams.com is the hotbed of sex cams, shemale or not. It's not quite as bad as the single figure cams I saw at GenderBenders.com. There's usually around 20 cams online, but when you're doing a bit of porn cam browsing, those are hardly the kind of figures that are going to inspire you when you're hunting for the kind of figures that are going to inspire you! The best shemale on the site is the one in the left hand pane, but I doubt she is available for much in the way of chatting!
The site's redesign in 2011 is already looking out of date. It's really too busy, and there's lots of little moving, flashing bits - you know, the kind of stuff you saw on EVERY website in about 2001. Ah, well. There's a bit of a pinky-purple vibe going on as well which isn't very condusive to the eye. There's a menu, including access to over 34,000 profiles. You only have to look through a handful of these profiles to realise that around 30,000 of them ain't ladyboys! Not sure why they are there. You can also see some of the site's top performers (based on the porn cam viewers ratings) and you can register for the site from here.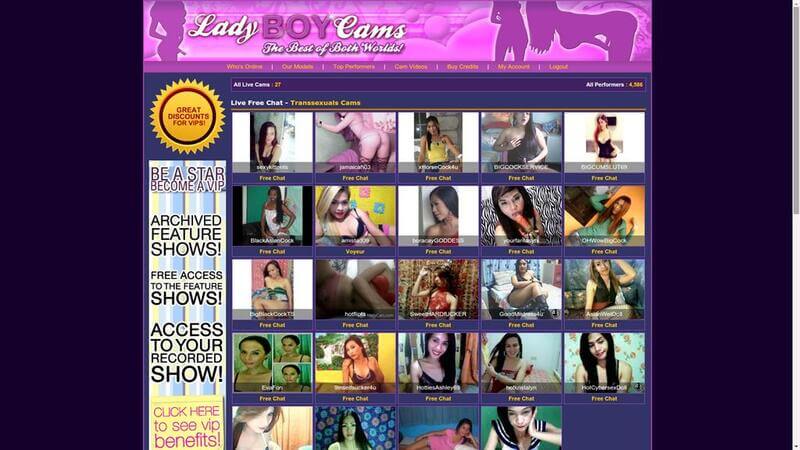 Moving on to the menu screen, there ain't too much in the way of info about the models given away. You can see what the model is currently available for, and you can also click over to her profile for a more detailed appraisal. If you are lucky the model will have uploaded some pics for you to look at.
A few of the models are only available to registered members at the site. If you move your mouse over the menu pic, a little camera icon appears. Don't get too excited as this only shows you a still picture of the model's current doings in her cam room. I don't think a lot of expense has been spared in the creation of this site.
Some little extras
The site makes a few promises concerning all the extras you will get if you sign up with the site, but they all point to the same thing - you can go 1-on-1 with the models! You can also change the cam view from the small size it appears in for unregistered users and watch from the video archive if you're willing to pay.
Going VIP involves a monthly $29.99 payment and you get access to some bonus, VIP-only content. You also get a ten percent discount on all your ladyboy sex cam activities.
Registration
Not taxing at all. Go to the registration screen and enter your chosen username and a password, plus a legitimate email address. You also need to prove you ain't no robot. Once you've clicked on "Sign Up" an email should arrive in your inbox. Confirm your address and you're all nice and registered.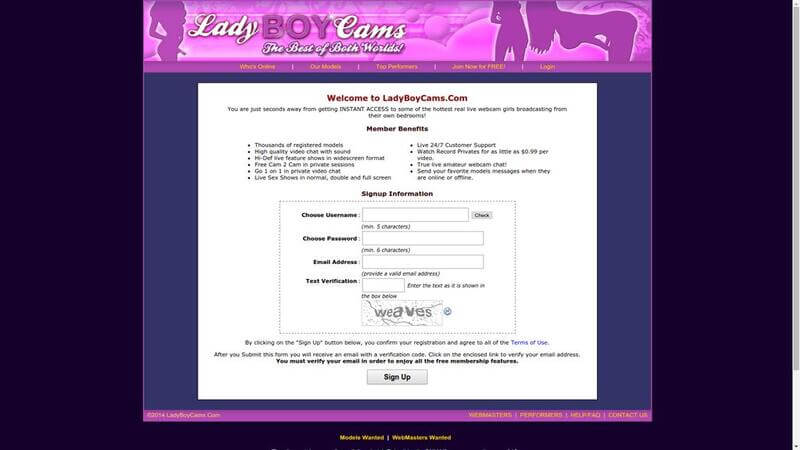 How to chat
Most of the chat options beyond free chat are very nicely priced, between $0.99 and $1.99 a minute, with the majority of the paid chat at $0.99. You can either go 1-on-1 solo with your chosen sex cam ladyboy, or peak into someone else's show. It costs the same to do live chat or "voyeur chat", which doesn't seem exactly fair.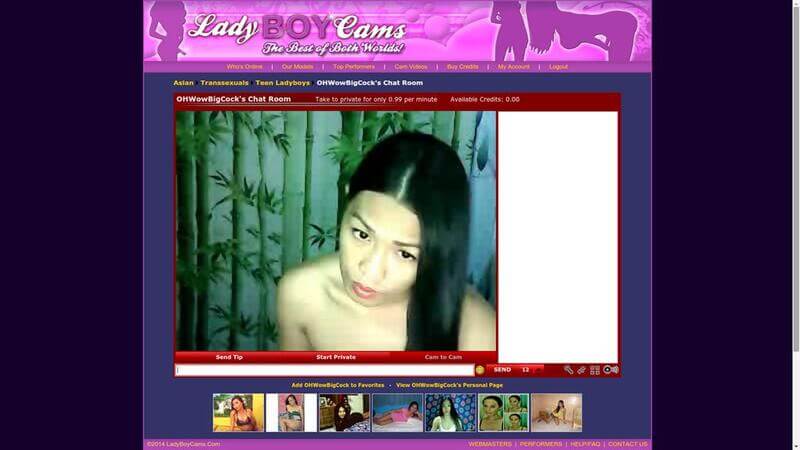 What's the video quality like?
Yuk! Not the best cam quality I've ever seen, and that's being kind! Once you get beyond double screen size the video is worse than VHS for those of you old enough to remember it! The site doesn't really make of meal of it being HD, but "HQ" is mentioned. Sorry, but ... no!
Money, money, money
Not too tough to work out - one credit costs one dollar, more or less (you can argue over a cent if you want to, I really can't be bothered!). Packs are available in $29.95, $49.95, $79.95 and $99.95 values.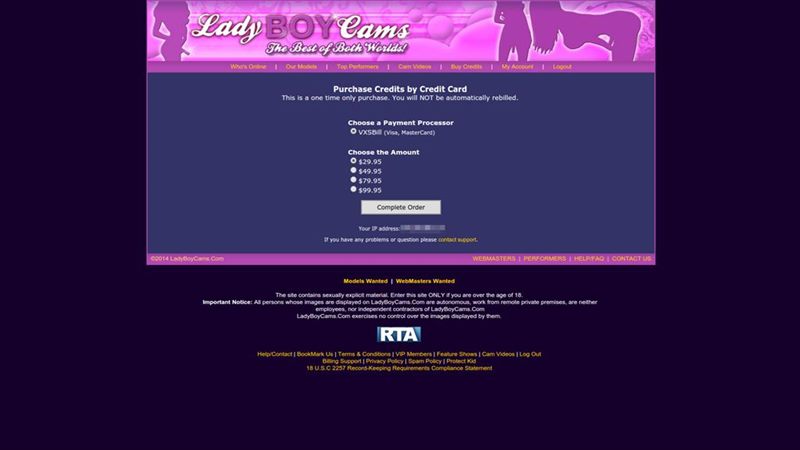 How to pay
Visa or MasterCard, and that's it!
The number of models
Well, you can forget those 32,000 profiles! When you go on to the active cams pages it givex a figure closer to 4,000, which still seems a little too high for me, given the scarcity of the models.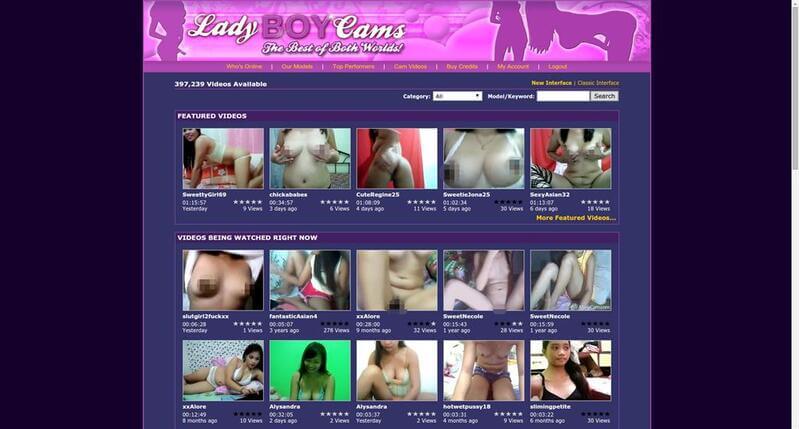 Customer service
Phone? Check. Email? Check. Live chat? Nada.
Thumbs up and thumbs down
Thumbs up
✔ - Definitely at the cheap and cheerful end of the market
✔ - A great site if you like Asian ladyboys!
Thumbs down
✖ - The quality of the cams can be dreadful
✖ - A distinct lack of performers
✖ - The 32,000+ profiles that are listed contain 1,000s of non-transgendered people
My considered opinion
Well, I can only see one reason for going here - to see Asian ladyboys and to engage with them without having to empty your bank account! Even then, you're going to need good eyesight as if you make the cam view too big it looks like a file you've downloaded from the internet that someone recorded with a cam at the cinema! Still, at less than a dollar a minute you hardly expect iMax, do you?
Review of LadyboyCams.com
- Reviewed by
sexcamexpert.com