The sex cam expert's valuable opinion on the ladyboys at Shemale.com
Glad you are able to join me again, my shemale cam loving mates. It's that time again - time for the Sex Cam Expert to cast his appraising glances over another sexy shemale site for all you ladyboy lovers out there. It's all part of my amazing service, so I hope you appreciate my efforts. Those appraising glances I've just been talking about are going to tell you all about the site with the best domain name any transsexuals cam site could possibly wish for - Shemale.com.
First the background buzz about the site. The domain name itself has been around since 1997, but the site hasn't been a cam site for all that time. It began as a shemale text chat site, with a few raunchy videos thrown in for good measure. The site didn't do much business for quite a while, until it was re-animated in 2007 by (according to the site) a group of shemale performers, who stripped down the site, gave it a fresh lick of paint, and relaunched it as a genuine shemale cam site. It's a surprise that the site isn't doing better than it is - Alexa.com puts it outside the top 100,000 of global websites, compared to LiveJasmin.com in the top 5,000. I guess shemales is still too narrow a niche.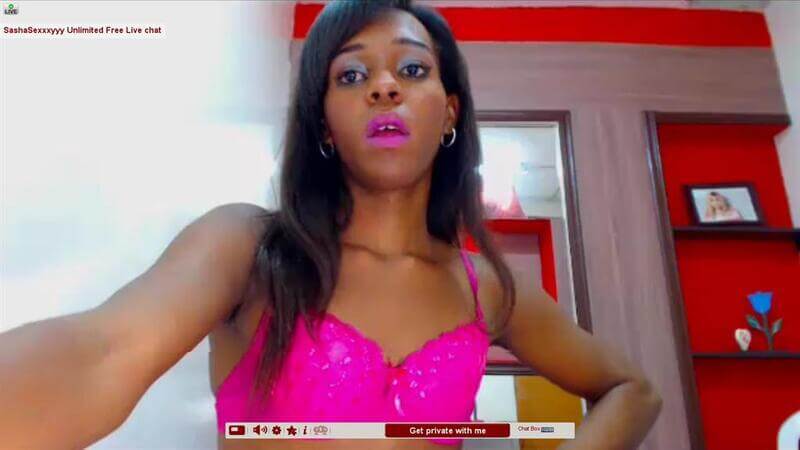 What do I think?
Okay, let's get cooking with the real review. If you pop across to the site in search of hot tranny action you're immediately going to be impressed, I suspect. There's certainly more of a community vibe to the site than at the usual adult sex chat sites you're likely to come across. Most sites of course go with the default adult thumbnails view so you can see all the sex cam loveliness that is but a few clicks of your mouse finger away, but at Shemale.com the default view is a steady introduction to the site. The typical webcam selection view can be reached by clicking "Webcam Hosts" in the top menu, and you can use the same menu to reach other aspects of the site that you are more than likely to be interested in, and all available for free and without registration.
The webcam menu page has everything you'd expect from a decent sex-cam page, with one nice little extra. If you do happen to flick over a model who is currently in a live show you may be able to watch a nice little intro video about them, if the model has provided one of course. If the tranny cam lady is available for free chat, you'll be able to see what she is currently doing if you do the same mouse trick. You can also access the sex cam model's bio and any pictures she has uploaded to the site, as well as the crucial facts such as age and the language(s) you'll be able to chat in.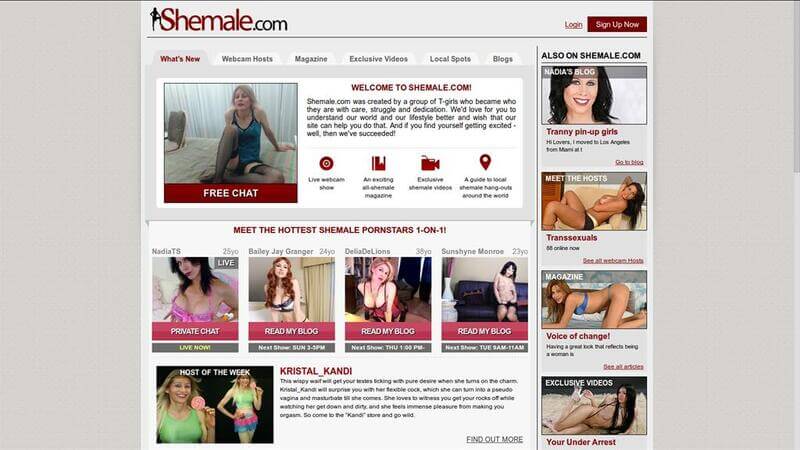 Even though I'm not turned on by shemales, I did find the whole Shemale.com experience rather interesting, as there's so much about the transgender lifestyle here. So, whether you're just turned on by transsexuals, or you want to learn a little bit more about the shemale lifestyle, I can heartily recommend Shemale.com. So far, at least.
Some little extras
Of all the sites (shemale or otherwise) I've reviewed so far, I don't think I've seen a site with so many extras as Shemale.com. They hold shows at regular intervals with genuine shemale porn performers, and feature a different "Host of the Week" every seven days or so. There's videos to watch, and they are not half as expensive as you find at other sites. Finally, there's plenty of reading matter at the site as well, with blogs from top transsexual performers, and a magazine which is a series of smaller blog articles. Lots to keep you occupied, as well as the sex cams.
Registration
Most of everything I have spoken about so far is free, so you only really need to register if you are going to buy some credits so you can chat privately with the models. If you want to go that far, you need to get through the three-step registration process:
Fill out your email address, chosen username and password.
Fill out your profile - although you can leave most of this blank if you'd prefer.
Buy some credits! You need to buy at least 25 credits to complete your registration.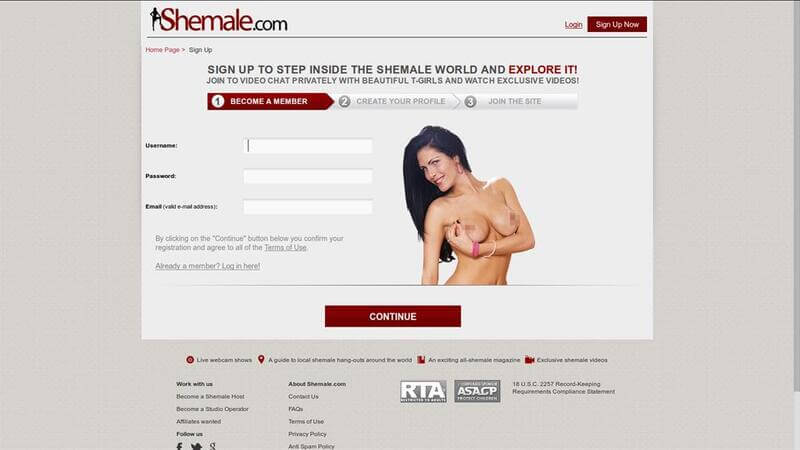 How to chat
There's only free public chat and paid private chat. The models are free to charge what they like for private chat, and most charge between 0.99 and 5.99 in credits per minute.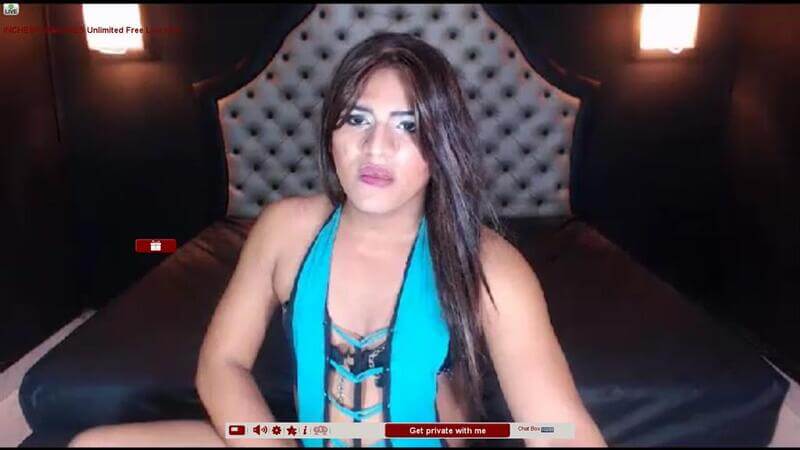 What's the video quality like?
This seems to depend upon the model. There's not a great deal of the old HD about, and even then I wasn't impressed with some of the cam streams I watched. Others were absolutely fine - both HD and SD.
Money, money, money
If you're a bit of a thick-o with numbers (like me) you'll be pleased to hear that at Shemale.com one credit costs £1. You can buy packs of 25, 50, 75 and 100 credits at a time, although you do not get a discount for buying in bulk.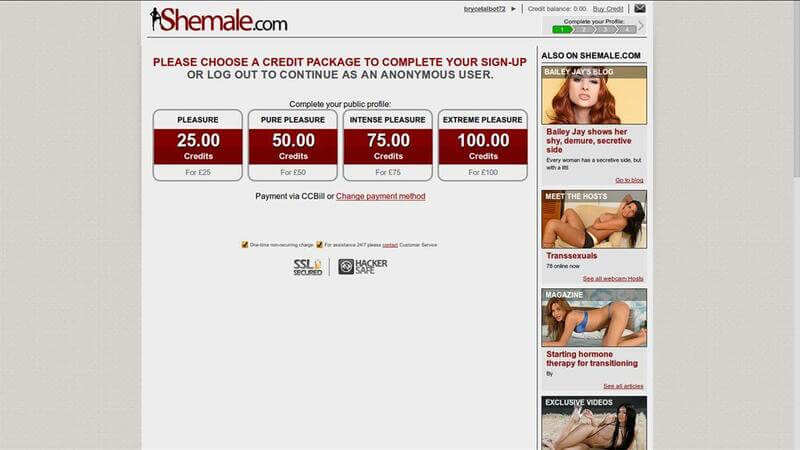 How to pay
If you like to be discreet, then you'll be delighted that you can use PayPal to fund your account! This is done via EPOCH. You can use credit or debit cards as well, again via EPOCH or CCBill.
The number of models
There are only around 400 transgender sex cam models registered at the site, which means whenever you go to the site, there can be a bit of a challenge to find someone to "chat to".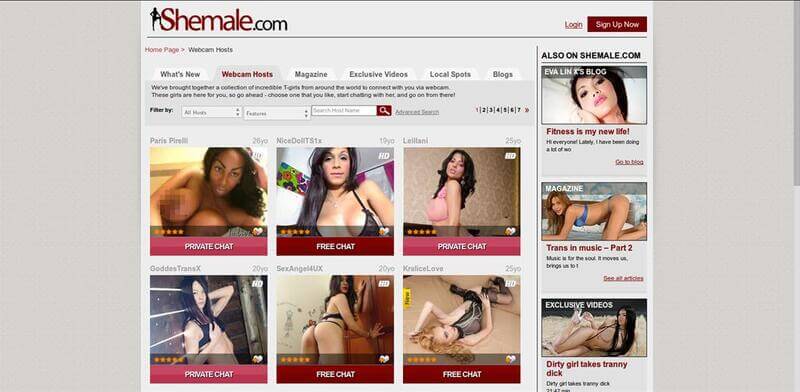 Customer service
This was a huge let down. The only way you can contact Shemale.com is via email. There are no phone numbers give, or a live chat function.
Thumbs up and thumbs down
Thumbs up
✔ - Lots and lots to keep you interested
✔ - You can access nearly all of the site for free
✔ - PayPal accepted as a payment method
Thumbs down
✖ - Adobe Flash seems to crash a lot when you are viewing the cams - really bad if you've paid for private!
✖ - Not enough models to say the site is 7+ years old
My considered opinion
I think Shemale.com is kind of a work in progress, and by reading other reviews on the net it seems the site has made a few changes of late, so maybe these changes are still bedding in. I like the way the site is not all about shemale sex cams, but you're still reasonably served (a greater number of models would not go amiss) if that is all you are interested in. The site just needs to attract more models, stop those Adobe Flash crashes. There's plenty to recommend Shemale.com, but a little bit of a polish wouldn't go amiss. All in all a nice try, but just not quite there yet.
Review of Shemale.com
- Reviewed by
sexcamexpert.com