LiveSexAsian.com - the Asian-only sister site to LiveJasmin.com
Welcome back to my site, all you bonser adult sex cam lovers. You'll no doubt be thrilled to hear that the self-styled sex cam expert has vowed to keep bringing you all the latest and greatest reviews of all the top adult web cam sites out there - the ones that put those gorgeous sex cam models in touch with folk who love to see 'em getting dirty. Unless you've stumbled across this particular niche by accident, you'll understand my voyage on the good ship sex cam has taken me a little further afield than normal. as I have turned my attentions to the wonderful world of Asian sex cam babes.
If you're good and ready, then I'll get typing. The site I am going to be reviewing for you tonight is called LiveSexAsian.com, and it treds over some very familiar territory indeed, as you will soon find out. I'm not quite sure that LiveSexAsian.com is the best name for a site of this persuasion, but I'm guessing other domain names had already been taken and that was all that was left and at a reasonable price. This is a little surprising as the guys who are behind this site are the same people who are behind LiveJasmin.com, and MyTrannyCams.com which - as I hope you know as obviously you've been reading my reviews - are the cream of the crop when it comes to adult sex cams. Anyhow, LiveSexAsian.com has been around providing the very best in Asian cam babes since 2007.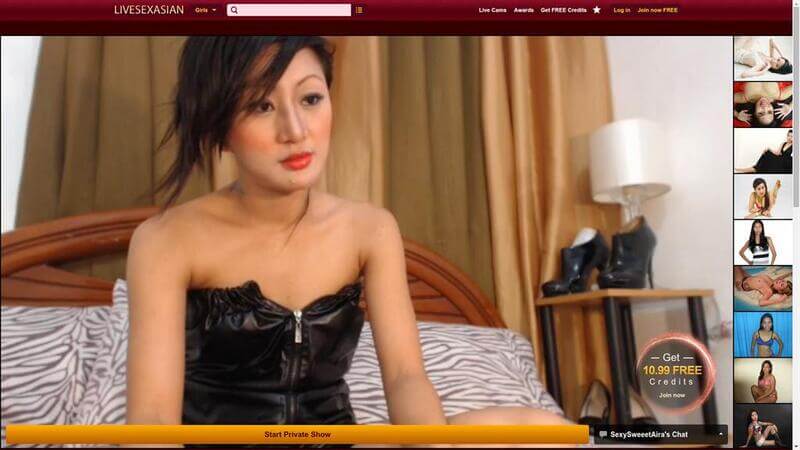 What do I think?
So ... what do I think? Well, I think I'm on LiveJasmin.com, that's what! LiveSexAsian is a clone site of LiveJasmin.com with the same set up and feel but wearing a different set of clothes - a kind of burgundy as opposed to the definite red of the LiveJasmin.com site. I suppose this site will save you searching the main LiveJasmin.com site if you really just want some Asian porn beauty. I did say that this was a clone site, but I think the cloning process has stripped away a little too much, as not much seems to have been ported across. I did find a couple of "coming soon" notices, but I wonder how long they have been hanging around?
Anyway, on with the review. The menu screen is the same as you will find at LiveJasmin.com (or MyTrannyCams.com) with the big and small thumbnails of the models currently available at the site for you to get to know intimately. You don't really get a great deal of info from the menu - you have to get into the Asian sex cam model's room for that, where you can see a gallery of super sexy shots and glean a little more in the way of information. Oh, and everyone's favourite "mouse hover" trick works here as well so you don't have to go to each room to see what your chosen model is currently getting down to.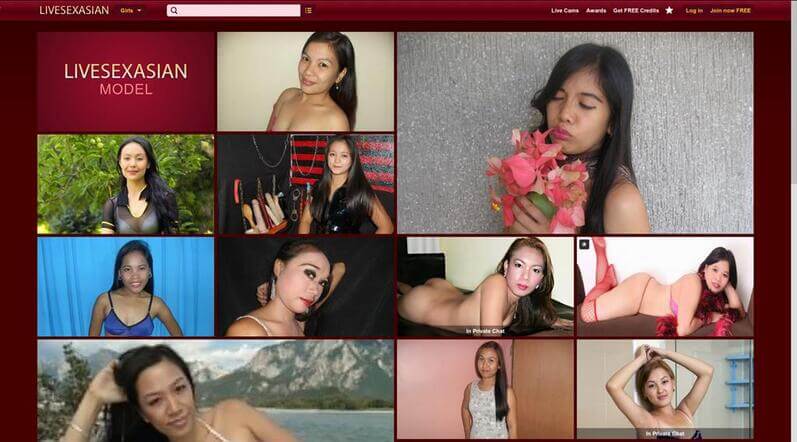 Aside from a couple of menus, that's really all there is to it! The menus allow you to switch from the default girl to boy or tranny view, and to go a little deeper into the specifications of what you might actually be looking for when it comes to amateur Asian porn models. The only other options are access to your favourites list if you've saved one (you can do this if you're registered at the site) and places to sign up or login.
Some little extras
Sadly, not a great deal. You can join a chosen Asian sex cam babe's fan club, and vote for your favourite performers, but that really is about it.
Registration
It probably doesn't need me to tell you that if you are already registered at LiveJasmin.com or MyTrannyCams.com then you are automatically a member of LiveSexAsian.com, although that means you can't claim your freebie "sneak peeks". If you're not a member then you can register at all three sites in one step by registering here. Just pick a username, password and fill in your email address. Once you've clicked the "Join" button and acknowledged you've read the T&Cs, you're all set.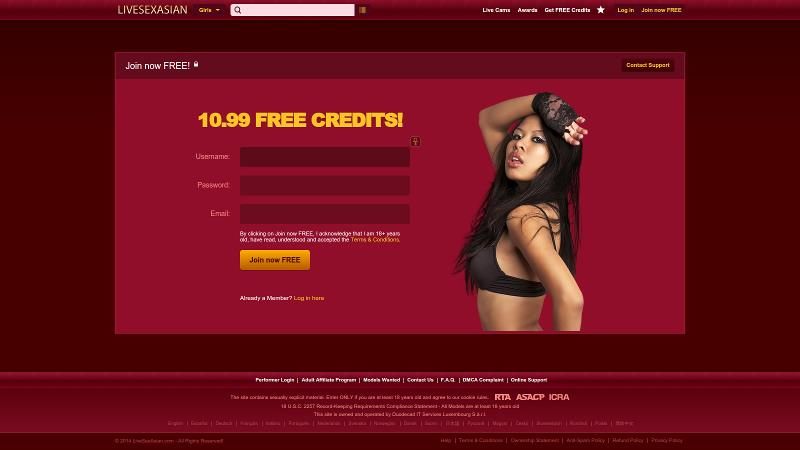 How to chat
There's the free chat which has no restrictions, and private chat where you can get the model to perform what you would like her to - as long as she agrees. Private chat is charged at the rate as specified by the model. You can also look into a private show that's already in progress for one credit - although your view only lasts twenty seconds.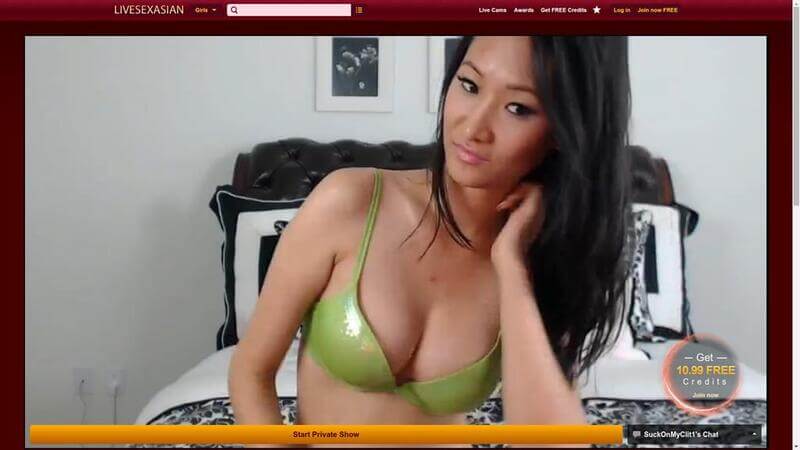 What's the video quality like?
It's LiveJasmin.com, so you're bound to be impressed. Seriously, these guys have the very best when it comes to HD cams. Very good quality and super smooth. The SD is very good as well.
Money, money, money
The rates are decided upon by the model, on a credit-per-minute basis. Prices are as follows;
EURO €
GBP £
USD $
Price
Credits
Price
Credits
Price
Credits
€29.99
28.99
£18.99
29.98
$29.99
29.99
€69.99
58.99
£27.99
43.97
$69.99
75.98
€99.99
98.99
£65.99
86.97
$99.99
108.98
€159.99
158.99
£93.99
118.97
$159.99
169.98
-
-
£149.99
180.97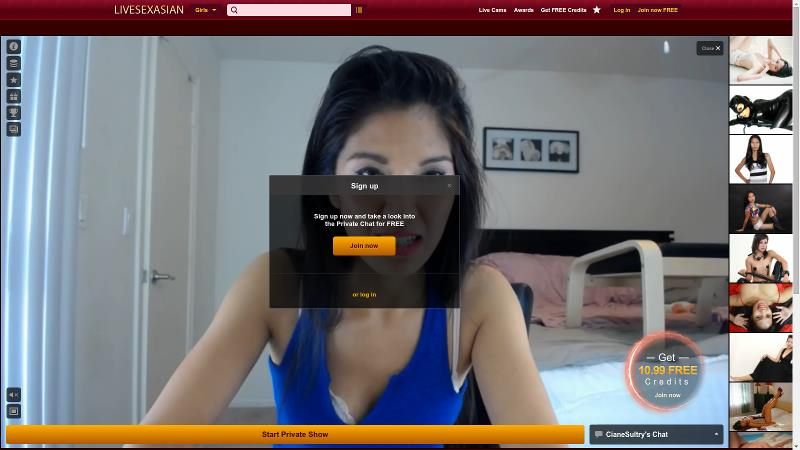 How to pay:
If you like to be anonymous, than you can use the pay-by-phone option. Just dial the number and the cost of your call is added to your LiveSexAsian.cam account. If you prefer more traditional payment methods, there's plastic (Diner's Club, JCB, Mastercard, Switch, Solo, Visa and Discover) and direct from your bank with Sofort banking. If you're in Europe you can set up direct debits from your account.
The number of models
A disappointing few. It's hard to tell exact figures, but I think under 100 models are registered at the site.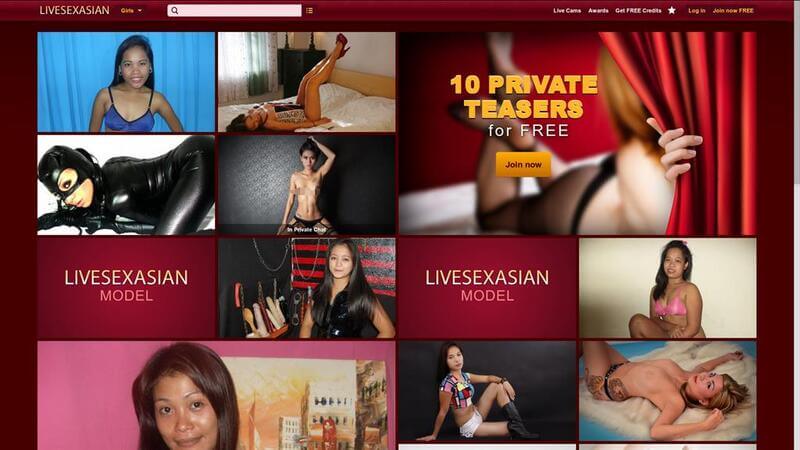 Customer service
Excellent service facilities as you'd expect from the number one sex cam site provider on the web - Asian sex cams or otherwise! Take your pick from live chat, email and phone - one number for technical queries, and another for financial matters.
Thumbs up and thumbs down
Thumbs up
✔ - The very, very best in sexy Asian sex cam babes
✔ - You can be assured of a decent experience at this site in every way possible
✔ - The web cam quality is well bonser!
Thumbs down
✖ - Definitely could do with higher numbers of models
✖ - Needs a few more extra bits to make the whole experience a more worthwhile one
My considered opinion
Oi you lot! You know my high opinion of LiveJasmin.com, and aside from the lack of extra features and the need for more models, LiveSexAsian.com matches all my expectations. The cams are excellent, and the models are stunning. I can't say fairer than that! If you love Asian babes, and you love Asian sex cams, then LiveSexAsian.com will very soon be a site appearing in your bookmarks list!
Review of LiveSexAsian.com
- Reviewed by
sexcamexpert.com