Supermen.com Wants To Be a Gay Sex Cam Hub
Hallo there – how are you doing? I am Mike and reviewing the leading gay webcam sites is my business. I want homosexual cam users to be able to have the best time imaginable on adult webcams and I want them enjoy the biggest discounts and most innovative features. In the following Supermen.com review I will introduce you to this sexy website and show you what kind of features and options and sex chat prices it offers. If you read through and listen to my tips, you won't just be able to enjoy amazing sex shows with hot gays, but will also be able to pay a lot less for every minute you spend on private chat rooms. Now, let's stop the chitchat and get down to business – we have plenty of info to get through.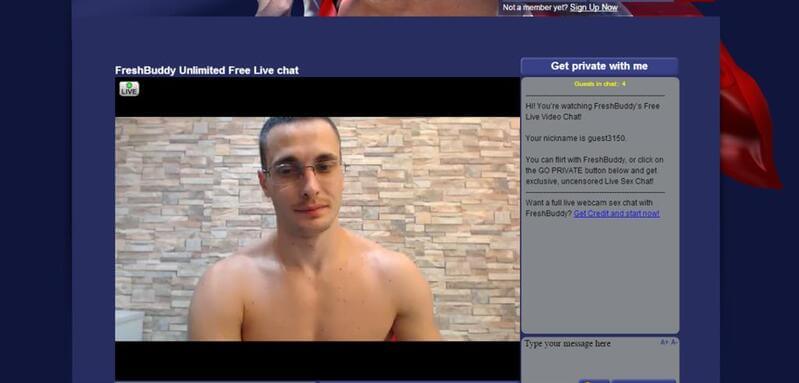 What do I think?
I was very excited about writing this Supermen.com review. This adult cam site belongs to a large and successful sex cam network which includes many brands and websites. I had great expectations when I entered this portal for the first time. Were they answered? Let's find out.
I was immediately aware that this sex cam site wants to be more than a sex cam site. It wants to brand itself as some kind of a homosexual hub. How could I tell? Webcam sex chat rooms are only one section on this large portal and others include some unusual options such as informative review of local gay pubs and clubs around the world, a massive video archive and even articles. I was only interested in one thing though: The live gay webcams, so I clicked and started chatting at once.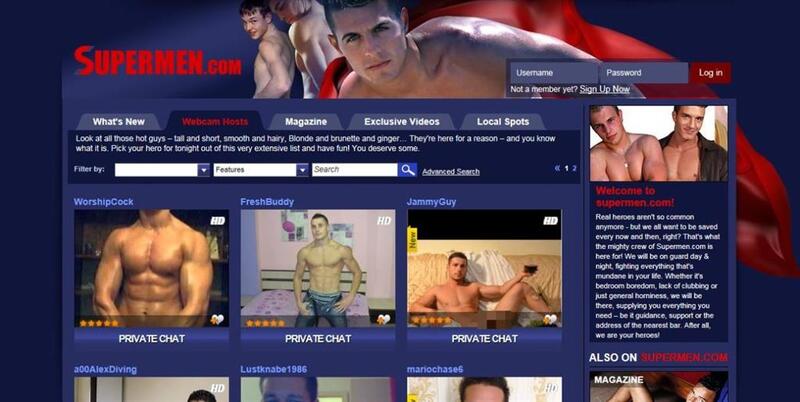 I was happy to learn that the free chat rooms were open even to people who haven't signed up yet. Not all guys offered free chats, but almost all, and it was very easy to find the new guys – they had a big 'New' sign on their picture. There was also a sign saying 'Happy Hour' which is a bit like a group porn show, but for a discounted rate – the guys only charge 0.88 credits per minute. The men were very sexy and I liked the design of the chat rooms and the user-friendly features. I also appreciate the cute bio pages – they had the basic facts of every homosexual webcam model, as well as a few sexy pics.
Some little extras
This gay sex chat community has plenty of extras. Users can access photo galleries, porn movies, sexy events that feature homosexual porn stars and even find local gay clubs and pubs in their area. There are also blogs, magazines and a whole list of video chat features. You can also check out Hot Rooms – which are basically the sex chats of the most popular studs.
Registration
You have to buy credits to join Supermen.com, but other than that, the whole process is fast and simple. You just list your details and choose a credit package and voila – you're a standard member. What should you do to upgrade your membership? Just collect bonus miles – but I will explain more about this issue in a bit.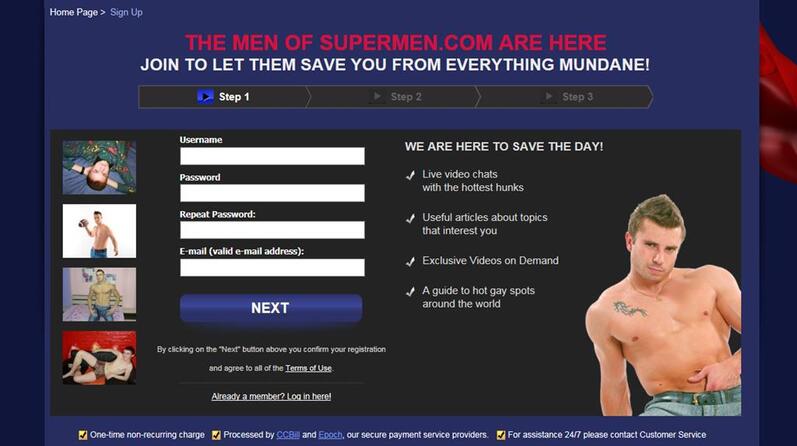 How to chat
There are several types of chat rooms on Supermen.com: Free chats are unlimited and open to everyone, even if you haven't joined yet. The paid chats, AKA naked chats, all have a cost per minute and they feature solo men or couples – even a threesome or two, but there aren't all that many of those around. The Happy Hour chat rooms are like discounted group shows and the chat rooms that have a 'New' sign on them feature, well – new guys, and usually cost less.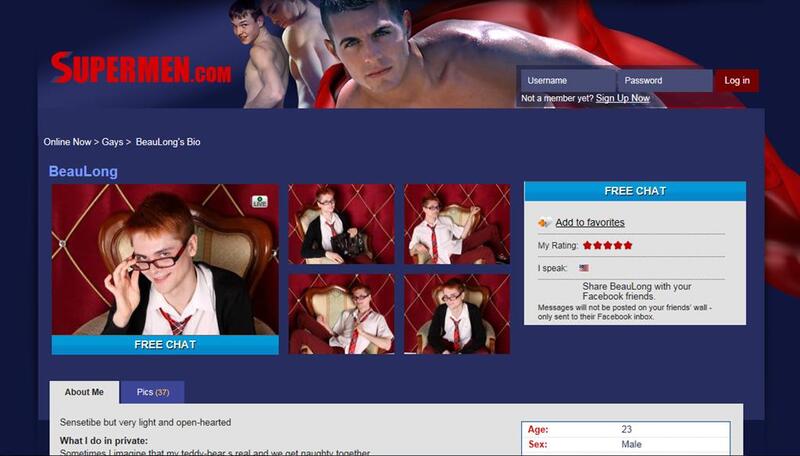 What's the video quality like?
The Supermen platform is good – excellent actually, which could be expected considering that this gay webcam site is part of a large, esteemed and professional XXX network. The chat rooms are well built but the quality of the web cameras that the guys have varies – that's what you get when you chat with amateurs, it's always a bet.
Money, money, money
As far as gay webcams are concerned some guys believe that cheaper is always better. That is untrue. Cheaper is better only if we are talking about a quality sex cam site that has enough guys, decent platform and live porn shows that you can enjoy – otherwise you ay very little and get even less. Luckily, when you visit Supermen.com you will quickly see that you don't have to choose between quality and price – this is a very cheap site with naked gays performing for as little as 0.88 per minute.
Supermen also has a mile system, which is similar to the frequent flyers club you know from major airlines. The most credits you buy, the more miles you will get and they will mean bigger discounts and some free extra benefits in the future.
| | | |
| --- | --- | --- |
| How Many Credits | The Price You'll Pay | The Bonus Miles you'll Receive |
| 25 | $25 | 2 |
| 50 | $50 | 6 |
| 75 | $75 | 9 |
| 100 | $100 | 13 |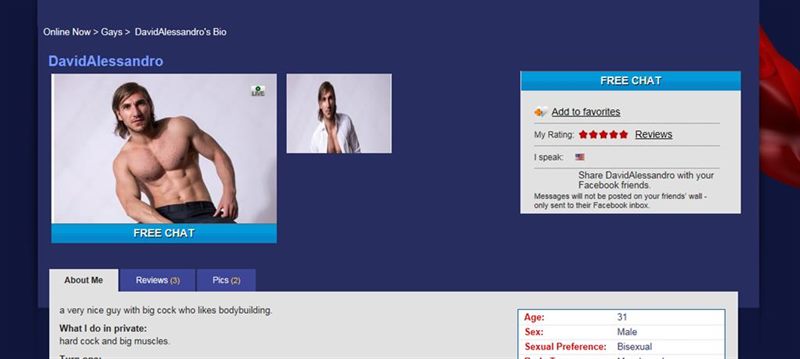 How to pay
You won't encounter any difficulties when you pay for credits on this gay webcam arena. There are several options to choose from and while both are credits or debits, I have a feeling you will find at least one that you currently own. Payment options include Visa, MasterCard, Maestro, MasterCard Debit, Delta, JCB, Discover, MasterCard Debit, Bleue, Electron, Switch and Solo. Finally, you can also choose to pay with an E-check.
Memberships
I am not going to explain the full details of the memberships on Supermen because they're complex and most of them won't matter for you anyway – not for a while. It will take a long time to collect enough miles to become a Platinum member. Basic memberships doesn't include any specific benefits, but when you collect 15 miles, you will become a silver member and could enjoy 1% extra credits whenever you buy some, as well as 10 credits on the house. When you collect 200 miles, you will start enjoying 3% bonus whenever buying credits and 100 credits on the house. Finally, when you own 500 miles, you will become a Platinum member and can enjoy 5% extra credits whenever you purchase some, as well as a present of 200 credits.
Each level of membership also includes discounts for Happy Hour gay chats. For example, as a Premium member you will only be paying 0.20 credits per minute during Happy Hour, but only few guys offer this promotion.
The number of models
There are around 8,000 gays and bisexual men registered to this sexcam arena, and around 70 or 80 will be online, ready to chat with you, whenever you happen to be in the mood for some XXX shows. Most of the men here are amateurs, but they are hot, so I don't reckon you will encounter any difficulty when choosing a sex chat partner.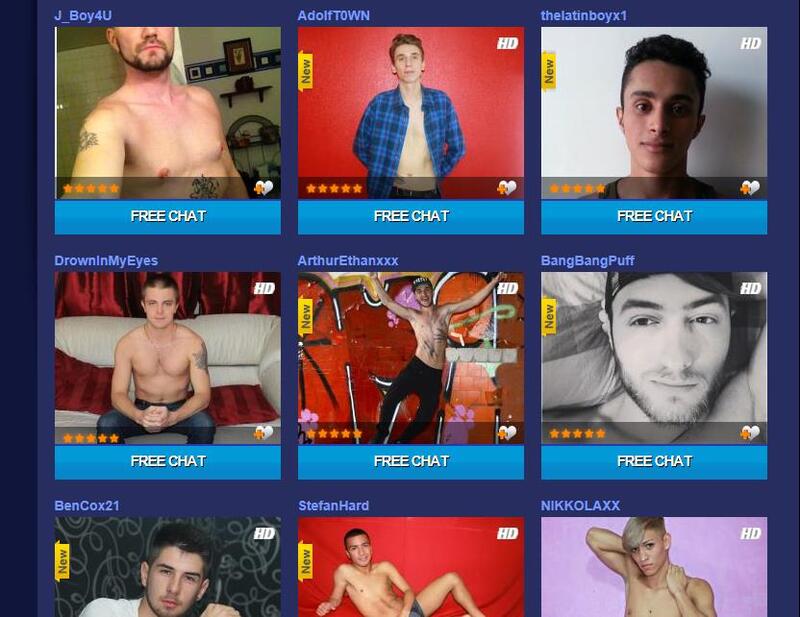 Customer service
You can contact customer support via an online form or a direct email, and there is a phone number for billing support. The site has an FAQ page, but only members see the full list of questions, so you have to join – for free, if you want the full details.
Thumbs up and thumbs down
Thumbs up
✔ - Plenty of handsome amateur gays
✔ - Great sex chat platform
✔ - Very cheap nude cam prices
Thumbs down
✖ - Inconsistent sex cam shows – some are amazing, some are just okay
✖ - There is a lot to take in – videos, pics, blogs and even hangout locations
My considered opinion
I hope that this Super.com review has included everything you wanted to know and if not, I am sorry, but I am just going to go and guess that you haven't read the entire article because, seriously, I can't think of anything I left out. This is a fantastic gay webcam hub – featuring everything a guy needs to find a homosexual hookup, a gay porn chat or XXX content. I, for one, think that you should use the free membership that this website offers to try and get a better feel of your options and opportunities. Why not? Most of you will have an incredible time on Supermen, and will want to continue chatting with the horny guys for a long, long time.
Review of Supermen.com
- Reviewed by
sexcamexpert.com