Discover BDSM Pleasures and Sexy Fetishes on XLoveFetish.com
Fetish sex cams are like no other type of cybersex experience. These are not some quiet chat rooms where a bored woman goes online to shake her stuff because she likes the excitement of being watched by a horny stranger. Fetish webcams require a new set of skills. The submissive or dominating women need to have an extensive knowledge of the darker sides of sexual needs and yearnings and they need to be trained, in control and fully equipped to handle the hardcore experience. I've reviewed many adult cam sites that i=either focus on BDSM and other fetishes, or that have a large section dedicated to kinky sex chats, and not all delivered. Today I am offering you this XLoveFetish review and I will make sure that by the time you get to the end of it, you will know exactly what this site is worth.

What do I think?
What do I think about this adult webcam site? I can tell you that my first thought was: Wow, check out those gorgeous femdoms and subs! My second though thought was: Why aren't there more? This really sums up my first experience of this website, and you will probably notice this theme further along this XLoveFetish review. This XXX fetish chat portal is wonderfully made and the women here are seriously into fetishes – the ones that professional like, but there aren't all that many of them available for live chats and that is annoying.
I was not so annoyed though that I didn't allow myself to enjoy the beauty of the webcam models and I admit that I instantly found a few whom I wished to know more of – and when I say "know", I mean of course in a nude way.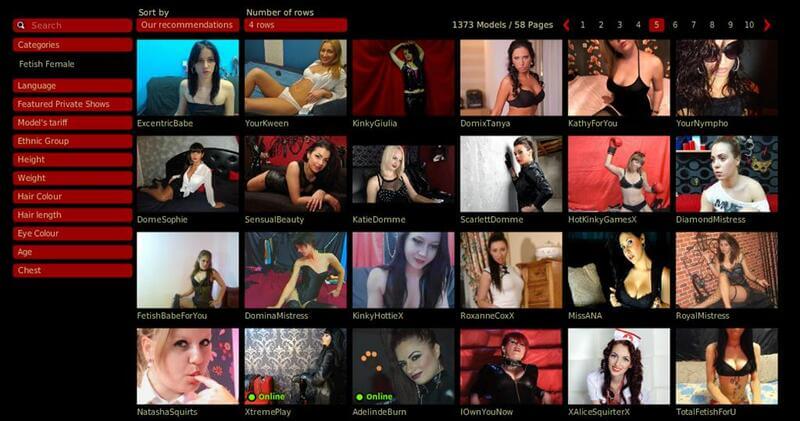 I like the general design which instantly made me feel like I was in some kinky blog and the first dominatrix I chatted with took my breath away. I don't mean to intimidate you – I like fetishes, but it's not like I am some pro or anything like that. I am just an amateur with a dirty mind, and I enjoy some uncomplicated exploration, and this is exactly what I found. You can probably enjoy hard BDSM webcam shows such as CBT or sissification – the models certainly seem to have the ability and gear to make it true, but if you just want a role play, that's also fine – the fetish camgirls will know how to read you and give you not only what you want, but what you actually need.
Some little extras
'Little' is the main term here – there aren't all that many surprises here other than the things that take place on the live chat rooms. Members can send emoticons or 'Love' to the camgirls and you can also send a Bonus, which, and forgive me for saying so, will likely get you the admiration of the model way faster than telling her she's hot and you wanna do her. Moreover, I recommend you watch your language with the femdoms, unless you're looking for a good old fashion butt-whopping, which is also just fine of course. Any more features? Let me think… Nope.
Registration
Let's say you don't want to sign up and you just want to visit the free chat rooms on this fetish webcam community, what then? Well, you will be able to play Peeping Tom for like a few seconds and then will land on the 'register now' form, so just spare yourself the annoyance and register – it's free, it's fast and you don't need to list a credit or debit card, only a username, password and email.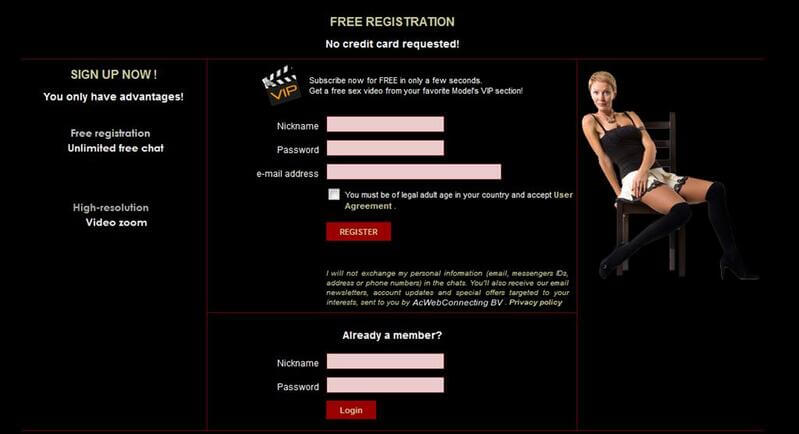 How to chat
I understand that some of my readers are new to the world of live adult cams, but if you're looking for fetish chat rooms, I feel that you ought to have at least some kind of basic experience with webcams, so you probably know how to chat. Even if you don't know, there is nothing to learn. You click on the woman you want to chat with and you start typing in whatever filthy thought comes to your mind or more importantly: The questions that you want to receive answers for before you start paying for a private session.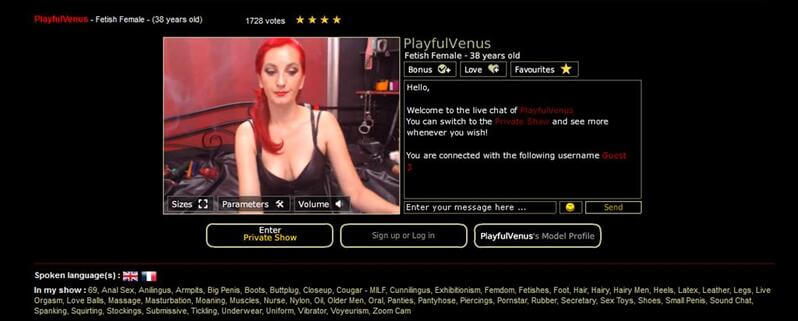 What's the video quality like?
When I wrote this XLoveFetish review I must have visited 30 chat rooms – at least, and was pretty happy with the general streaming quality. Maybe one got stuck, and I am pretty sure that it was my internet to blame. This is not the slick High Definition quality you'll find on some of the leading fetish cam portals, but it's still more than okay.
Money, money, money
In order to launch a live fetish sex show, you will need some credits in your account and you can choose to add 25, 50 or 100. A minute of nude chat costs 2 credits – that's an average, there are both pricier and cheaper chat rooms available. That is not an expensive price at all and you can enjoy complete domination and submission sex shows without worrying about the bill.
Here are the credit packages and how much they cost:
| | | |
| --- | --- | --- |
| Number of Credits | Cost in USD | Cost Per Credit |
| 25 | $31.20 | $1.24 |
| 50 | $62.41 | $1.24 |
| 100 | $124.83 | $1.24 |
How to pay
Most people probably prefer to pay with their Visa, MasterCard or PayPal, but there are plenty of other payment options including Bank Wire, Bitcoin, Maestro and a few more. You can also call and pay over the phone, if you somehow think that this is easier.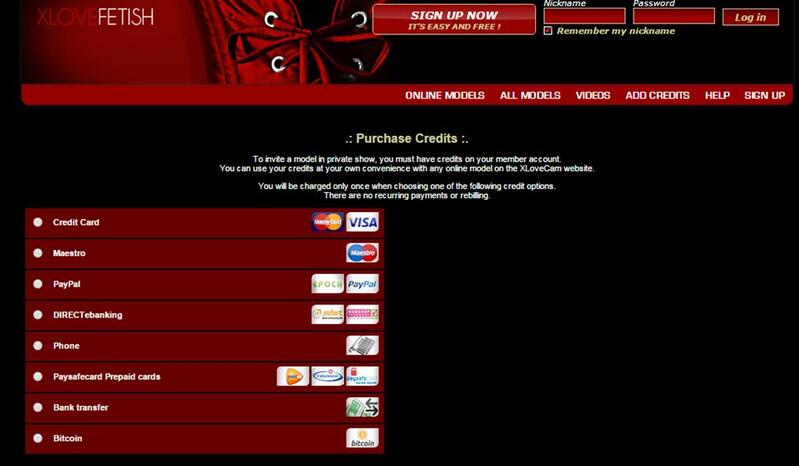 The number of models
X Love Fetish must have around 8,000 registered webcam models, but only 15-30 will be online when you look for entertainment. Even for a guy like me, who isn't especially peaky, this seems like a low number. Yet, the babes are real fetish experts, not just some amateurs in PVC, but there should be more of them.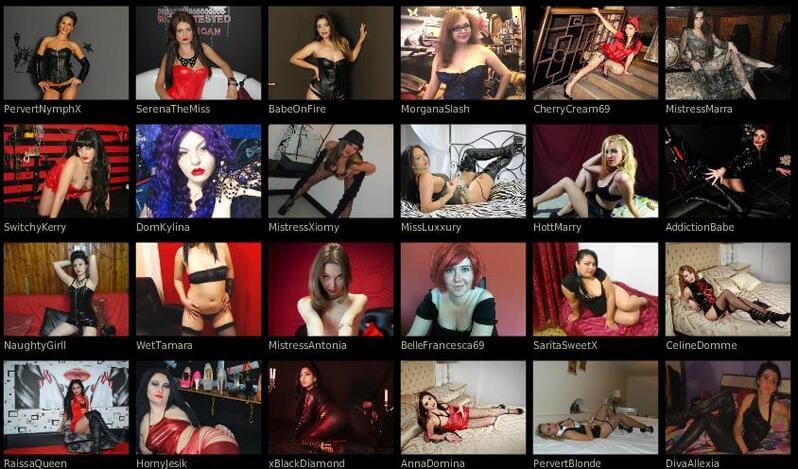 Customer service
You can receive assistance by sending a Help Form which is found under the Help tab. Where is it? At the top – what am I supposed to do? Draw an arrow? I suggest you look through the FAQs, which are also on that particular page. They include plenty of info and can save you the trouble of filling in the form.
Thumbs up and thumbs down
Thumbs up
✔ - The femdoms and subs are skilled and trained
✔ - Prices are low for a fetish webcam portal
✔ - There are a lot of kinky videos, if you don't mind the inconsistent quality
Thumbs down
✖ - Just one: Not enough women
My considered opinion
I will end this XLoveFetish.com review the way I started it: This adult webcam site is good and it can be amazing, if it only gets some more subs and femdoms. I did watch some fantastic live porn shows and they did include the fetishes I was dreaming about – to the letter, but I still think that any guy who needs some choice – even a limited one, might be disappointed by the available selection of live chat rooms. For now, I will only recommend this website is you don't care much about specifications and just want to enjoy a nice and uncomplicated live fetish show. I do see plenty of potential in this website – I really do, it just needs to do some recruiting and it could be one of the best on the greed.
Review of XLoveFetish.com
- Reviewed by
sexcamexpert.com