MyTrannyCams.com - where the trannys and ladyboys love to come out and play
Hello again, my porn-loving mates. Yes, it's me, the self-styled sex-cam expert ready and willing to educate you about yet another of those amazing cam sites the web is liberally littered with. This time I am going to be visiting a kinda specialist corner of the blue web, one that I really should know a little more about if I am truly deserving of the title of sex-cam expert, even if I awarded it to me myself. The site I'm reviewing - as you know as why else would you be here? - Is MyTrannyCams.com.
Okay, so we're gonna find out what's different in the world of shemale cams, and really, if you think about it, the answer is pretty obvious. But first, as usual, the background buzz about the site. There's actually not much info around about the site except that it was born in 2011, or at least the proper site was as someone had registered such a juicy domain name a long time ago, and used it to re-direct people to some very amateur looking sites. Anyhow, the site is actually run by the same dudes as run LiveJasmin.com, which is something that should get you quite excited from the get-go. Anyhow, read on ...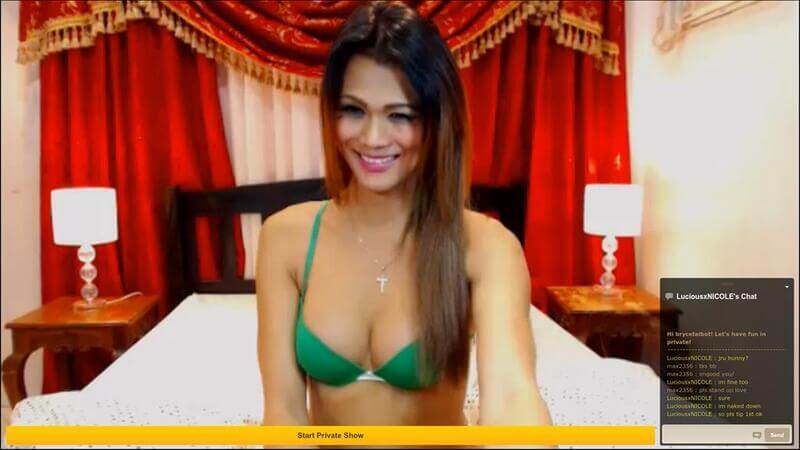 What do I think?
As soon as I landed on the site I had a definite case of deja vu, and tried to adjust the colours on my laptop. Take a look at the pic below and you'll see what I mean - if you've ever seen LiveJasmin.com that is ... and if you're a cam connoisseur then I hope you have an up and running free membership at least at the finest sex cam site on the web. At first I thought MyTrannyCams.com was just apeing the successful set up of LiveJasmin, but I dug a little deeper and found out that MyTrannyCams.com is basically a stripped down version of LiveJasmin, with everything not pertaining to chicks-with-dicks scrubbed out. Now, don't you go thinking that's a bad thing (for reasons I'll go into later) because it ain't, because as you know if you've read my review of LiveJasmin I think it's the boss when it comes to adult sex chat sites. It cannot be beaten - pure and simple. So, MyTrannyCams.com is basically LiveJasmin.com lite, for shemale fans.
Of course, as the site has all the functionality of LiveJasmin.com, although it's really only the very basic stuff that's survived the chop. You can browse the cams, or slip through the categories until you find the specific niche that suits your needs the most.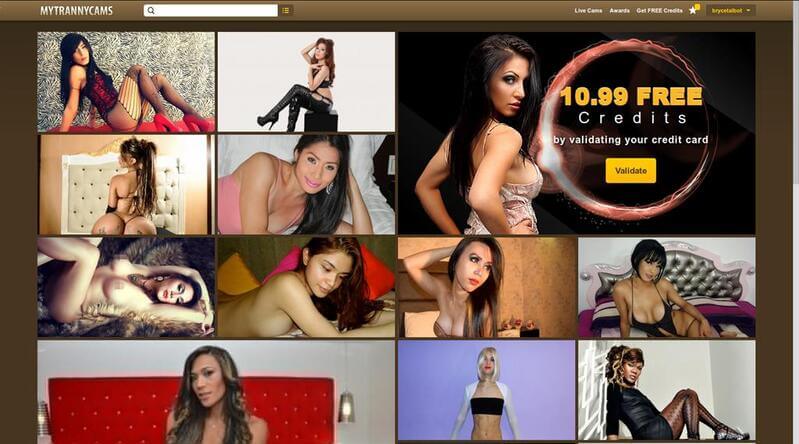 The quality of the shemale models is absolutely top notch, so if the kind of lucky people who in a way enjoy the best of both worlds is what turns you on, then you are going to be really enthusiastic about MyTrannyCams.com. The only thing I would say though is that while there are plenty of models at the site, there doesn't seem to be a lot of punters. This means that the transsexual performers can get a little desperate for you to go private, so expect the same if you're in a room all on your lonesome. On the plus side they might get a little risque in order to persuade you to part with your hard-bought credits.
Some little extras
Well, as the site has been around since 2011, and is basically's LiveJasmin.com's "transsexuals" section with a different domain name, it's a little surprising that there aren't that many little extras. In fact, in comparison to most other sites, there are zero.
Registration
If sex cams are your thing, then I assume you're already at least registered at LiveJasmin.com. If you are, then registration is very easy at MyTrannyCams.com, as you're already automatically registered! Just sign in with your LiveJasmin.com username and password. If you're not registered at LiveJasmine, then all you need to supply is a username, password and a valid email address for your confirmation email.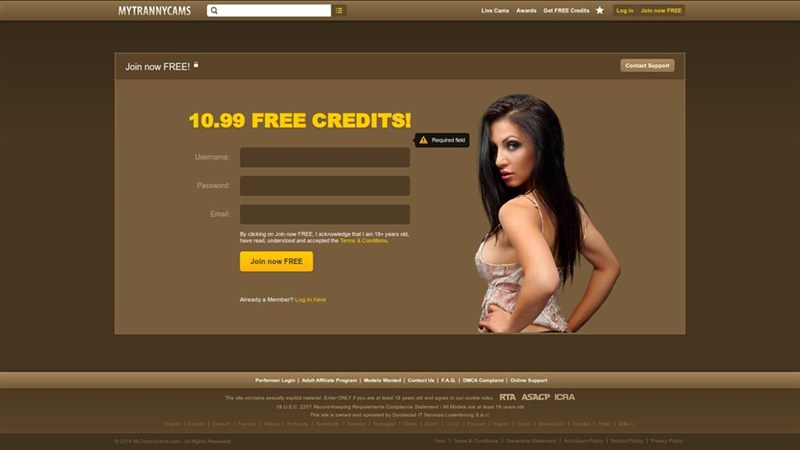 How to chat
There are not a great many options. There's free chat, and then there's the private chat if you want your chick-with-a-dick to entertain you in a super sex way.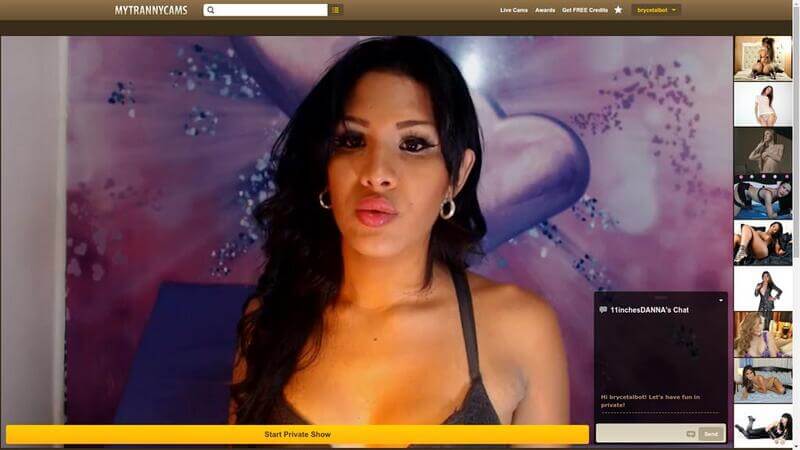 What's the video quality like?
As it's the LiveJasmin servers, you'd be very surprised if the quality wasn't exceptional - and there's no need to be surprised. Some of the sex cam performers struggle to provide enough bandwidth, but others stream in brilliant quality, even at SD levels.
Money, money, money
Same prices as LiveJasmin, of course. On the table below only the US prices are fixed. The site changes the EUR and GBP prices in line with exchange rates:
EURO €
GBP £
USD $
Price
Credits
Price
Credits
Price
Credits
€29.99
28.99
£18.99
29.98
$29.99
29.99
€69.99
58.99
£27.99
43.97
$69.99
75.98
€99.99
98.99
£65.99
86.97
$99.99
108.98
€159.99
158.99
£93.99
118.97
$159.99
169.98
-
-
£149.99
180.97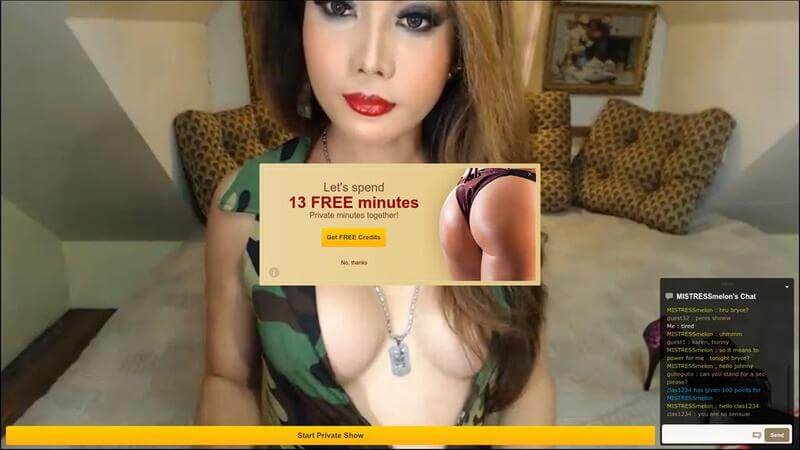 How to pay:
Mastercard, Visa (all varieties), Diner's Club, JCB, Maestro, Switch, Solo and Discover ways to pay, and by registering your plastic, you get yourself 10.99 in free credits. You can also pay by UKash, European Direct Debit or Sofort Banking. If none of those are suitable, you can pay by phone.
The number of models
Just a little over 6,000 she-males are registered at the site, with around 50ish online at a time. As I said above it's more a shortage of punters that's a problem at MyTrannyCams.com.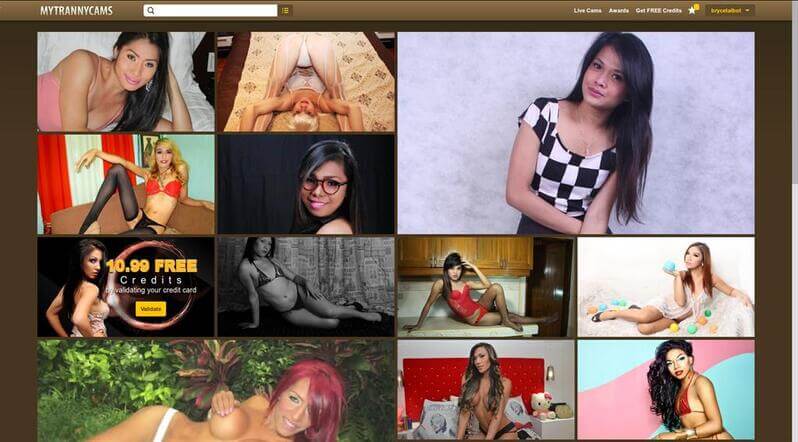 Customer service
Customer service is super-speedy at LiveJasmin... er ... MyTrannyCams.com. You can call them, drop them an email or use live chat. Support is available 24-7, and you can use the FAQs first to see if your query can be answered there.
Thumbs up and thumbs down
Thumbs up
✔ - Really, top-class models in all shapes, sizes and dimensions
✔ - The place is really professional and utterly trustworthy
✔ - Brilliant quality cams
Thumbs down
✖ - If you used LiveJasmin.com, then you'll feel a little short-changed with features at this sister site
My considered opinion
I guess if hot-for-it transsexual performers are a real turn on for you, then you won't go wrong at MyTrannyCams.com. The fact that the site is a stripped-down version of LiveJasmin.com means you can easily take advantage of all the professionalism that LiveJasmin offers. Top models, easy pricing, plenty of payment options (including pay by phone), eager-to-please sex cam models ... just what more could you possibly want? Well, I agree a few little extras would not go amiss, but other than that ... ? Top site, top models - go on, treat yourself, go there now!
Review of MyTrannyCams.com
- Reviewed by
sexcamexpert.com