CamSoda review - free adult chat with sexy babes
I know what you might be thinking. No, I don't presume to be psychic, it's just what I would be thinking; "You can't really go wrong with a website that offers free adult chat." And, while this CamSoda review does go into details that help make it clear why that line of thinking can sometimes be wrong, I have to admit: in this case, it is not.
Apart from offering free registration that requires no payment or even email verification, CamSoda has very little in the way of ads, pop-ups or other annoyances that might ruin an otherwise fun and raunchy experience.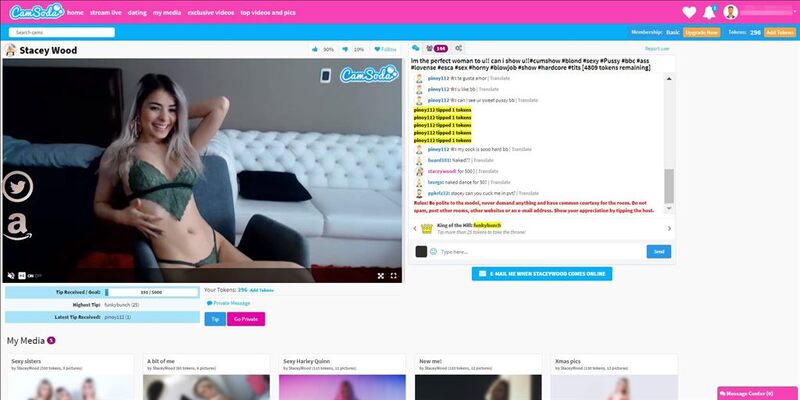 While this might have sealed the deal for some of you looking for your next tip based sex chat to bookmark, I'm sure most of you — meaning those who prefer to find a good website and stick with it — might want some necessary details to help you decide whether CamSoda is right for you.
So pull up your pants and read on. I'll try to keep this short for both our sakes.
What do I think?
If it wasn't clear enough from the opening of this review, you really can't go wrong with CamSoda. It's free, quick to load and simple in design yet engaging enough to not lose your attention.
Right as you enter it, you're bombarded with a collage of photos and clips of bare asses, spread legs and o-faces that is CamSoda's front page. Thankfully, the site's cramped yet tidy layout successfully turns this into a warm welcome.
You can then use the search bar at the top left to look for whatever you fancy, whether it is a category, a specific kink or a certain cam girl you hope is on.
And that's about it. Easy, convenient and — best of all — free.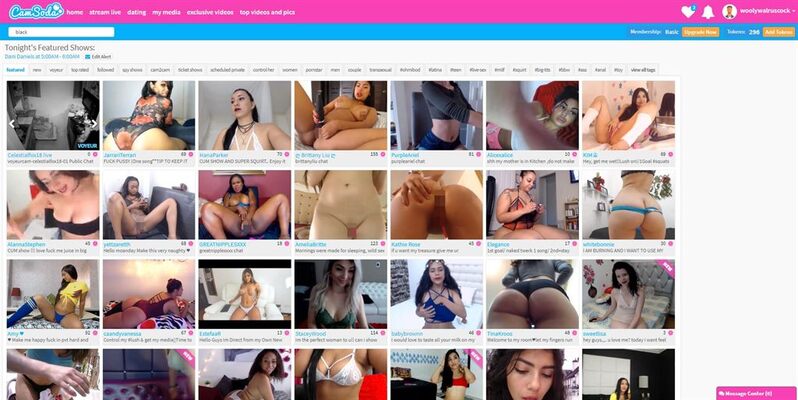 CamSoda's male and transsexual selection isn't really much to speak of. I do, however, like how a lot of girls on the site use Lovense and OhMiBod viewer-controlled vibrators. I have always enjoyed being an active part of the experience, and I'm sure some of you do too.
It also helps that the site works amazingly well on the mobile. Frankly, it is much less frequent that I use my smartphone to visit such websites, but when I do, it is usually because there aren't many other options, and it is rather aggravating when it winds up just wasting my battery and data plan.
Registration
While CamSoda's basic services are free, it is still pretty essential that you register. If you don't, you will find the search bar unusable. Even worse, the cam shows turn off and prompt you to register if you stay there for more than a minute, so just go ahead and save yourselves the aggravation.
Registering for CamSoda is so simple it's actually surprising. Click the "Join Now" button at the top right, choose a username, password, valid email address and sex (there is an option for "transsexual" and "couple," which I nod my head in silent agreement of).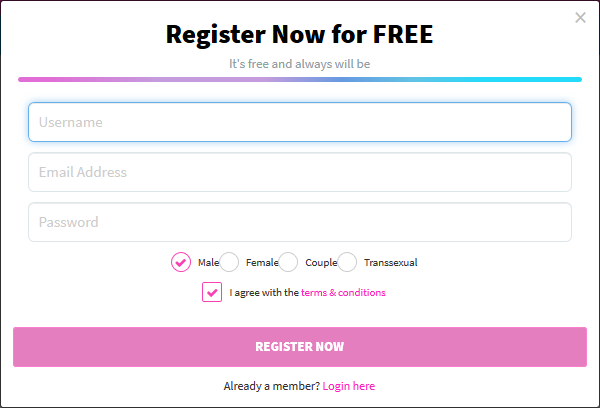 And then you're done. Those are all the steps.
Yes, I'm serious.
You are now free to browse, watch and enjoy the CamSoda's many, many sexy talents to your heart's content. Have fun.
Money, money, money
Want more? Of course you do. So first, to break it down, you have two options to improve your experience on CamSoda: purchasing tokens and upgrading your account to a "premium account."
Tokens are simply the coin used on the site, which you can use to tip the girls, take them to a private session, activate their vibrator (should they be using a remote-controlled one) and much more.
Here is a breakdown of the prices for the token packages: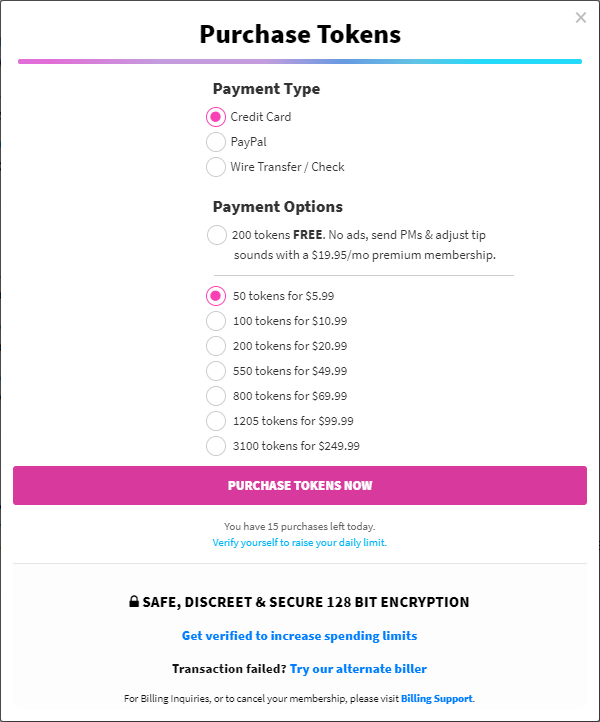 Simply put, if you buy a bigger package, you got more bang for your buck. And it is worthwhile to consider, since you can also use them to purchase photos and video clips of your favorite cuties.
The adult models on CamSoda usually sell clips around 15 minutes long and bundles of some 30 pictures, for an average of 150 tokens. They are all handpicked and usually of high quality. Some of them are even taken off stream, in the model's spare time, so they're extra enticing to watch should you take a liking to a specific cutie. Some models, though, prefer to give their viewers even more freedom, and let them create clips of the show for around 50 tokens per minute.
Account verification will allow you to make multiple multiple purchases of token packages a day, so take that into consideration.
Inside some open sex chats you could use your tokens for the usual casino-esque activities such as "rolling the dice" or "spinning the wheel" to get the model to engage in whatever random sexy activity the options offer. Aside from sending the model "vibes" or entering a private cam show with her, this is probably the main way you'll be spending your tokens. It is a tip based sex chat, after all.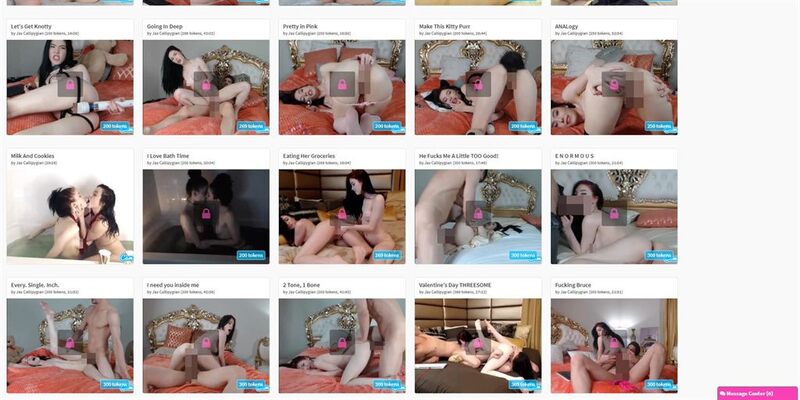 Like more control? Place yourself in the director's chair by taking the girl to a private session and telling her exactly what you want her to do and how. Less public, more exclusive shows like that will run you a minimum of $0.60 and an average of about $2.40 per minute, but if you, like me, enjoy that sort of thing, you know it's worth it.
As for premium membership, I can safely say that the $19.95 fee is something any frequent visitor to the site should consider. Not only does it gift you 200 tokens upon sign-up, it also enables you to send private messages to CamSoda's models, and it even increases the amount of tokens you can tip in one go. And we all know how much the girls like a baller.
The interface also gets that much slicker as the little amount of ads on the site now disappears entirely. While the 200 bonus tokens are a one-time deal, the rest of the benefits remain as long as you stay a premium member.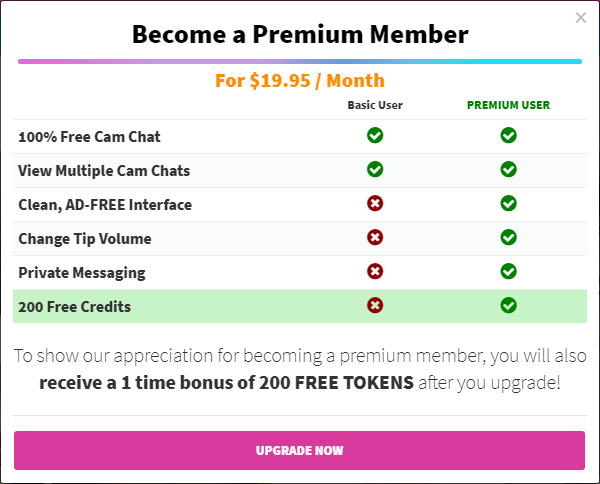 The payment is recurrent though, so make sure you cancel your subscription should you stop using it for whatever reason.
Hey, it is a luxury after all.
How to chat
As I've mentioned, you need to be a premium member to send private messages to CamSoda's models, but that doesn't stop you from chatting up the hotties. So do so — get accustomed to the site's features and try them out at your leisure. While some restrict chat so only those with tokens in their account can send messages, many don't.
Still, as a free adult chat site at heart, CamSoda makes sure to always cater to the ones who are less willing to depart from their coin, and I have to say I respect that.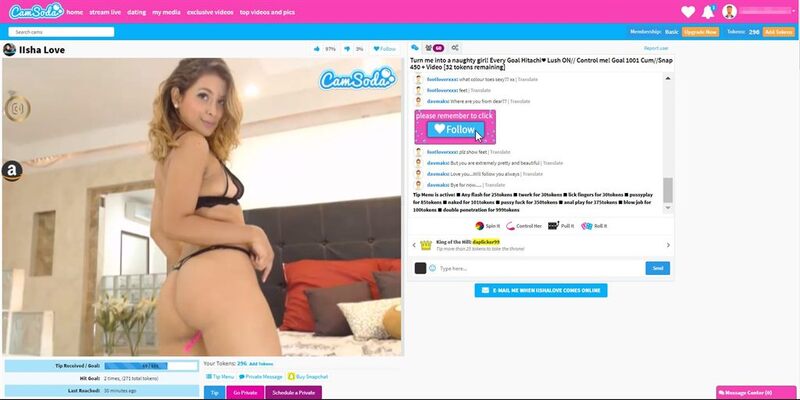 Apart from that, you of course have the aforementioned private messages in case you're a premium member, which will get you a private line with your favorite models on the platform. I, myself, tend to slowly grow more fond of particular models on any given cam site I frequent, and so found myself starting to use the private message window like the one found on Facebook.
I have to say, it's gratifying. The models may start me off with their usual salesmanship of "I'm so naughty, punish me daddy" variety, but as they have gotten used to me and my dumb jokes, the facade has slowly worn off. With the model's true inner being revealed, the experience only gets hotter. For those of you looking for a more intimate adventure, you now know where to look.
The models
For a free adult cam site, CamSoda has some fantastic models using its platform. From the petite through the nubile to the lusciously curvy, the amount of models here out of the thousands registered and hundreds active at any given moment that I consider to be bombshells is much, much higher than I actually anticipated. Expect a high variety of experienced models that know how to get you going.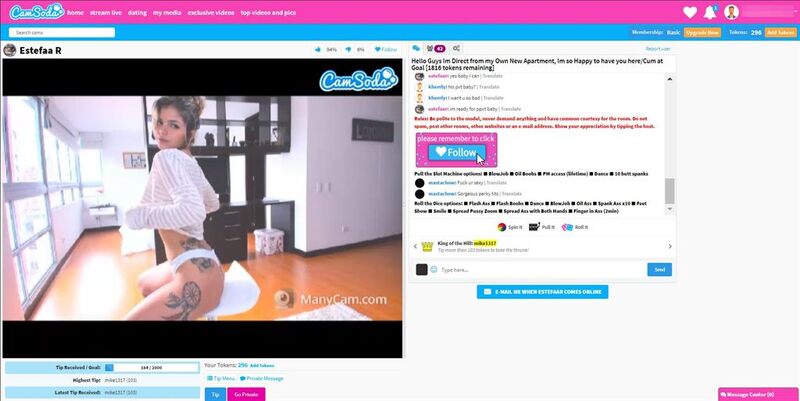 But I'm getting ahead of myself. First, when going into a chat room, you'll notice that a model's streaming page on CamSoda also serves as her bio page and even as her personal store. Here all her details are listed, along with, sometimes, links to her social media accounts such as Snapchat and the like. Great for those who like to keep in touch with their favorite girls. Plus, seeing them in their daily lives makes them that much more real, and it translates to their shows.
And apart from that, as I've mentioned, many models have on their profile walls, a variety of uploaded photos and videos, sometime of themselves during live performances, other times off stream, and a change of venue, in my eyes, is always welcome. The prices also lean towards the affordable in the vast majority of cases.
Finally, CamSoda has what I like to think of as quality assurance. What do I mean? well, every model on the site has a "thumbs up/thumbs down" rating that lets the viewers express their approval or disapproval of her. Disappointed by your experience? happy and satisfied with the show? let your voice be heard by rating the model. Do note: you need to first tip the model 25 tokens within the span of 24 hours to be eligible for voting on her show, to prevents unmerited votes.
What's the video quality like?
A noticeable downside of CamSoda is that, while the site markets itself as an HD free adult chat site, few of the models actually broadcast in HD. No models on the platform are required to purchase the expensive equipment needed to stream in high definition, so most don't.
The quality in itself, though, is more than passable. While not top notch, the shows are rarely pixelated or stutter and will seem more than great to anyone who is not a complete HD snob. And as one, I can attest that I consider the site's video quality to be a non-issue in general.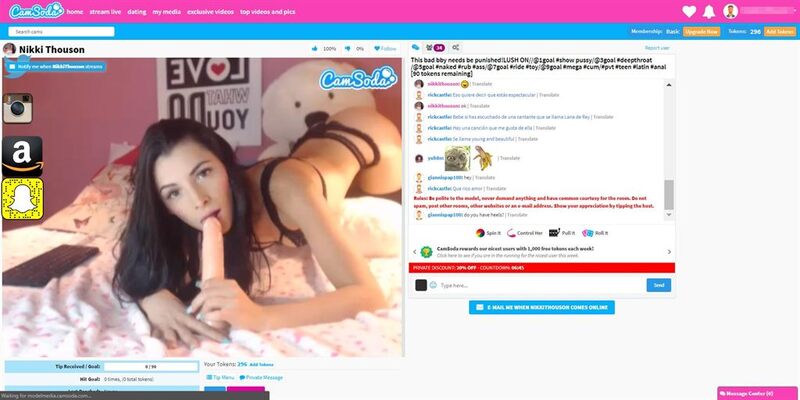 It should be mentioned that, in my experience, CamSoda works poorly on Firefox, so switch to Chrome or Microsoft Edge when viewing it.
Some little extras
First thing's first: it would be remiss of me not to mention CamSoda's cam2cam feature. Other than working amazingly well, it is the only adult chat website that allows you to cam2cam on mobile. It works great on mobile too, and is the only website out there that has cam2cam on mobile at all.
Sure, most will never use this feature because this is the internet and anonymity is king, but for those of us — including yours truly — that like the more personal touch, this is a godsend. I'm not always around a computer, and when I'm not, I like to have this as an option to keep in touch with my cuties of choice.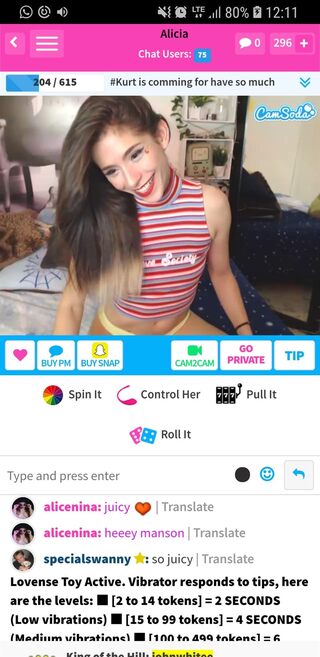 It also helps that the site offers you the option to have an email sent to you when a particular model comes online. Some shows I hate missing out on, especially when I have the time to view them and just forgot because life happened. This takes care of that, and keeps me in the loop, so having the option for it is appreciated.
Reward system
Aside from the 200 free tokens you get when you become a premium member and the occasional discount package offers, there is not much of a loyalty program here to speak of.
Fortunately, CamSoda is cheap enough that you won't really need it per se, but it is a bit saddening that the site does not cater better to the more frequent visitors among us.
How to pay
CamSoda accepts a wide range of payment methods, allowing transactions to be made through:
Visa (including Electron and Bleue)
Mastercard (including Prepaid and Maestro)
DELTA

Discover

Diners

JCB
Switch
PayPal
Wire transfer / Check (instructions included in the payment page)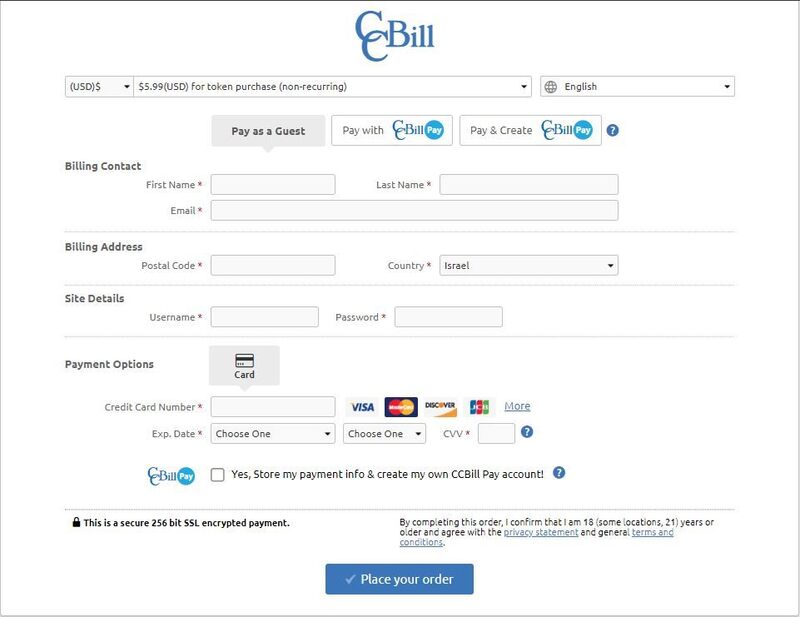 Not much more to say. Like everything else on the site, its easy and accessible. Just know that if you tend to tip a lot and much prefer private shows over open ones, free sites will end up costing you more in the long run, so consider other options, like PhoneMates.
Customer service
This is CamSoda's most glaring flaw. There is almost no customer support to speak of for any non-premium member using the site. Purchased tokens? have a technical problem? well, tough. Get a premium membership or suck it up.
You can, at least, send your queries regarding any transaction you made via the "Billing Support" link found at the bottom of the pop-up page for purchasing credits.
If you have a premium membership, though, everything gets much easier to deal with: you will gain access to CamSoda's customer support live chat, and they tend to reply pretty quickly. Just be aware that that is the only way to reach them.
Pros and Cons
Pros
✔ - Free adult chat. Speaks for itself.
✔ - Slick, accessible interface with little ads.
✔ - Lots of bells and whistles that work excellently.
Cons
✖ - Few models stream in HD.
✖ - Nearly no customer support for non-premium members.
My considered opinion
Just considering that the site is free and its models are as varied and hot as they are, CamSoda is a site you should know. Yes, VIP treatment is gated behind a paid enrollment, but premium membership should be considered anyway, even just for the first month to enjoy the one-time benefits it offers.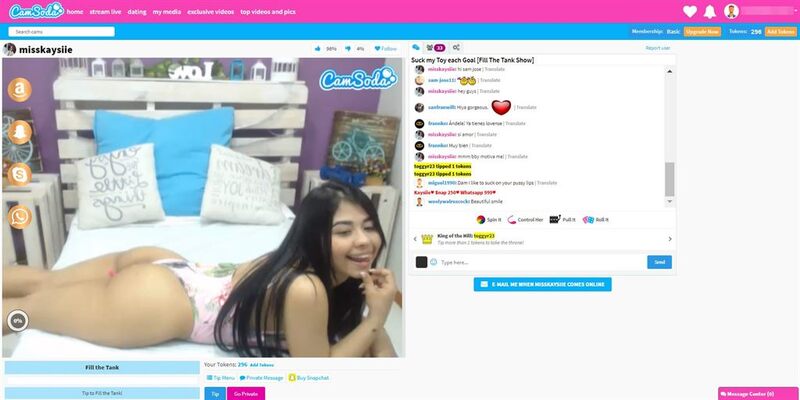 All in all, as a free adult chat website, CamSoda is one of the very best I came across. It has a great selection of adult models, its stream quality is solid, its interface is convenient and intuitive, and it doesn't bother you with incessant pop-ups and ads.
And now that you're done reading, I recommend that you check it out for yourself.
Review of CamSoda.com
- Reviewed by
sexcamexpert.com