Visit XLoveMatures and Check out Sexy MILF Webcams
You must know that old cliché: Women are like wine, improving with age. Well, to a degree that is quite true, but the truth is that most women don't necessarily improve. They just get an added quality – a mixture of style, experience and open sensuality. I have reviewed some of the best MILF webcam sites in the industry, and now it's time to offer you my complete XLoveMatures review. This is a sexy amateur cam site that features a good choice of horny MILFs that are more than happy to get nude on mature sex cams. I have explored this website in depth: chatting, flirting, watching full-length MILF porn shows and then watching a few more, you know, for research's sake. In the following review I will tell you everything I found out. Ready? Set? Let's go.

What do I think?
When you think about a MILF porn site, there are certain expectations that come to mind, almost intuitively. For example, you imagine that the first thing you will see are he chat room pics – images of curvaceous older women who are waiting, yearning for you to join them on cam. I found exactly that when I went into XLoveMtaures.com for the first time. However, I also expected a certain design – a style if you may, and perhaps that's my fault. After chatting with so many slutty wives on so many mature webcam services, I've gotten used to the standard design: Usually red colors or black – sometimes feminine purple and pink, something ladylike or naughty. Nothing though prepared me for the greenish design of X Love Matures. Not even pretty dark green – more like a radioactive swamp.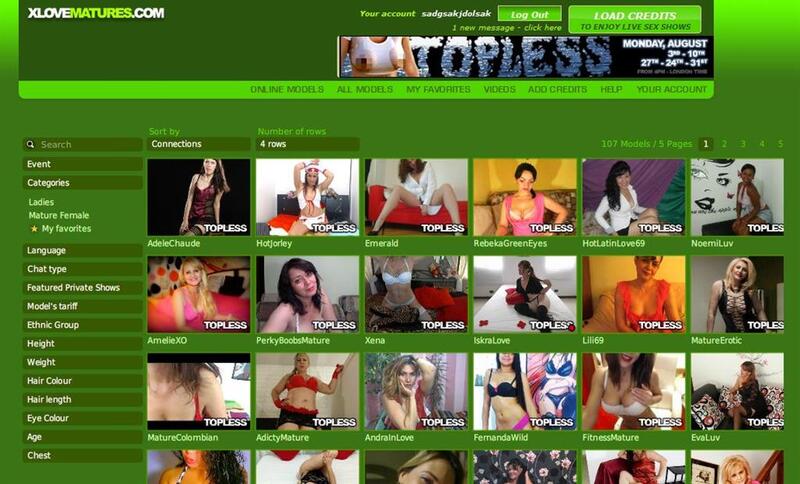 Luckily for this site though, I am not a designer, and a quick thought "yuck" was all that was willing to dedicate to this strange choice of hues. The rest of the experience was much more pleasurable. This portal has a decent, although not particularly high, number of sexy older women, slutty soccer moms and horny babes over 40 and I certainly enjoyed the time I spent with them inside the free chat rooms. There is a large MILF sex video archive where the models upload their homemade porno – nothing that looks professional, but plenty of entertaining nude clips. The navigation through the profiles and videos and webcams was very simple and from what I saw, the vast majority of the models are more than qualified to give you a live sex show that will drain and excite you.
Some little extras
I am not such a huge fan of webcam features. Not that I don't enjoy 2 way webcam shows – I do, and I think that being able to show the camgirl what you're up to during the MILF porn show is a great advantage. That said, I couldn't care less about the gadgets that every adult webcam site feels like it just has to have these days and so, I wasn't too disappointed when I couldn't find any exclusive options on XLoveMatures.com. All this website really has are chat rooms, pics, profiles and videos. Yes, there is also 2 way cam in case you were wondering, but this is it.
Registration
Some webcam sites charge you a membership fee or ask for you to list a credit card in order to join, but this is not the case here. How to start the process of becoming a member on X Love Matures? It's not difficult or long. Just choose some exciting username (Mine's BigCock76), a password that hopefully is different enough from your username to prevent anyone from guessing it in less than three seconds and top it off with an email. That is it – no fuss.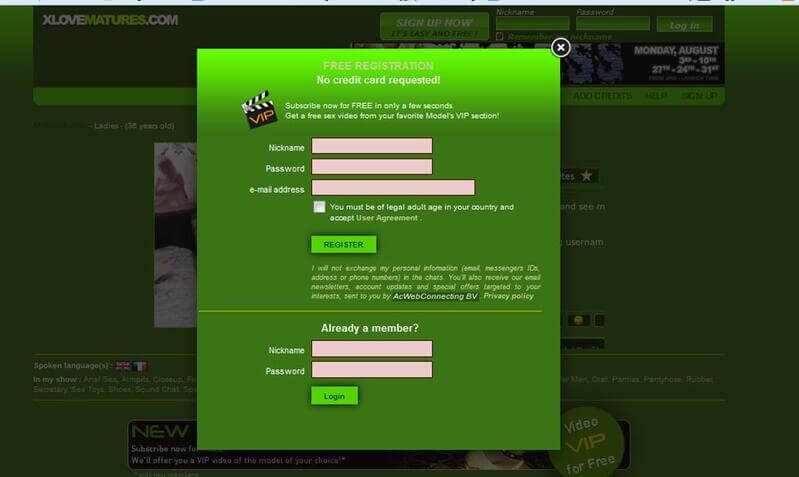 How to chat
As soon as you become a member on XLoveMatures.com, a process which as I only now demonstrated will take you like a full minute, or possibly less, you can begin a free chat with the hot mom of your choice. You can video chat for free before that – obviously, even as a member you can peek into the chat rooms, but only for a few seconds, and then you will be redirected to the "join now" page, which is annoying, so you may as well join. The second kind of chatting is the live sexchats – the ones where the mature women show you their collection of adult toys and dress up before getting naked – it's a pleasure to watch.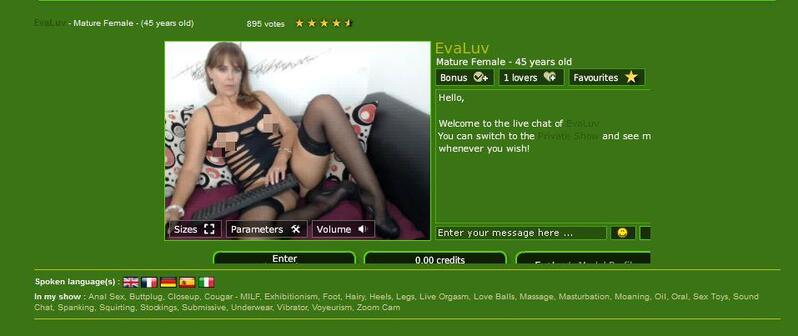 What's the video quality like?
XLoveMatures.com is a serious website and its streaming is satisfactory. The sexy older women usually have good-quality web cameras, although as is always the case on amateur cam sites, it's kind of a case by case assessment.
Money, money, money
Here's the part of this XLoveMatures review which I am sure interests you most. In fact, I bet some of you just scrolled straight here without even reading the rest, did you, punks? Oh well, at least Google reads every word, and I can only hope that it is pleased. As far as price goes, you will also be pleased: 2 credits per minute on average for private MILF sex shows and 15 credits per month for average VIP membership, which is like a fan club of a specific model.
I am not going to waste anymore of you time because, as I said, this website is very simple to follow. Here are the credit packages that are available.
| | | |
| --- | --- | --- |
| Number of Credits | Cost in USD | Cost Per Credit |
| 25 | $31.20 | $1.24 |
| 50 | $62.41 | $1.24 |
| 100 | $124.83 | $1.24 |
How to pay:
The only time you will need to choose a payment method on this adult cam site is when you want to purchase credits. You can use your Visa, MasterCard, Maestro, PayPal or Bitcoin. Who uses Bitcoin? Whatever, I am not one to judge. Bank Wire is also acceptable and you can pay through phone. Europeans can also use prepaid cards and DirecteBanking.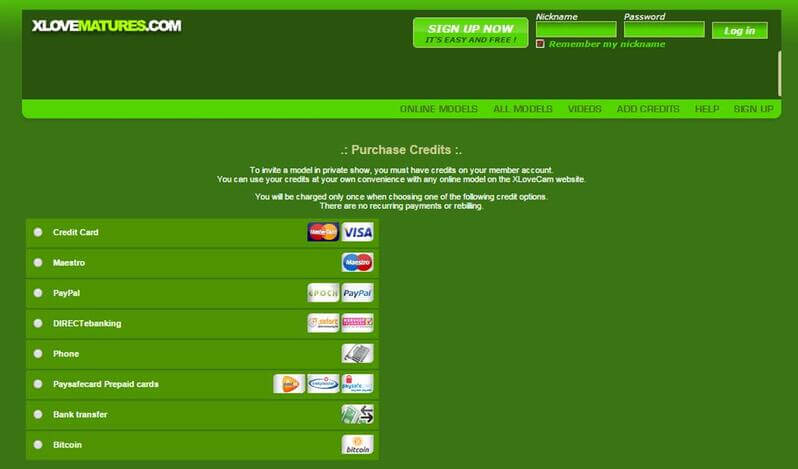 The number of models
There are estimated 8,600 amateur MILFs registered to XLoveMatures.com. This sounds like a lot, right? That's only true though if you've never read my adult webcam reviews before. If you have, you obviously know that the number of registered models has very little to do with the number of live sex chat rooms. This site features between 140 and 180 hot moms, beautiful yet bored housewives and big boob older chicks who are live and lively. That's enough of a selection for my taste, but you can make your own conclusion – if you like the really massive sites like MaturesCam or Sexier.com, you might need an even bigger selection.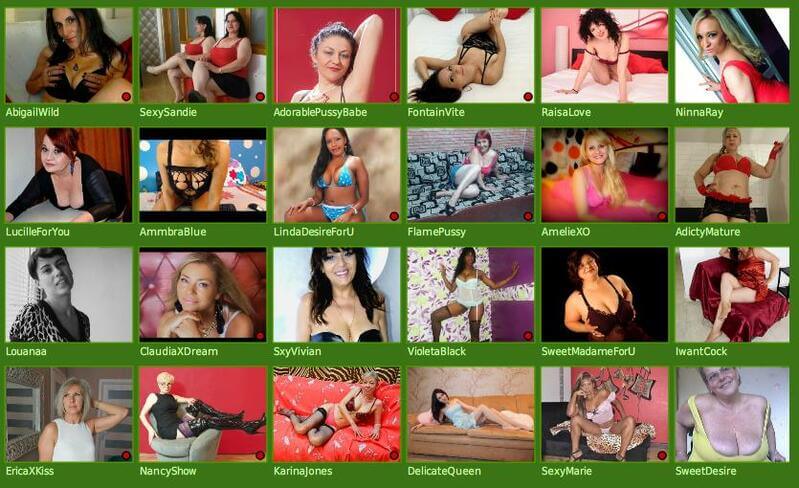 Customer service
You probably won't need the customer support on this adult webcam site – everything is right there where you can easily find it, but if you do need some assistance, you can contact the nice Customer Support team by filling in a Help Form. You will find this form under the Help tab at the top – which also has the FAQ page – isn't that simple? How do I know that the customer support team is nice? I contacted them as part of my research for this review of course, and the representatives were patient and helpful, as they should be.
Thumbs up and thumbs down
Thumbs up
✔ - Many hot moms are live
✔ - The site throws the occasional topless parties and they are amazing
✔ - You can chat for free with any MILF who isn't on a private session
Thumbs down
✖ - Ugly design
✖ - There is no between-show entertainment other than the vids – which cost money
My considered opinion
Many of my readers skip the Thumbs Up – Thumbs Down section of my review, but personally I think that it says a lot about the essence of the website. For example, if you didn't read a thing of my XLoveMatures review and just glanced at that section, you would quickly realize that this service has more advantages than disadvantages and that all in all it offers a great webcam sex adventure. The long-legged MILFs are pretty, sweet and very erotic and they are both a pleasure to watch and a pleasure to chat with. This is one of the best mature webcam sites online - try it and enjoy it.
Review of XLoveMatures.com
- Reviewed by
sexcamexpert.com