BongaCams.com - The boner site where sex cam shows last longa!
Crikey? Time is really flying around here. I just can't believe its high time for the Sex Cam Expert to start tapping at the old keyboard again and rattle out another of his bonser adult cam sites reviews. I'm actually moving into double figures with this one! I hope you appreciate all this effort ... my old fellah certainly does!
The site I'm going to yack on about tonight goes by the name of BongaCams.com. Apparently "Bonga" means "weird" or something. I of course would have gone for "BonserCams" myself! There's not a lot about BongaCams.com as yet on the web, which is understandable as it's only been around since 2012. That's barely a just-born baby when compared to a lot of the other sites I have reviewed, such as LiveJasmin.com or Cams.com. The site has grown really quite well since 2012, and average four million page views a day. It's run by a US-based company, and indeed most of its traffic is from the States, even though the site is registered in Panama. Let's get going with the review ...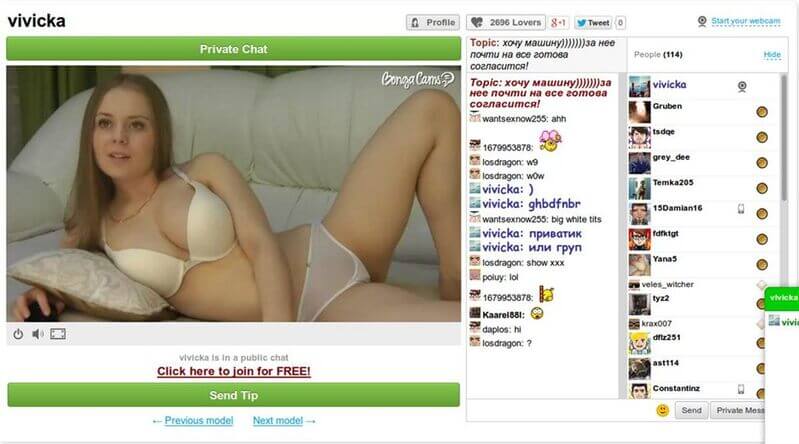 What do I think?
First things first, BongaCams.com is not at the classier end of the adult cam sites market. You can usually tell when you see that first menu screen, and what the xxx camgirls are willing to get up to in free chat. I don't know about you, but the more tits and pussies you see on that first screen (and there are a lot to see once you're past the "Are You Over 18?" banner at Bongacam.com), the less classier the kind of sex cam babe you're going to viewing at the site. I mean, if a camgirl is willing to show all she's got in free chat, what's left to show you in private? Perhaps it's not BongaCam.com's fault, as there's only a certain number of hot cam girls to go around, and if the site's only been going since 2012, I guess most of the hottest totty has been already been snapped up.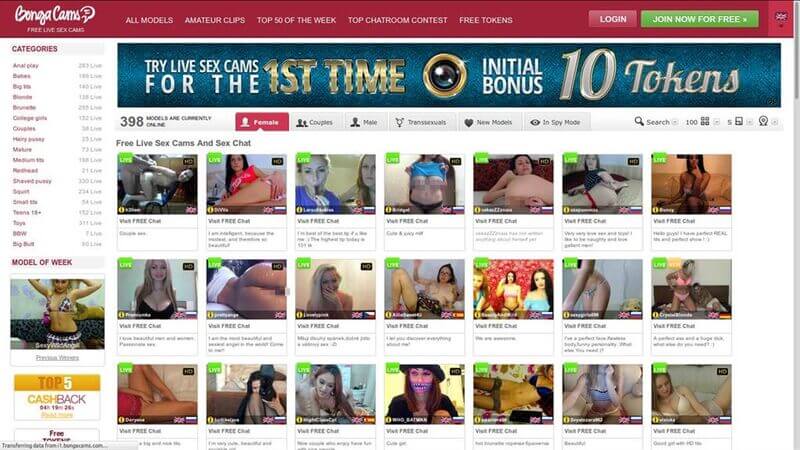 One word of warning - if you love pop-ups, then you'll love BongaCams.com. If, however, you're a normal kind of bloke, then you're going to get pretty annoyed at the site. If you've got a pop-up blocker installed, then for God's sake make sure it's turned on. Every minute or so a pop up with explode onto your screen telling you you'd be an idiot not to joint the site. As you can do this with "just" an email address, I did register, thinking that would end my pop-up misery. What a fucking fool I was! The pop up is simply replaced by another telling you to buy blinking tokens every minute or so. I'm a Sex Cam Expert, not a Sex Marketing Expert, but even I can't see how this prattling pop-up strategy does anything other than annoy.
That aside, everything you'd expect to see at a cam site is what you'll see at BongaCams.com. The menu pics can be switched between cam view and thumbnail view, which is pretty neat. There is a category menu on the left hand side, but it's a little sparse than most I've seen at other sites. There's a decent range of menu options, and you can switch right over to "Voyeur Mode" if that is what turns you on. And that's about it really ...
Some little extras
Not a lot. In fact nothing really special at all. BongaCams.com just wants you to buy their tokens, then give them to the models. There's no "Premier" membership as such (you become a lifetime "Premiere" member simply by buying tokens) and no VIP status.
Registration
They seem very eager for you to register at BongaCams.com, so it's pretty darn good that it's so bloody easy. There are two ways to register at the site, depending which random pop-up pops up when you click the "JOIN NOW FOR FREE" button. The easiest way is just by filling out your email address. You will get sent a random username (which you CAN'T change) and password (which you are supposed to be able to change, but the site wouldn't let me). The second, and better, way is to select your own username and password. Whichever path you take you'll end up having to confirm via email.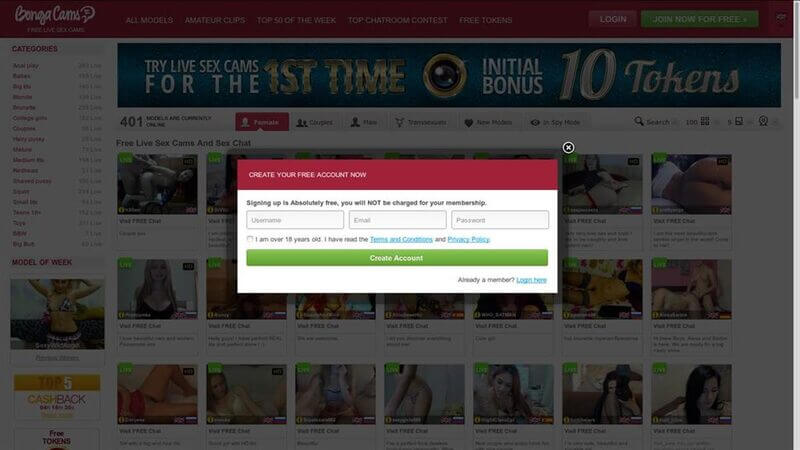 How to chat
There are no less than five ways to chat. The Free Chat and Private Chat is pretty self-explanatory. The prices for all kinds of chat are set by BongaCams.com and are fixed, so it's best to check the site's FAQs to see what they latest prices are. Group Chat is half the price of Private Chat and allows more people to enter. At least three people may contribute to a Group Chat, and the x-rated camgirl sets things in motion once she has decided her audience is big enough. Voyeur Chat is a quarter of the price of Private Chat, and allows you to sneak into someone else's private chat without them or the performer knowing to see what's (or who's) going down. The final option is Full Private Chat which cost a little more than Private Chat and means no voyeurs can enter.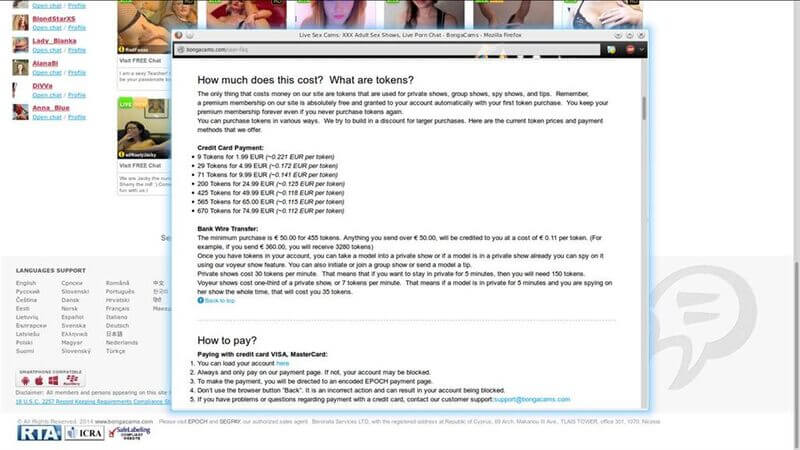 What's the video quality like?
The video quality isn't bad at all, although a lot of girls don't seem to have mikes. It does get a little stop-starty, but nothing as bad as those fucking pop-ups.
Money, money, money
You buys tokens at BongaCams.cam which you can use to buy shows or just tip the performers: Prices as follows:
EURO €
Price
Credits
€1.99
9
€4.99
29
€9.99
71
€24.99
200
€49.99
425
€65.99
565
€74.99
670
I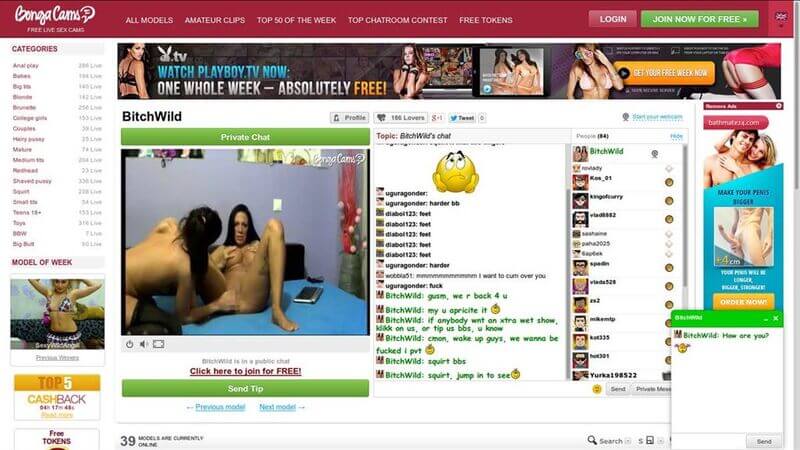 How to pay
Bank Wire Transfer as long as you pay the minimum of €50 for 455 tokens, else it's Visa, MasterCard, PayPal, or Bitcoin.
The number of models
Bongacams.com is still working on gathering up a pool of decent x-rated camgirls, so only about 2,000 are around, of whom you'll find around 200 online at any one time.

Customer service
There's a good FAQ page, as long as you can stand the bad English. There's live chat, email and phone numbers, although looking around the net there are a few moans that customer support at BongaCams.com is useless.
Thumbs up and thumbs down
Thumbs up
✔ - There's a bit of an effort to create a bit of a community, with the odd prize and such
✔ - You'll find that the top models are pretty hot ... the rest, not so ...
✔ - You get to see a lot in free chat, as long as you don't mind pop-ups
Thumbs down
✖ - Buying cheap tokens is a pain in the ass
✖ - POP-UPS!
My considered opinion
I'm gonna have to give BongaCam.com the benefit of my doubt, purely as the site hasn't been around for all that long, and in terms of adult amateur cams sites, a couple of years or so is not very long at all. It has managed to attract a few really sexy babes, but it's also managed to hire a few ropey ones, so if you're into droopy tits and sagging bellies, you'll be delighted! They really need to get rid of those fucking annoying pop ups though. What a pain in the ass they were. Anyway, that's enough from me. If you've been intrigued by anything you've seen written here, why not "pop-up" at BongaCams.com and form your own considered opinion?
Review of BongaCams.com
- Reviewed by
sexcamexpert.com