Cams.com review - find your favourite sex cam babe and join her fan club
Blimey! Is it that time aleady? Time for the "Sex Cam Expert" to put down his plonker and pick up his pen instead, to cram together my expert thoughts on another one of those sexy cam sites that can be found on the net where the good girls don't go (but the naughty girls do!). This time around, it's Cams.com that comes under my scrutiny.
Cams.com has quite an interesting back story - well, more interesting than most. In 1994 a guy called Andrew Conru was running a small web development business when he hired an HTML coder called Lars Mapstead, who is known in the adult entertainment industry as "Legendary Lars". While Andrew started up the first online dating site, WebPersonals, which he sold and then went on to found "FriendFinder", a kind of prototype Facebook. Lars has more steamier visions, and he started adult chat rooms, which evolved into Cams.com, which was founded in 1999. Andrew had added "AdultFriendFinder" to his portfolio, and the pair agreed to merge to form the company "Various" - that was in 2005. In 2007 the company behind Penthouse magazine (which you might have heard of) bought Various off Conru and Mapstead for a tidy $400 million, and created "Friend Finder Network" - however, this was not a success, and FFN filed for bankruptcy in 2013 with debts of over $544 million! Blimey! The company eventually reached a deal to write off $300 million of the debt, and hired Andrew Conru to steady the ship. Still with me?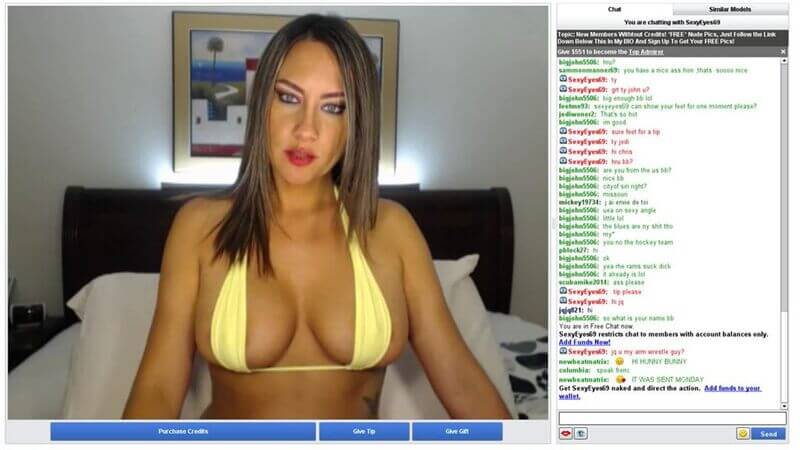 What do I think?
That's enough of the background info, now onto my review. As soon you enter Cams.com and hurdle the "are you 18?" barrier, you kind of think you're in for a good time - well, that's the impression I got anyhow. It's a little old-fashioned in design, and there's very much of a "chat room vibe" about the place. The initial menu sort of eases you in to the whole impression you get of the site, as the pics of the sexy cam girls are definitely a little "harder" than those you normally see at these kinds of places. I knew more about some cam models' special bits than I did about how their faces looked after about ten minutes looking around. Some of the models have posed pics for their menu photos, but I soon realised a lot of the others were stills from the live chat, so I suppose that explains the raunchiness. They certainly go in for labels at the site, as the cam babes can add as many labels as they want - ethnicity, hair colour, kinkiness - even the size of their tits! If you desperately want to watch a blonde-haired Asian chick with a tattoo and small boobs shoving a dildo up her ass, then Cams.com is the place you should be heading! All the girls were categorised by age as well, and as you might suspect, the younger categories were the most popular, with "18-19" coming out on top. Looking around, I think (in my personal opinion, I have zero proof of this) that some of the girls had read the question "are you 18" as "have you ever been 18?", if you see what I mean.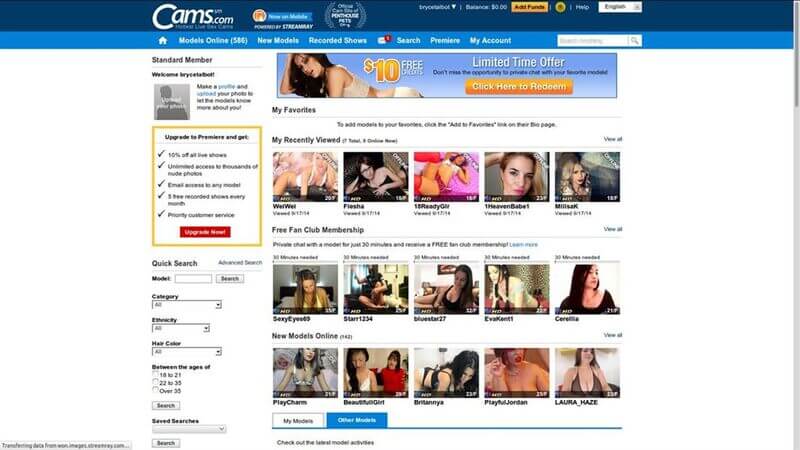 You don't need to tax many braincells to register at Cams.com - there's the "JOIN NOW!" link at the top of the screen where you fill in your email addy and your chosen username. Only takes three seconds, and once you've clicked "Join Now for Free", you get an email with your password - which is just some string of letters, so you'll probably be wanting to change that. Oh, yeah - registration is free, by the way, although the only point of registering is to sign up your credit card so you can get spending, as you're quite welcome to browse the site as a guest, although your free chats will curtail after a couple of minutes, replaced by a screen urging you to sign up.
There's three main ways of chatting with the x-rated cam babes - "Free", which you can work out for yourself, but then can turn into "Private" mode if you find a sexy girl you'd like to get to know a whole lot better, and "Nude", which is like free chat but you have to pay for it, and all that happens is the cam model you pick sits there in the nudey and types at her keyboard - not very exciting but at least the view is pleasant! The streams at the site are of good quality but I did find them a bit stop-start at times, which can really put you off your stroke. One thing I did notice though was that the adult chat girls at Cams.com really do seem eager to please, and often will go just that little bit further than at other sites when it's free to chat, hoping no doubt to entice you to pay to see them play dirty.
Some little extras
There's a little bit of a competition vibe at the site, as you can rate all the models once you've seen them, and the higher rated a model, the higher in the listings she appears, so you can see the xxx models who everyone else agrees are likeliest to get the jizz squirting in the quickest time possible as time is money, of course. If you really adore someone you can join their "Fan Club", meaning you pay a little extra so see vids of shows they've recorded, along with sexy still photos (you can see the thumbnails of x-rated pics for free, but you can't see them "blown up") and other vids. If you're likely to be paying your dues as Cams.com on a regular basis, there are other levels of membership you can apply for - you get even more bonuses and money off credit purchases.
Registration
You just need your email address and to pick a username. Cams.com will email your password, but it's one you'll never remember, so the first time you log in using it, head over to "Account Settings" and change it.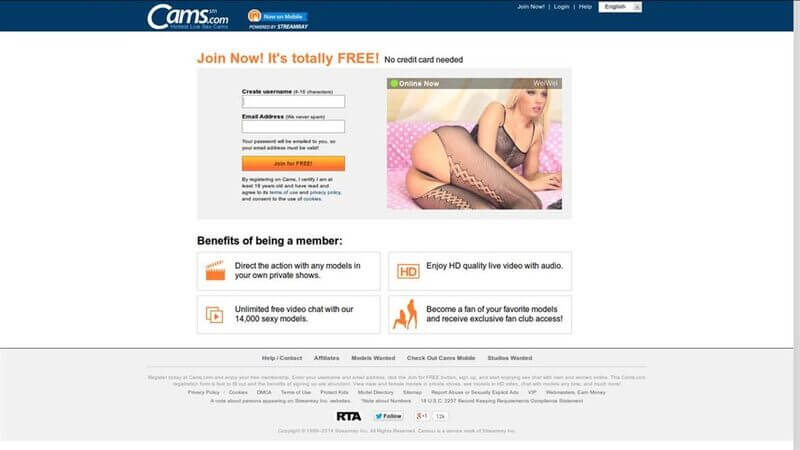 How to chat
Free chat is free, private chat ain't, and nude chat is halfway in between. If you like to save your money, there's "Voyeur" chat where you can watch another member's private show with an x-cam babe (but you can't interact) or "Group" chat whether you can join a "joint" private chat. Both of these options cost $2.99 a minute.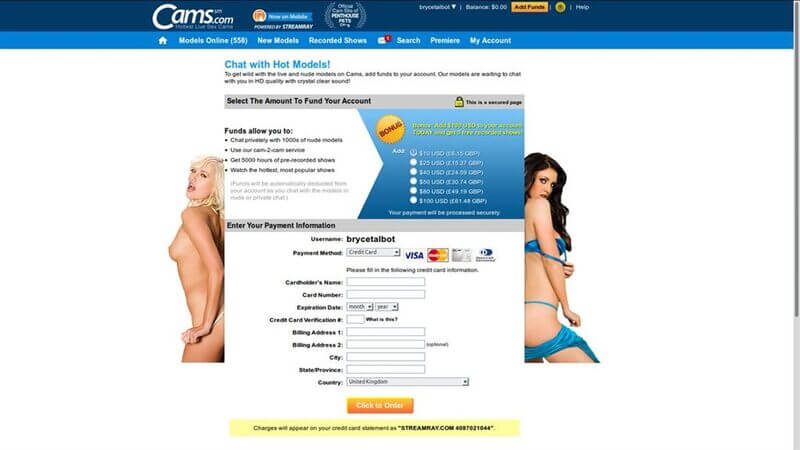 What's the video quality like?
Nearly all the xxx cam girls can stream in HD, and the quality's really good if you have the right bandwidth. The SD is less impressive, and can be a bit herky-jerky.
Money, money, money
The average price for a private show is $3.99 a minute, but some of the sex cam models don't charge as much as that. There's always the Voyeur and Group chat options if you're sex-budget conscious, and there's the Premiere and VIP membership options as well. You can buy credits as follows (it's basically one dollar = one credit) and if you go for the £100 option, you can grab yourself a bit of a bonus (which when I reviewed the site was five free "Fan Club" vids).
EURO €
GBP £
USD £
Price
Credits
Price
Credits
Price
Credits
€7.71
10
£6.15
10
$10
10
€19.27
25
£15.37
25
$25
25
€30.84
40
£24.59
40
$40
40
€38.55
50
£30.74
50
$50
50
€61.68
80
£49.19
80
$80
80
$77.10
100
£61.48
100
$100
100
I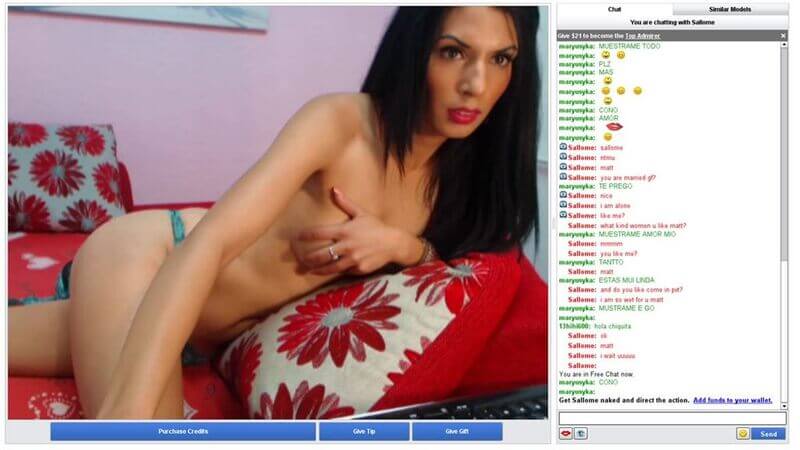 How to pay
The site only takes Mastercard, Visa, Diners Club and Discover.
The number of models
The exact numbers of sex cam girls at Cams.com is hard to find, but I'd say between 30,000 and 40,000. There's usually 500 or so online whenever you spend some time there.

Customer service
Perhaps another reason to go "Premiere" as paid-up members (and not just those with credits in their accounts) get "Premiere" customer service. For the rest of us, it a phone number or email address. The FAQ section is pretty cool, though.
Thumbs up and thumbs down
Thumbs up
✔ - If a certain type of girl causes a certain type of feeling "down there" you can usually find it at Cams.com
✔ - It's really easy to register, and as $1 = 1 credit, you can see just how much you are spending
✔ - Great HD for those who can take it (in more ways than one!)
Thumbs down
✖ - Why should you have to be a paid-up member to get the best customer service?
✖ - Not that I'm unduly bothered, but virtually everything at Cams.com is straight sex. What about our gay and bisexual sex lovers?
My considered opinion
I was fairly comfortable with everything I experienced, sex cam wise, at cams.com. I didn't really find anything that got me really excited, aside perhaps from the raunchiness of the menu pics, but I do approve of all the various chat options instead of just free or private. I also encountered lots of really pretty x-rated cam girls, which is a bonus (better than the invasion of the fuglies I've seen at other sites). I do think Cams.com is a little on the pricey side, which is why I guess they want you to take up the paid membership options. In total, Cams.com is like having sex with your wife - after a few years it's not exactly exciting, but you'd certainly miss it if it wasn't an option any more!
Review of Cams.com
- Reviewed by
sexcamexpert.com