Flirt4Free.com - Lots of lovely girls here to keep you cummin' back for more
Oh well, another weekend is over. It's Sunday night, just before midnight, and I'm here chilling with a drop of my most favourite amber nectar. Pardon me while I take a sip ...
... ah, that's better. Well, as I've nothing better to do, I suppose I'd better bash out another of my brilliant Sex Cam Expert reviews. I've cobbled together my notes and have done the necessary detective work on Flirt4Free.com. This is yet another site that's been around for an absolute age - since 1996 in fact. Yeah, that's the last century! Afraid I can't go back in time with this one as Flirt4Free.com doesn't allow its site to be archived, so you're just gonna have to take my word that the site is nearly two decades old. That "Flirt4Free" is only a half-truth, as you can flirt for nothing, but if you arrive at the site with the intention of doing something a little more than flirting, then that certainly is not going to be for free! In fact, you'll find out that as far as the adult chat site realm goes, Flirt4Free.com is very much at the other end of the "free" spectrum!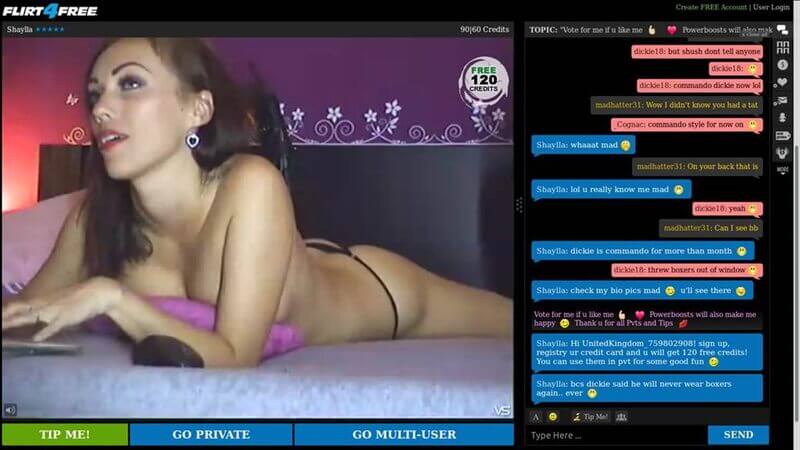 What do I think?
Okay, let's get cracking, shall we? Everything seems pretty standard at Flirt4Free.com, although as you'll find out later, the site does have quite a few extra options for chatting other than "free" and "private", which is of course good to know. The basic set up is what you'll see at most adult amateur cam sites, with the menu selection highlighting the sexiest, most accommodating models. The site has the great "hover" trick where all you need to do is to hover your mouse pointer over one of the menu thumbnails to see what your favourite tasty lady is currently up to. You can also see how much the models charge for private shows ... and when you've picked yourself up off the ground you can go and hunt for some cheaper x-cam babes who are still hot enough to do the business for you.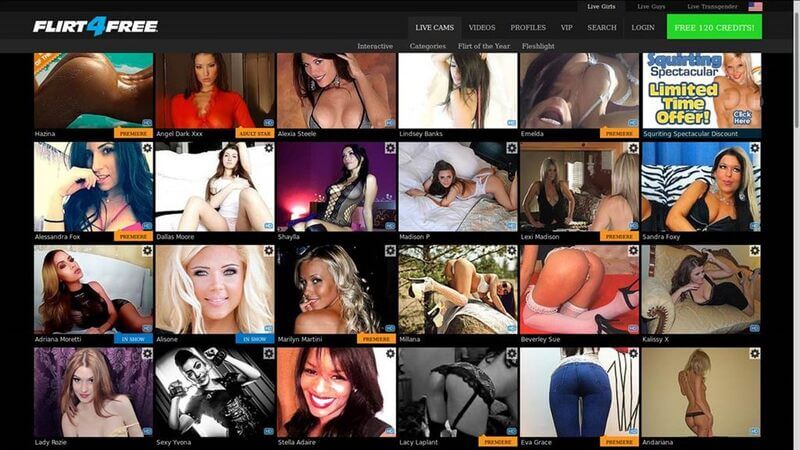 There's also the usual menu page for those speciality-pleasing acts, and another page for the latest hot x-cam babes who have just joined the site, and want a little bit of a leg up so they can appear in the top pages of the menus - which you can do by joining in their private chats and giving them a five-star rating. There's plenty of guys around too if you're of that persuasion, and transgendered people if you just can't make your mind up. Aside from that, there's nothing that's really going to surprise you at Flirt4Free.com, especially if you're a fledgling sex cam expert.
Some little extras
If you're a basic member, you don't get anything extra. Once you've bought some credits, you do get a few nice bonuses, such as the ability to watch videos of recorded live shows. If extras mean a lot to you, then you'll have to consider VIP status, which involves paying a monthly fee (see how much later on in this review). You get a lot more bang for your buck as a VIP, as you might imagine, including access to exclusive VIP-only videos, and model photo galleries.
Registration
Registration is super-simple ... just pick a user name and a password, and type in your email address. You'll be sent a confirmation link that you need to click to activate your account.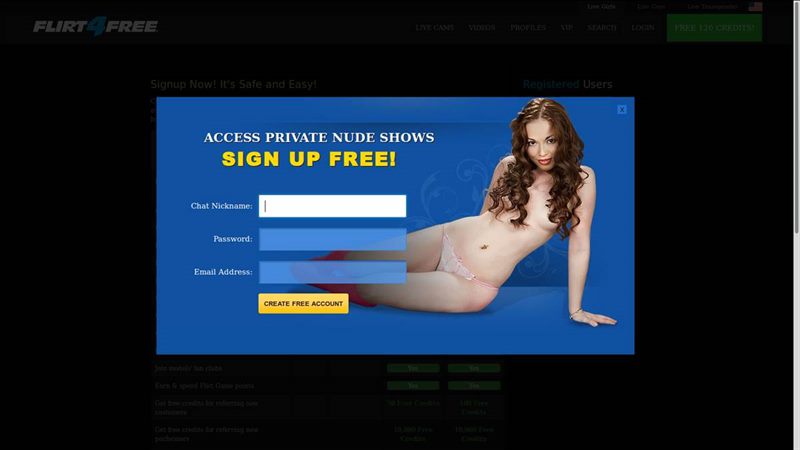 How to chat
Of course, you can chat as long as you want, but you won't get very far if you wanna see anything that might get you really excited. You can get your chosen amateur model in a 1-2-1 private show, for the fee indicated. You can also "sneak" into someone else's show for a reduced fee, although you won't be able to interact or chat with the model. You can join a group show, where a number of you xxx chat cam fans can club together and stump up the cash together. Finally, you can actually "barter" with the sex cam girl to see if she's willing to do something for the amount of credits you're willing to pay. You're literally spoilt for choice!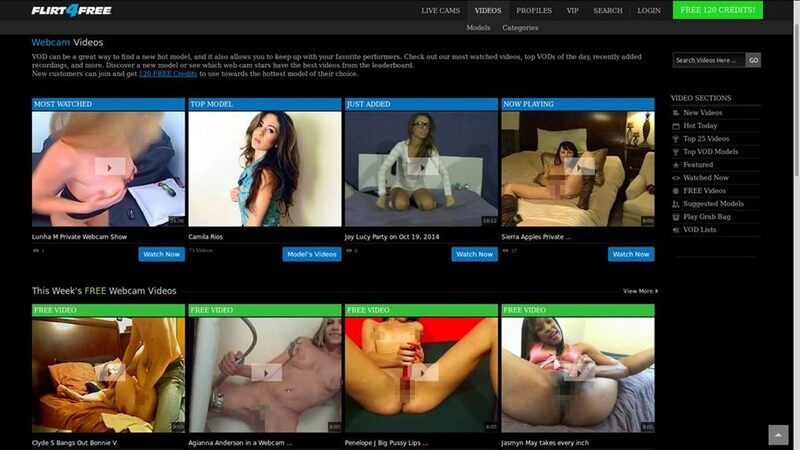 What's the video quality like?
Even though a lot of the models say they have HD, the servers at MyFreeCams.com must be a bit lacking in the old megabytes as the HD that's delivered is not up to the standards of LiveJasmin.com or Webcams.com, for example. Some HD is fine though - you just have to strike lucky.
Money, money, money
When you sign up you can grab 120 credits for free as long as you buy some real ones as well, but 120 credits are not going to last you more than two or three minutes. You can buy credits at the rate of $1 for ten credits. To become a VIP there are a number of packages - the basic for $39.95 a month, or the $49.95 a month package for which you get 300 bonus credits chucked in for nothing.
First time buyers have the choice from the following Credit packages: $10 for 240 Credits (90+150 free) and an extra value Credit package costing $25 for 415 Credits (225+190 free).
For additional Credit packages, I recommend paying through EPOCH. From the home-page, click the 'head' icon (top right of page). This redirects you to an account information page, which has a menu bar (left hand side). Click Billing, then choose Add Payment Account. Select EPOCH.
Additional Credit Packages: 225 Credits for $25, 500 Credits for $50, 1000 Credits for $100 and 2500 Credits for $250.

How to pay
Plastic payment including: Visa, MasterCard, Discover card, Diners Club card or JCB card ,everything is fine and rosy in the garden for you! There is also an option of using a global payment portal such as PayPal and EPOCH. Flirt4Free now accept Bitcoin as well as exchange select gift cards for Credits.
The number of models
There are supposedly 4,000 models registered at the site - and you'll get to choose from the 100 or so who are online at any one time.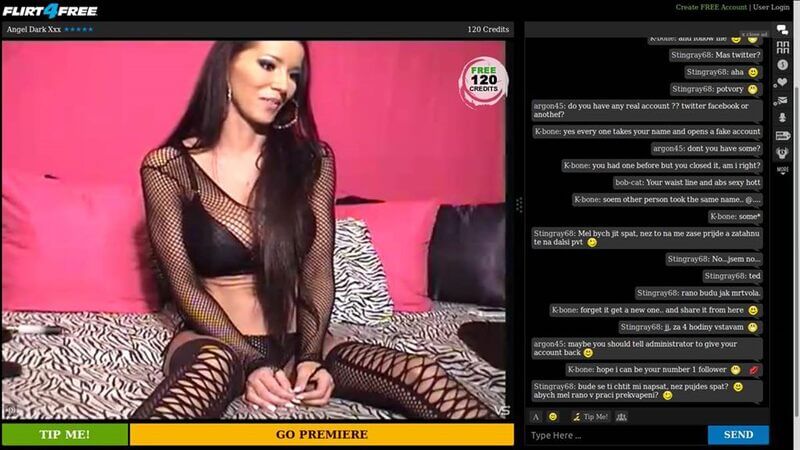 Customer service
You can get help via a chat window, or email or phone support. There's also a decent community at the site, with a very well populated forum, so you'll be able to get help from some other sex cam experts!
Thumbs up and thumbs down
Thumbs up
✔ - You get free credits to get you started, and boy, will you need them!
✔ - There are a lot of hot, porn-star-standard models available, and many of them are affordable!
✔ - The different chat options mean you can still have a good time without spending a massive amount
Thumbs down
✖ - It's pricey - some of the top girls charge 90 credits a minute - which is $9 in old money!
✖ - HD? Really?
My considered opinion
I really want to like Flirt4Free.com and while I'm still positive about it, there are two things that put me off giving it a high grade. Firstly, the hottest models really do charge a lot. I hear that Flirt4Free takes a sizable cut of its models' earnings, which may explain why their fees are so high. Secondly, I expect HD to be HD, and not SD-pixelated trash. Some of the HD is great, but some of it is not. On the positive side, there are a lot of great girls available, and you can find decent sex cam babes who won't charge a fortune to get hot with you, plus the range of chat options brings the costs of having a good, dirty time at the site down. Take a trip to Flirt4Free.com now and see if you agree!
Review of Flirt4Free.com
- Reviewed by
sexcamexpert.com