LiveJasmin.com review - Log in to enjoy some hot and sexy fun with the lovely ladies
Good day to you, my sex cam loving mates. I've spent a little time making my concise conderations for another of Mike's Sex Cam Expert Reviews. Today I decided to run the rule over LiveJasmin.com, which is one of most well known adult sex cams sites in the porn-tastic corner of the world wide web.
As you probably know if you're up to date with all the details about adult cam sites, LiveJasmin.com is probably the first on anyone's lips whenever they're asked to name a xxx cam web site. LiveJasmin is an xxx chat site with plenty of video feeds and both public and private chat options and literally thousands ... and yes, I do mean thousands ... of sexy cam babes available to chat with and to get deep down and dirty with whenever the notion takes your fancy. LiveJasmin's been around the web since the turn of the century, and was the very good idea of a Hungarian entrepreneur named György Gattyán. The site can boast loads of awards from the porn industry, and has been in the Alexa (a site which ranks other sites) Top 100 for well over a decade.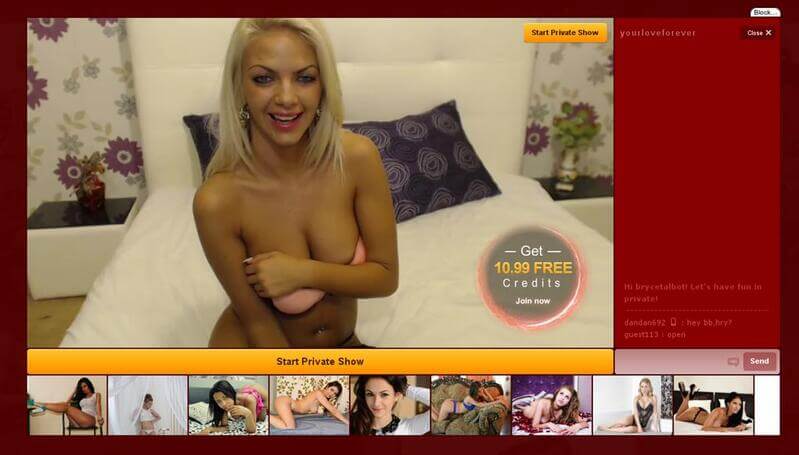 What do I think?
Well, there's a huge amount of stuff at LiveJasmin, and the sheer number of buxom beauties should satisfy even the most voracious of sexual appetites. Here's how you get things going at LiveJasmin: You sign up, you take a look at the pictures of the hundreds of xxx models currently available, you pick one who gets you a little excited in the old trouser area, you chat with your gorgeous new girlfriend for as long as you want, and if you want a little one-to-one time, you pay your credits and you see what you can get the porno model to do for you. Yep, that's really all you have to do. You start off with a basic membership, but things really start to get hot and steamy when you get out your credit card, buy a few credits, and head towards to the private chat rooms. As soon as you've punched in your credit card details you are automatically upgraded to premier membership, with all the extra privileges you can now take advantage of, like sending your xxx model offline messages and gifts right to their chat rooms. Whenever you buy credits at LiveJasmin.com you always get a few more added on top, just for good measure.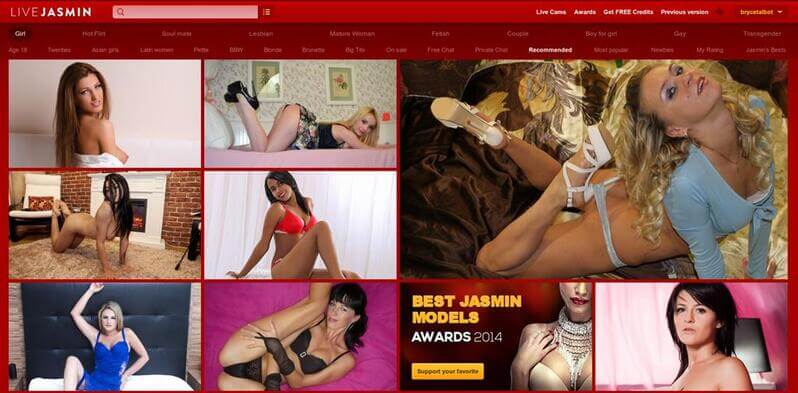 Once you've been around the site a few times, you'll soon come to realise just how many beautiful babes there are for you to have x-rated fun with. They come in all shapes and sizes, and all creeds and colours. If you have a certain liking for a certain type of xxx girl, then you're sure to find a lovely lady who ticks every single one of your demanding porno boxes. There's even quite a few guys as well, if that's the way your cookie crumbles.
When you find a sexy model who really does appeal, all you need to do is hover your mouse pointer over her picture and you can see what she is up to - you don't even have to leave the main page, which is pretty damn cool. The only spoiler is if your babe is currently chatting and having an x-rated time with a private client, then you don't get to see a thing, more's the pity. If she is available then you can join her public chat for free. There's likely to be a few other dudes in there as well, but you might get her undivided attention if you are lucky. You'll find all her sexy, interested bits are covered - if you want to see a little bit extra you're going to have to stop being a cheapskate and shell out some credits instead.
Some little extras
If you're brand new to LiveJasmin.com, the generous people there will give you ten "sneak peek" credits, absolutely free. These are worth a credit each, and they mean that you can go hunting for a private chat that's already happening, and take a look without anyone knowing. Sadly, sneak peeks will only last you twenty seconds, and there's a big annoying countdown clock in the bottom right hand corner of the screen.
There's a sort of community at LiveJasmin.com that's like those social network sites. You can set up a profile for yourself for free and fill in as little or as much info about yourself as you want. You can load photos as well, but it ain't manatory.
Registration
Getting registered at LiveJasmin.com is as easy as popping open a can of the old amber nectar, and it won't cost you a bean. You don't even have to plug in your credit card details. All you need for be a free, basic member is your email address. Just type it in and set up your username and password and guess what, you're now a bone fide basic member at LiveJasmin.com. After agreeing to those pesky T&Cs, it's time for you to head on over to the carnal playground full of xxx babes. You can do a little exploring with those ten one-credit sneak peeks, but if you want to take the plunge and join in with an x-rated chat, register your chosen payment method. If you use a credit card, you can grab yourself 10.99 worth of freebie credits as well.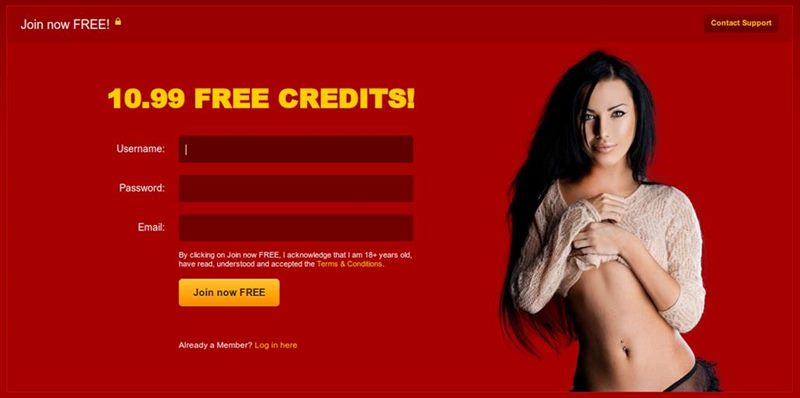 How to chat
You can join in with your chosen cam babe's public chat for free, or for the credits-per-minute price you can enjoy those private check sessions where things can get naked and naughty. If you have a webcam you can use the Cam2Cam feature which allows your chosen cam lady to see what you're up to, if that's what you want to do.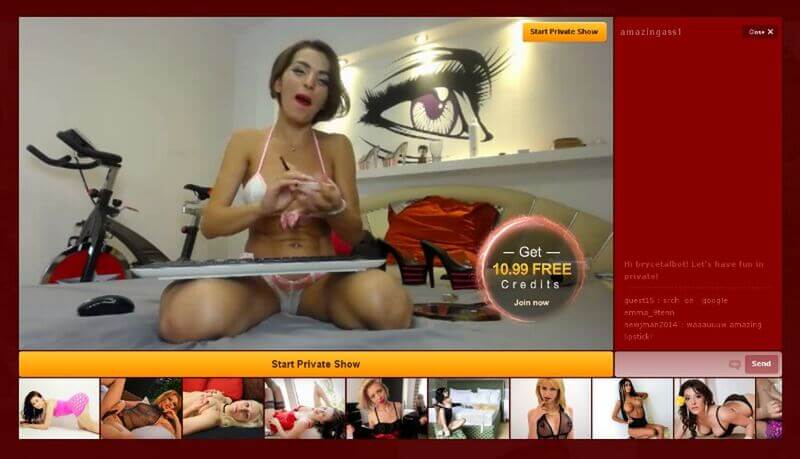 What's the video quality like?
Lots of the xxx models have decent, HD connections, meaning you can stream in HD if you can get broadbrand speeds of about 2-3MBps. If you can't, there's normal video as well which can be a bit jerky and fuzzy, but not so much that it ruins your enjoyment.
Money, money, money
The sex cam lovelies set their own prices, and credit packages are available as follows:
EURO €
GBP £
USD £
Price
Credits
Price
Credits
Price
Credits
€29.99
28.99
£18.99
29.98
$29.99
29.99
€69.99
58.99
£27.99
43.97
$69.99
75.98
€99.99
98.99
£65.99
86.97
$99.99
108.98
€159.99
158.99
£93.99
118.97
$159.99
169.98
-
-
£149.99
180.97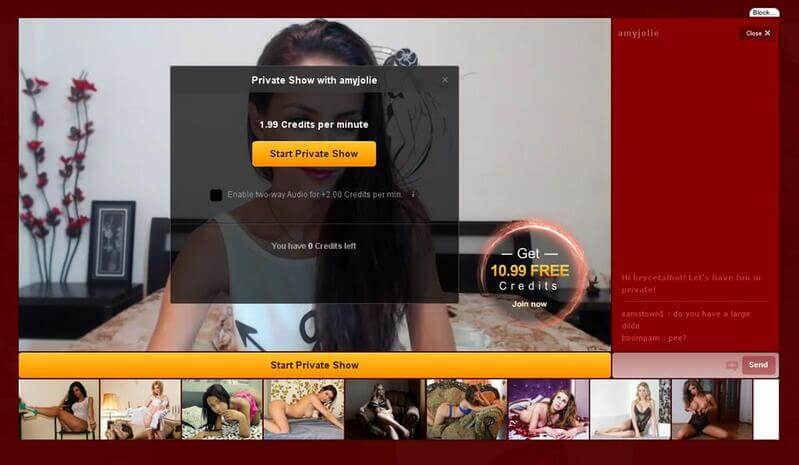 How to pay:
Mastercard, Visa, Visa Electron, Visa Bleue, Diner's Club, JCB, Maestro, Switch, Discover and Solo are all welcomed as ways to pay, and by using a credit card, you get yourself at least 10.99 in free credits. If don't fancy the idea of registering your card, then you can pay by Bitcoin, Click2Pay, UKash, European Direct Debit or Sofort Banking. You can also pay by phone - you'll receive a premium rate phone number to dial - just listen to how you can fund your account.
The number of models
You'll find over 25,000 sex cam babes at LiveJasmin.com, with between 2,000-3,000 sexy girls (and fellas) usually online whenever you choose to visit.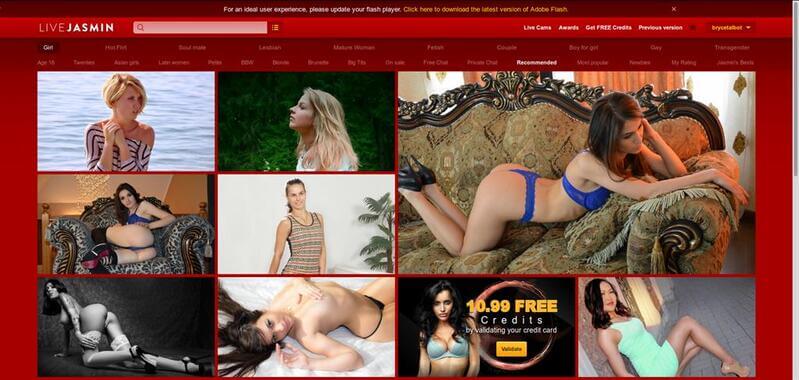 Customer service
Customer service is swift at LiveJasmin.com, and I know because I tried it! You can phone them up, drop an email or use the live chat feature. Support is online 24 hours a day, 7 days a week, and you can read the FAQs to find out if your question has an answer aleady there.
Thumbs up and thumbs down
Thumbs up
✔ - So many lovely ladies, you are literally spoilt for choice
✔ - No matter how much or how little you pay, you can always get some free credits
✔ - Getting around the site is easier than changing channels on the TV
Thumbs down
✖ - The sneak peeks only last twenty seconds
My considered opinion
To be honest, I ain't got a lot left to say. If I was giving out stars, then LiveJasminwould be so close to getting five out of five, it's kinda unfair not to do so (hey, but no site's absolutely perfect, not even this one). LiveJasmin really does set the benchmark when it comes to adult cam sites, and its one that all other sex cam sites out there are going to really have to try and go the whole hog to beat. The sexy babes are gorgeous, and there's just so many, you ain't ever likely to leave LiveJasmin.com a disappointed fella!
Review of LiveJasmin.com
- Reviewed by
sexcamexpert.com