Streamate.com - if you're willing to show the gold, then the x-rated cam girls will show you plenty!
G'day mates, or should that be G'day streamates? Heh, if you like guessing which adult chat site I'm going to be reviewing next, then I've somewhat given the game away, haven't I? Oh well, let's get straight on with it and we're off an running to pay a speedy trip to Streamate.com.
First and foremost I get the old looking glass out to work out just how legit an adult amateur cam site Streamate.com actually is. I managed to uncover a handful of tales of woe on the www, but not that set the alarm klaxons sounded off inside old Mike's head. No site on the internet's worth a bean unless at least one person is having a good old moan about it, anyhow. Streamate has been around, more or less in it's present state, since 2003. Even the logo and the tag-line hasn't changed since then, although the design of the site has, I am pleased to say. I wouldn't say Streamate.com looks that bad, but then again Streamate.com doesn't look that brilliant either, but then that's just my personal opinion. One thing that does look good though at Streamate.com is the standard of the amateur cam models, which I can't find anything to moan about. There's lots of top totty for you to unhinge your peekers at, if you're willing to let loose the old credit card, that is!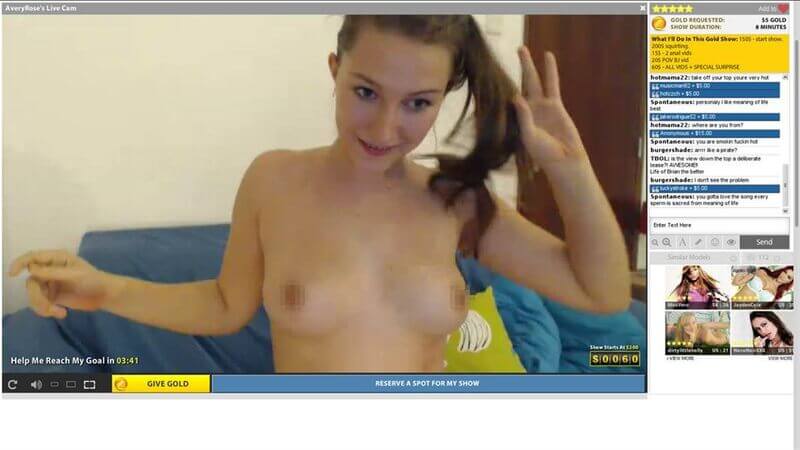 What do I think?
Well, if hot babes is what you are after then Streamate.com is not going to disappoint you. They do things just a little differently at the site as with other xxx cam sites, but the usual freebie chat (where you don't seem to get to see a great deal) and private chat is available. I'll get to the differences in a bit. Streamate.com is also a little bit lite on the special extras side as well. The initial screen is your typical "babes menu", with a few little extra bits of info such as A/S/L, the type of chat the sexy lady is currently up for, the standard of her stream and a five star rating (although almost ever babe at the site seems to be rated a five star hottie!). There's no "switch to live feed if you hover" options with Streamate, which is a tiny bit of a disappointment to be honest. Anyhow, there's no problem getting around the site, and everything loads as it should, and relatively quickly.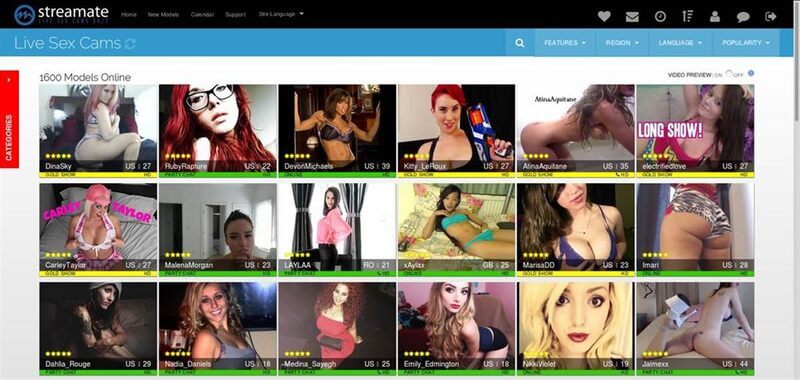 I'll expand a little more about the way the site operates deeper in the review for once, so you'll just have to keep reading if you want to know the firm buzz of what's cooking at the site. You can pick up plenty of categories at Streamate.com - the whole A-Z ... okay, A-W of sexual preferences from Anal Sex and Asian to White Girls and most cats you can think of in between including BBW, Feet Fetish, Granny, Pregnant, Smoking and Transgender. That's just the x-rated cam girl categories though - for fellahs who like fellahs, or for ladies who want to look at the guys, there's Bears (that's hairy dudes), Muscle ... and (when I looked) 23 straight guys no doubt looking from some lovely ladies to show off a little to.
Some little extras
Not much that's extra-special at Streamate I'm afraid. There are some photos you can enjoy, and a calendar of the scheduled shows that some of the sex cam amateurs are planning to entertain you with, but that's about all.
Registration
Okay mates, here's the disappointing news if you like to keep things a little private when you're going about you sex cams business. Streamate.com is another site where you can't get beyond the freebie options unless you have a credit card on standby. There's a very good reason for this at Streamate.com though - everything you pay for comes straight out of your account. You don't pre-buy credits or tokens like you do at other streaming sites. To register, click on the "FREE ACCOUNT" button on the top of the screen. You fill in your details at the next step, and then your credit card details once you're through that step. Only then are you ready to go. You'll receive a quick email with a random password (don't worry, you can change it) and you're finally up and running.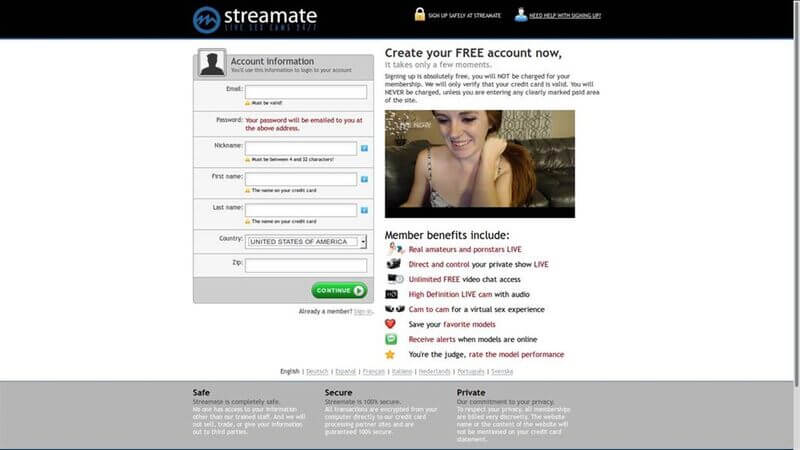 How to chat
This is where things get a little different at the world of Streamate.com. There's the usual freebie chat for people who just want to look, and then there's the 1-to-1 private option which you pick if you want to get up close and personal. The sex cam models can set their own rate-per-minute, and what you pay during your personal time comes straight off your credit card. In between free and private chat is the Gold Show. Here a cam model will set a time limit and give hints at what they will be willing to do during a "Gold Show". Punters can chip in tips as "Gold" at a rate of £/€/$1 per "Gold" piece. If the model is happy about how much has been contributed during this time she will do the business, and everyone who made a contribution is invited, If she ain't happy, then what she does it up to her, although if she doesn't seem willing to participate in anything nicely carnal then her star rating is likely to suffer!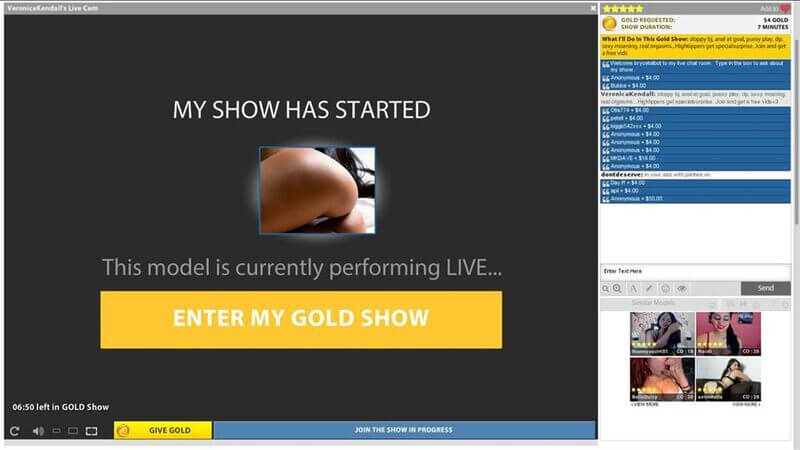 What's the video quality like?
The quality is a bit hit and miss to be honest. A lot of what is supposed to be HD doesn't look too HDish to me, but I've read on the web that Streamate only accepts models who have a decent bandwidth.
Money, money, money
No pre-buying here! if you're worried that you might not be able to control your free and easy spending, then you can set your own spending limits.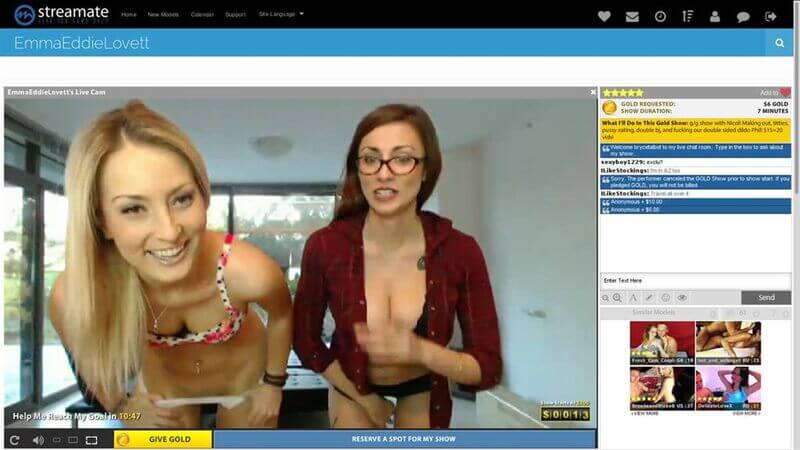 How to pay
You can pay by any plastic means as long as your card as a Mastercard, Visa or Discover logo on it.
The number of models
The site says 40,000, but I'm assuming as usual that's all the babes (and guys) who has registered with the site since 2003. Saying that, there's usually a decent number online whenever you pop across for a look-see.

Customer service
Lots of moans on the web about the poor customer service at Streamate, but I used the live chat function and encountered precisely zero issues with it, so maybe I got lucky. There's an email address and phone numbers as well.
Thumbs up and thumbs down
Thumbs up
✔ - Gold Shows can be interesting and are certainly cheaper than 1-2-1 chats
✔ - You can set up a "favourites" list to keep an eye on your favourite models
✔ - Video quality is pretty good with no lagging issues
Thumbs down
✖ - A few complaints on the web of people being banned with no explanation given
✖ - The models can ban you from all forms of chat for any reason they see fit
My considered opinion
If I'm of a mind to experience some sexy goodness that's not going to cost me an arm and a leg then I can see the "Gold Shows" at Streamate.com fast becoming something of a favourite. You do have to be careful though as the money comes straight off your credit card, so setting yourself a spending limit is a really bonser idea. I would also be careful how you tread as reports on the web do say that Streamate.com bans punters on a regular basis, so if you want to keep experiencing all the sex cam loveliness, then tread carefully! If you behave, then you shouldn't have a problem. Good luck, and enjoy!
Review of Streamate.com
- Reviewed by
sexcamexpert.com