PhoneMates Review - Low-Cost Sex Chat
If you search for the best websites for cheap sex chat, you would most likely come across PhoneMates.
PhoneMates' payment system and generous rewards (loyalty) program makes the platform stand out among its competitors. It also doesn't hurt that it has one of the biggest pools of adult cam models, with tens of thousands registered and hundreds of them online at any given moment, hot and eager to please — either by themselves or with a (very close) friend or two.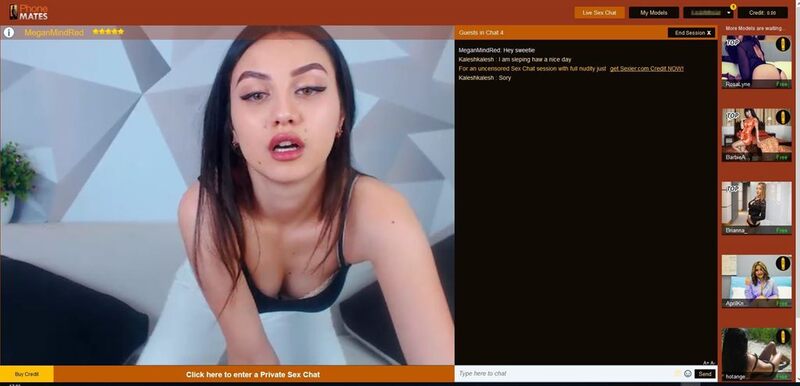 Sounds amazing, right? Well, it is, though there's one drawback to PhoneMates' services: They are not offered in HD.
For some, this might be a deal-breaker. I myself am somewhat miffed by this, but fortunately it still looks beautiful on mobile.
Guess that's why it's called PhoneMates.
What do I think?
Let me put it this way: watching one of PhoneMates' adult cam models do anything, from sensually pleasuring herself to getting railed from behind while gobbling another person's private bits, will run you about €1.98 a minute.
Yes, just under 2 euros, which is around 2 dollars. That's it. Considering it doesn't cost anything to register an account on PhoneMates, this is awfully hard to beat.
Which is good, since — while chat is free — it doesn't have too many options aside from a handful of emoticons, and I tend to gravitate towards sites that give me a strong feeling of control over my experience.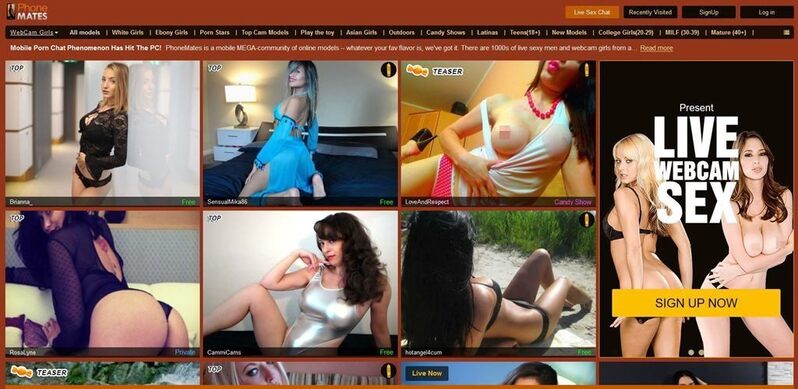 I should note that although I'm writing using exclusively female nouns, and while PhoneMates does heavily feature women, it also features male and transsexual talents as well, if that's your preference or if you just like mixing things up once in a while.
PhoneMates' plethora of categories and pages upon pages of sexy, excited babes will be sure to satisfy even the most hard-to-please viewer. Whether through variety or just sheer quantity, it is sure to cater to your specific fantasies and fetishes.
Ultimately, I found PhoneMates accessible and its options enticing. There are some seriously cute models here, and they all seem to very much enjoy their jobs. As a cheap sex chat site the payment structure is also simple and affordable, which is a big plus for me. The site has its drawbacks, which this PhoneMates review will touch on, but they probably won't deter most.
Registration
Registration is very simple: just pick a username and a password, and type in your email address. You'll be sent a confirmation link that you need to click to activate your account.
If you're a basic member, you don't get anything other than access to the free chat rooms, which usually do not display more than the occasional light nudity.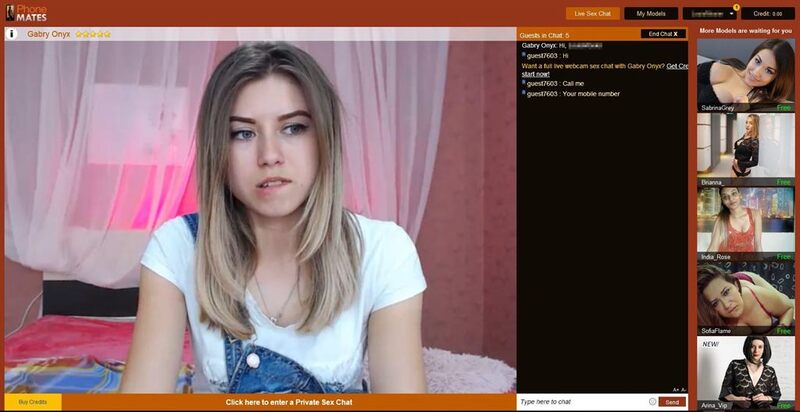 Not to say you won't see anyone going at it — while PhoneMates frowns upon models who don't save it for the paid sessions, some do it anyway, and if that's what you're looking for you are bound to find some.
The aim, though, is to enter a Candy Show or a private show — so you can be alone with the girl of your choice and tell her, in your own voice if you're so inclined, exactly what you like and how you like her to do it. And for that you'll need some credit.
Money, money, money
There aren't many packages offered by the site. Actually, that's an understatement — there's only one package offered on PhoneMates, sold in three separate yet basically identical "deals." It is fairly affordable when taking into account how far a few credits can get you, so go ahead and choose whatever deal you like.
Once you've bought some credits, you are free to direct PhoneMates' kinky adult actresses, or actors, to your heart's content.
The site uses credits, which are worth one euro each. You can also pay for a 30-minute session upfront to get a 20% discount, or pay for a 60-minute session upfront and get a 30% discount.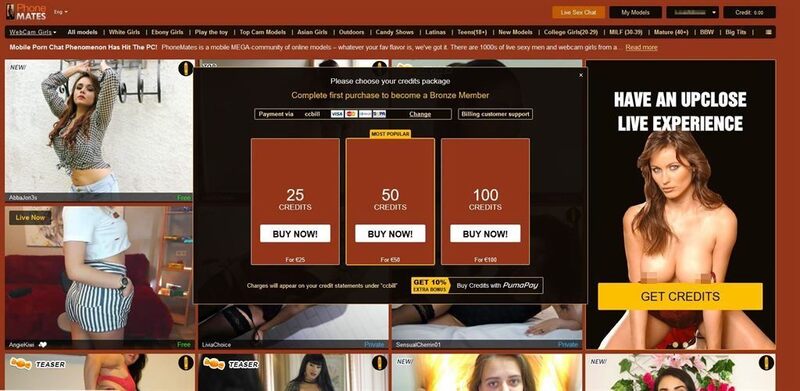 Be aware that the more you use the site's cheap sex chat, the more bonus credit you get for free with every subsequent purchase you make. Do this enough, and you will eventually gain free access to the special Celeb Events, where adult film stars show PhoneMates' usual models how this job is done by a pro.
Take a look at the "Point system" section for more detailed information on this.
How to chat
You can, of course, chat as long as you feel like, but you won't get very far if you wanna see anything that might get you really excited. What you can do, though, is scout out the shows for a model that catches your eye and talk to her to find out if she's the one you'd like to fulfill your fantasies.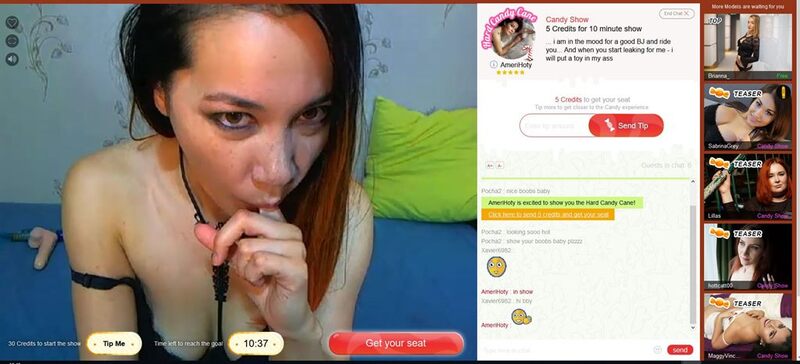 In case you are a person of particular taste or just have a hankering for something specific, speaking to the adult cam models beforehand might be crucial for you, and PhoneMates' free chat — while simple — gets the job done.
As for going straight into a private show, it really depends on the model. while some will pounce on you like a tiger in heat, some prefer to tease you and get to know you and your preferences, and how to get your blood pumping. Because of this, I myself prefer to talk to the girls beforehand, just to make sure we're on the same page and that I fully enjoy my time with them.
The models
More than 80.000 adult cam models use the PhoneMates' platform. Around 600 of them can be found online on average at any given time. It is one of the biggest pools of sex talents around, and it feels that way; you would be hard-pressed to find a moment where none of your favorites are on, since you will probably have many of them.
The models themselves vary in attractiveness, enthusiasm and stream quality, so shop around.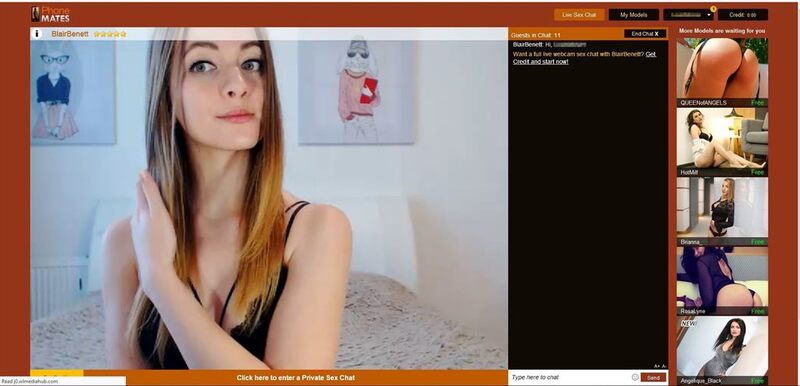 What's the video quality like?
As I've mentioned before, if full HD isn't something you can compromise on, PhoneMates is not the site for you. It has some great features, but high video resolution is not one of them. Most shows are streaming in decent enough resolution, which tends to be around the 480p range.
There is an upside though. The streams themselves rarely stutter or stop unless you have the internet connection equivalent of a bent straw.
Some little extras
Aside from the usual hotties in erotic clothing waiting for you to take them into a private session, PhoneMates offers a service for those looking less for the one-on-one feeling of intimacy and more for the best bang for their buck. Candy Shows — cheap group cam shows that are among PhoneMates' more alluring feature.
Upon entering one, you'll be able to "buy a seat" for as little as one euro. If not enough people pitch in, which happens from time to time, and the models' stated goal was not reached you will be refunded immediately. Once enough do, the show starts, and things get hot and heavy.
Also, keep an eye out for a vibrator icon (can be seen on a model's preview screen at the top right corner), which indicates the model is capable of performing Vibrator Shows. That means you will be able to send them "vibes" during both chats and shows, which they will instantly feel by using a special vibrator. This time, you will be the one doing the teasing.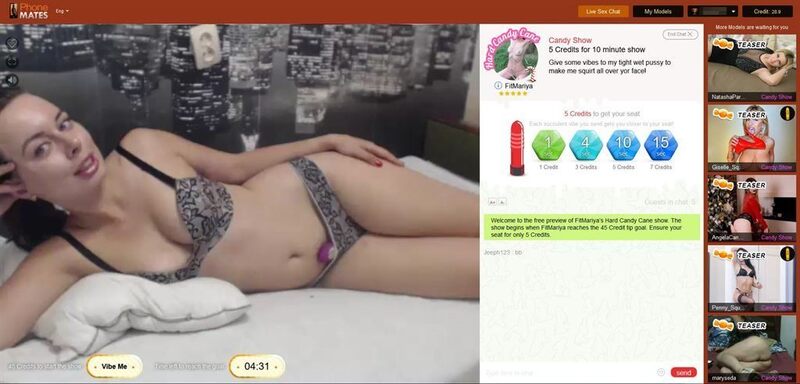 Many cam girls also enable cam2cam in their shows, so you can get your new friend all hot and bothered seeing how hard you get for her, timing your strokes to her rhythm. You can even combine this with vibes to enjoy a little power fantasy.
Every model on PhoneMates also has her own "About Me" page, where you can see their details, their preferences, the services they offer and a picture gallery so you can check out the goods before you purchase. Some models even have on their page hand-picked recorded videos of previous shows, which they themselves create, though those usually cost around 8 credits, which in my opinion is pretty steep for a clip only a few minutes long.
Point (reward) system
Spending your hard earned cash gets that much easier when you realize that the more you use PhoneMates's paid features, the less you'll have to shell out in the long run. Every time you purchase credit on the site, you receive free bonus credits, which are automatically transferred into your account. The amount of bonus credits you receive depends on how much you spend and the status you've gained by collecting points.
The more you enjoy the site, the more bonus credit you get for free with every subsequent purchase you make. Do this enough, and you will eventually gain free access to the special Celeb Events, where adult film stars show PhoneMates' usual models how this job is done by a pro.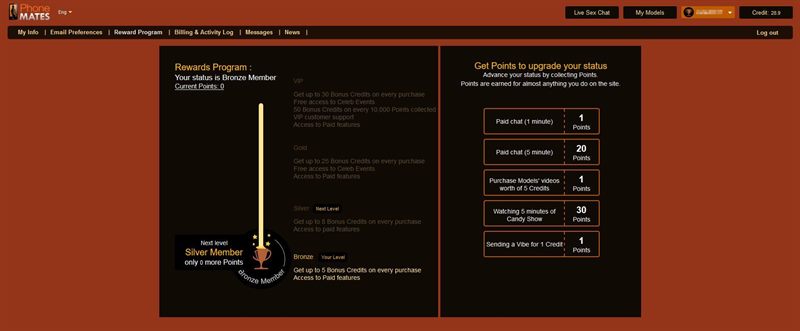 Let me break it down for you: The first level is as a Free Member. This will be your status until you purchase credits. Spending said credits on the site will get you points, with each point getting you one step closer to the next membership tier. The amount of points you can earn depends on your status and the type of activity you engage in, with paid features getting you more points than free ones.
Additionally, you also get bonus credits whenever you reach certain points thresholds, and there are sometimes even campaigns that offer you a large amount of free credits on specific purchases.
Here is a breakdown of the different account tiers, how to attain them and their benefits:
Account tiers

What is needed to reach it

Benefits

Bronze
Purchase any amount credits
Get up to 5 bonus credits on every purchase
Silver
Earn 500 points

Get up to 8 bonus credits on every purchase

Gold
Earn 2,500 points

Get up to 25 bonus credits on every purchase

Free access to Celeb Events

VIP
Earn 15,000 points

Get up to 30 Bonus Credits on every purchase

Free access to Celeb Events

50 Bonus Credits on every 10,000 Points collected

VIP customer support
And here is a summary of the amount of points you get per membership level and activity:
| | | | | |
| --- | --- | --- | --- | --- |
| Activity | Bronze | Silver | Gold | VIP |
| Free Live Chat: 1 hour | 1 point | 2 points | 3 points | 4 points |
| Paid Live Chat: 1 minute | 1 point | 2 points | 3 points | 4 points |
| Paid Live Chat: 5 minutes | 20 points | 25 points | 30 points | 35 points |
| Spend $20 Credits (Tips + Vibes) during a Candy Show | 30 points | 35 points | 40 points | 45 points |
| Add 25 Models to your Favorites List | 10 points | 10 points | 20 points | 20 points |
| Send $10 worth of Vibes | 20 points | 25 points | 30 points | 33 points |
| Watch $10 worth of Recorded Videos | 0 points | 15 points | 20 points | 25 points |
| Using Hands-Free Mode | 0 points | 4 points | 6 points | 8 points |
How to pay
PhoneMates accepts pretty much every payment method you can think of, including but not limited to:
Visa
Mastercard
Diners Club
SEPA, iDEAL
DELTA
Paydirect
PayPal
Maestro
Paysafecard
Diners Club
PumaPay
Discovery
Switch
JCB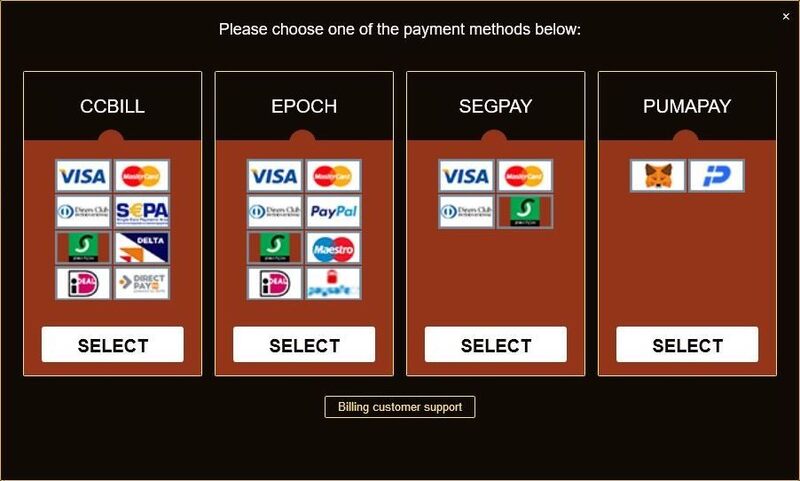 Whichever option you choose, the transaction is fast and reliable.
The choices for payment options will changer according to your region, so you may not see the same ones where you live.
Customer service
This is another major drawback of the site. Don't expect a fast response to your query from PhoneMates' customer service, nor an intuitive way to contact it. There is no in-site chat you can use or a phone number you can call — just an email address you can find in the "Contact Us" link at the bottom of the site's main page, which is also a pain to get to since the site keeps loading more cam shows after you scroll down.
There is a link right next to it titled "Customer Support Center," but that is misleading, and should have been called "Information Center" instead, because that's what it actually is. There is another "Contact Us" link on that page, but it is basically the same thing, although instead of opening your mailbox, it uses a small window to get your message across to customer support. Do note: you will still receive the response to your email.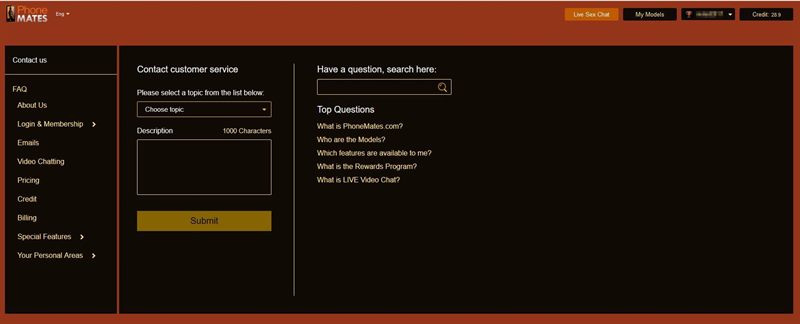 This isn't helped by the fact that PhoneMates' customer service is pretty slow to respond. Expect three days of waiting at minimum, even after just sending them a simple question.
Pros and Cons
Pros
✔ - Generally cheap sex chat.
✔ - Generous reward system.
✔ - Slick, intuitive interface and search options.
Cons
✖ - No HD at all.
✖ - Slow, lacking customer support.
My considered opinion
What PhoneMates aims to do it does well. It is a great site to browse on the mobile and its cheap enough to be a consideration when you look for a nice cam site to fulfill some fantasies. The complete lack of HD and the poor customer support are two considerable drawbacks, but if that doesn't bother you too much, there is a lot to gain here.
Whether or not PhoneMates is for you, it is one of my go-to cam website for mobile, and sometimes for my home computer when I find myself in the mood for some of my favorites on there.
Review of PhoneMates.com
- Reviewed by
sexcamexpert.com