Webcams.com - cum and join in the sexy fun. Oh, and the HD streams are lovely!
Attention:
Webcams.com is now My Dirty Hobby - so go ahead and click the link below to discover hot new features of this awesome webcam site!
Another day, another top, hot, adult chat site, or so they say. If you're gagging for another expert sex cam review, then your old mate Tom is hardly likely to disappoint you is he? Time for yours truly to run his critiquing eye over the sexy stuff that can be found happening at Webcams.com.
Now, I'm willing to admit that I'm hardly the sharpest sandwich in the picnic. My true expertise of course comes from reviewing all the lovely adult chat sites I find out there to report back to you about out of the goodness of my own heart. I mention this because I quite like the domain name Webcams.com. It's hardly one you're likely to forget, is it now? Even I worked out that such a bonser domain name would have been grabbed way back in the internet midsts of time, and I am not wrong! Webcams.com was registered as a domain name as far back as 1998. It didn't start life as an adult cam chat site, though, no sir. It was just a general webcams site where those rare people with webcams in 1998 could have some face-to-face chatting. Of course, with human nature being what it is, I guess face-to-face chat soon became dick-to-pussy chat! These days Webcams.com is mostly about pussy, and fine looking sex cam models. If you've never set a virtual foot on Webcams.com before, then you are in for a real treat, and that's a promise!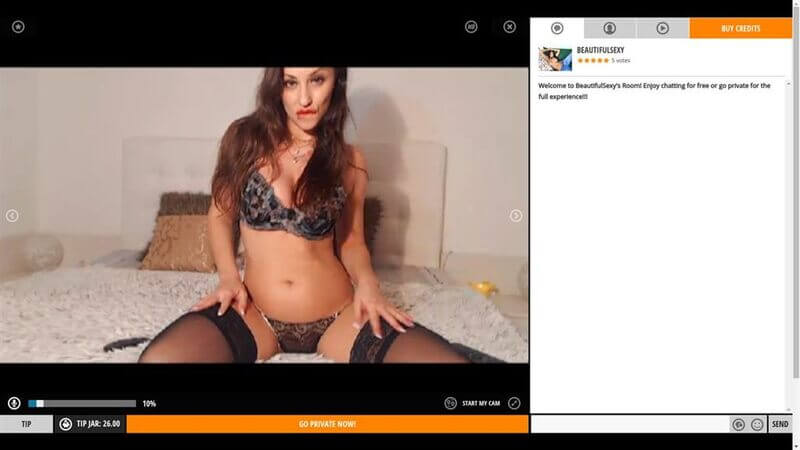 What do I think?
Okay, let's get down to the interesting stuff. When you've finished reading this review you can head over to Webcams.com and have a poke around, and I guarantee you, you're gonna have a big smile on your face. The Webcams.com site looks great, and that's not just the wonderfull selection of xxx babes you're going to be encountering. I like a site that's made a bit of effort over the design, and as you can see from my screenshots, Webcams.com looks snazzy. It's a breeze to use, and reacts faster than a virgin's dick when he sees a pair of tits! Seems webcams.com has invested in some pretty snazzy servers as well. You can just jump from babe to babe in double quick time, and certainly with no hanging around time like I've seen at a few other sites I've reviewed of late. I must say though, that it's not all that likely you'll be jumping from babe to babe, as there are so many top-quality sexy girls at the site, you'll soon find a xxx babe you'll fancy spending a little extra-special time with, if you know what I mean.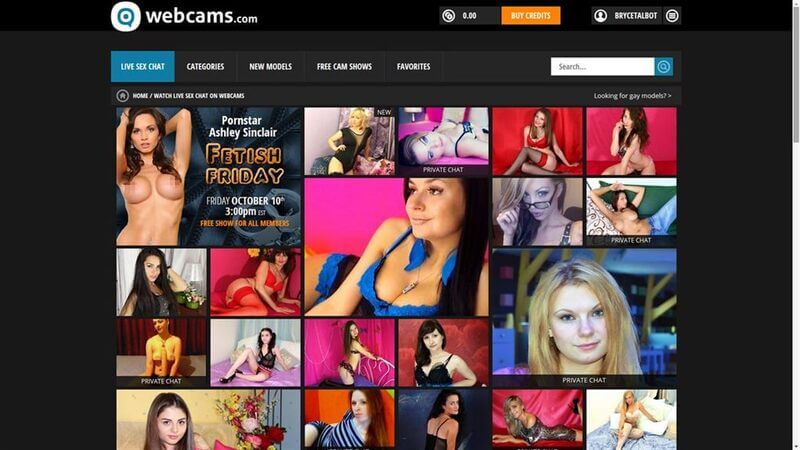 At Webcams.com I certainly feel they've gone for the basic, free chat or private chat model. There's not a lot else too it. You can see the hottest cam models by their chosen sexy little thumbnails, and of course if you hover you pointer (and I did say pointer!) over the thumbnail, you can get a sneaky peak as to what the xxx babe is up to, as long as she ain't currently entertaining a punter with a little 1-to-1 action. You can peruse the latest hot new models to the site, or you try out the categories view where you can choose from a range of specific tastes, like ethnicity or BDSM, if you like to mix a bit of pain with a lot of pleasure. You'll also notice some up and coming porn star shows with the hottest, sexiest porn star models. These seem to be quite a feature at the site and are shared between Webcams.com and some other sites, such as Brazzers. Oh and you can also switch on your own webcam if you think your chosen sex cam babe would find seeing what you were currently up to was interesting for her.
Some little extras
If there is one thing you might find to criticise Webcams.com about, it's the lack of extra features. If you're a basic member, it's really only free chat and some free sexy pics that's available to you. Once you start paying for your credits ... well, aside from the joint porn star shows and the ability to go private, there's not a great deal else to get you excited. Webcams.com really does seem to be all about the basics, and it does the basics very well.
Registration
Warning! Warning! If I've enticed you in so far, then I might be about to impart some disappointing news for you. You cannot register for Webcams.com unless you have a credit card. If you don't like that idea, then the doors to Webcams.com are going to remain very locked and bolted for you, I'm afraid. To be a member you also have to pay a nominal fee (about $1 a week) to keep your membership. I guess there's your answer to how Webcams.com affords its wonderful servers. To register, click the "Join Now" button at the top of the screen, then fill in your username, password and email address. The next step is to register your credit card. As a thank you for registering you get the chance of buying some credits at a heavily discounted rate. After that offer you pay the same as all other registered members.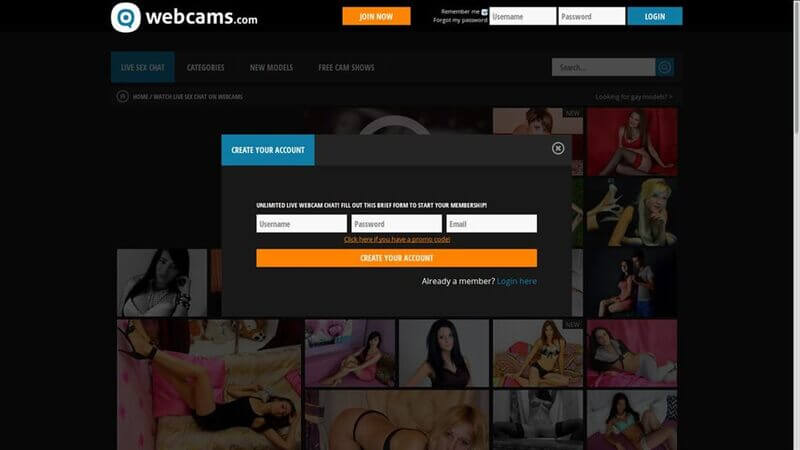 How to chat
There's the free chat, and while a few of the xxx babes do seem willing to get a little frisky, I wouldn't get too excited at the thought you're going to see anything hotter than the odd nipple slip. Private shows are where the action gets good and hot, so if you want to see more than nipple slips, then you're going to have to pay. The sex cam girls can charge what they like, from 0.99 to 6.99 (about) credits a minute, although most of them seem to charge between 2.99 and 4.99.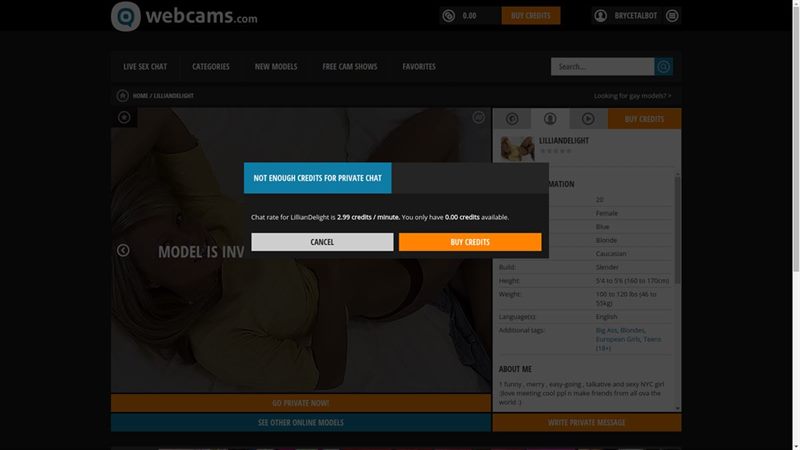 What's the video quality like?
You can't criticise Webcams.com one little bit for streaming quality. The site's streams are right up there with the likes of LiveJasmin.com and Sexier.com. There is the odd freeze and video/audio jump, but nothing too horrifying. The HD streams are gorgeous, if you're lucky enough to have the bandwidth.
Money, money, money
Here are those all important prices, folks:
EURO €
GBP £
USD $
Price
Credits
Price
Credits
Price
Credits
€7.99
10
£6.66
10
$10
10
€23.99
30
£19.99
30
$30
30
€46.99
60
£36.99
60
$60
60
€66.99
90
£52.99
90
$85
90
€78.99
125
£69.99
125
$100
125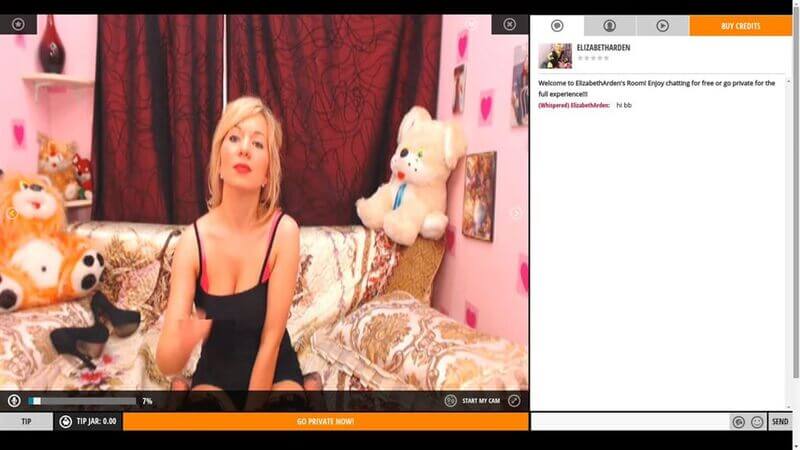 How to pay
The site only accepts Visa, Mastercard and Discover.
The number of models
Webcams.com seems to be quite picky about the type of sex cam babe it allows to sign up, and only around 4,000 or so have been allowed the opportunity to flash their bits at the site. There are around 400 or so online at any one time.

Customer service
There's live chat, but from my experience, it's a little ropey. Some of the responses were slowly than a stingray swimming in vegemite. There's phone numbers you can use, and an email messaging system.
Thumbs up and thumbs down
Thumbs up
✔ - Great streams, great SD and even better HD
✔ - The quality of the adult cam model is rather something special
✔ - Free live porn star show for paid-up members
Thumbs down
✖ - The live chat help option definitely is not the best
✖ - You need a Visa, Mastercard or Discover card to sign up
My considered opinion
Yeah, I'm definitely give Webcams.com my seal of approval. After some of the pixelated messes I've recently seen at some other sites it's been my pleasure to review, it's great to see some super-clear lovlies when you're chatting. I like how the site looks, and how quickly it responds, and I like the special class of sex cam babe you get to see. Webcams.com only loses points for the "credit card only" rule, and that nominal weekly charge once you're registered, but then you're getting all this SD and HD loveliness for that fee, even if you don't wave the plastic around to buy some credits. There's the only moans I have, so now you've read the words, why not pop over to Webcams.com and form your own opinion?
Review of Webcams.com
- Reviewed by
sexcamexpert.com