AsianCamModels.com - want sex chat with hot Asian girls? Okay!
G'day to you again, my Asian porno cam loving people. Let's get this show right on the road to sexual paradise with yet another review of a blistering hot site dedicated to Asian cam models. So, cook yourself up a batch of noodles, crack open a bottle of Asahi, and sit back and relax as the self-styled Asian Sex Cam Expert gives you the low down on AsianCamModels.com.
This site is an Asian-only portal of an all-bases-covered adult sex chat site named Cams2Chat.com. You might have heard me mention that name before, as I told you about it when I reviewed TrannyCamModels.com. Seems that AsianCamModels.com is an Asians-only subdomain of Cams2Chat.com, and then TrannyCamModels.com is a further subdomain of AsianCamModels.com. All these main cam sites are owned by a Nevada company called Labuyo, although AsianCamModels seems to think it is owned by a different company called Interactive Management Systems, as it has been since it first popped online, way back in 2004. My best guess would be that Lubuyo bought out IMS, but ain't got around to updating this site yet, but I ain't saying I'm deffo right. Anyway, that's enough of the boring background stuff about AsianCamModels.com, let's get on with the streamier side of things!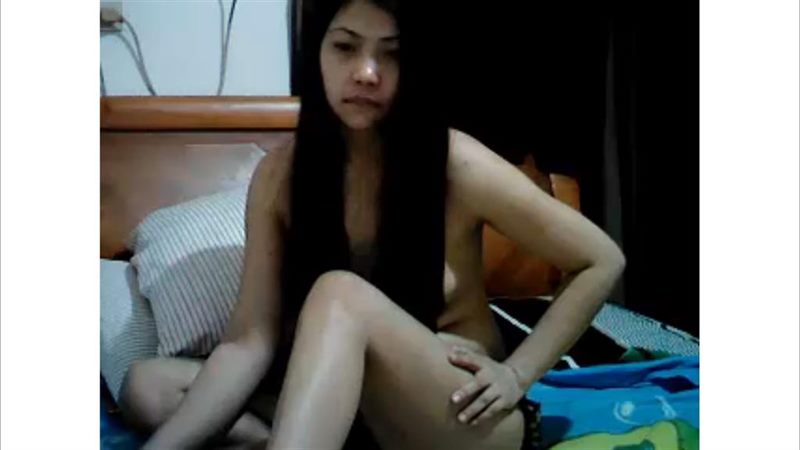 What do I think?
My initial thoughts about AsianCamModels.com are positive. Lots of Asian cam models were online, and I liked the colour palette of purples and pinks against a black background. As I mentioned before, I like adult chat sites where the effort's gone into the way it has been put together as it reassures me that I'm likely to have a decent enough experience at the place. The main menu is made up of typical thumbnails, and here the mouse-hover cam tactic actually functions! Sadly, there ain't much more info to glean from the menu screen, other than the language the model can chat to you in. The US Flag = English here. Most seem to be from the likes of the Philippines, Malaysia and Thailand, and most of them have good English.
You can see which models are currently available to chat from a handy little menu, or you can look at all the many profiles. There are over 4,500 profiles to look through, but I think that quite a fair number have been dormant for some time. There's also your favourites screen that you can save the profiles of your top Asian babes to if you've gone through the registration process here, and you can review and edit your own personal profile if you filled one in, plus gather any messages you might have received back from the performers (another members-only feature). The menu is completed by access to the support functions, and the FAQ page.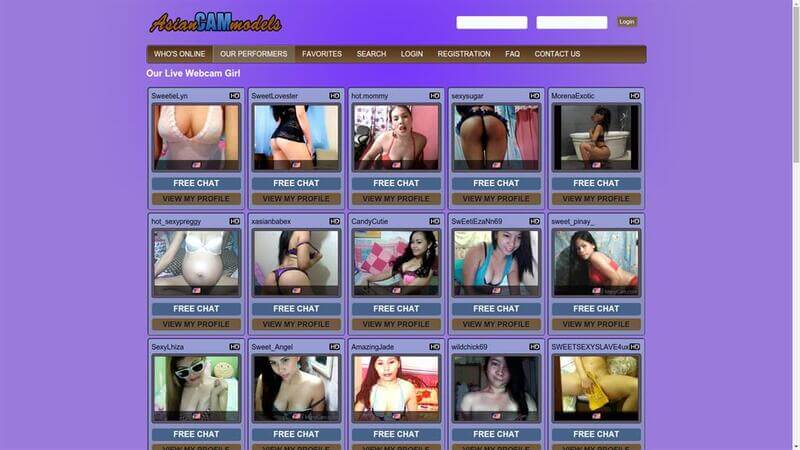 That, folks, is about all I have to tell you about the site, as that's all the site really has to offer. As you will know if you're a sex cam expert like me, these cloned sites usually strip away most of the bonus features that are found on the parent site, and AsianCamModels.com is no different.
Some little extras
A few images and videos. The tamer versions are free, and you have to pay for the more explicit ones, as you might imagine.
Registration
If you're already a member of that parent site I mentioned or TrannyCamModels.com it means you're automatically a member of this site. If you need to register here it's not exactly taxing. Just select the registration option from the menu, then enter your username, a password of your choice and a screenname. You also need to tell the site if you're male or female for some reason, and add a valid email address to which your confirmation email with be sent. Indicate that you've scruntinised the T&Cs and click "Join". Once you've replied to that activation email, you're a member.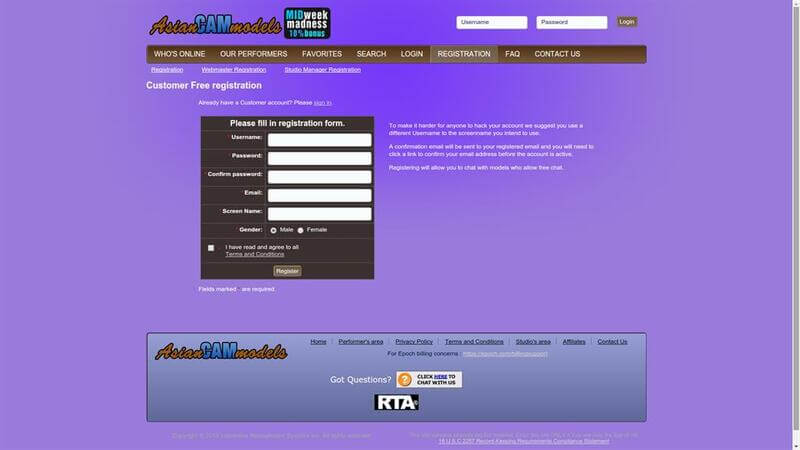 How to chat
Free chat is free but comes with a limit of one hour per model. Once you've used your free chat allocation, you can't engage with that particular Asian porn cam performer again for free chat for a full 24 hours. The only other chat options are Group Chat and Private Chat. These are the same (and cost the same) but with Private chat it's just your and your chosen model, All models charge the standard rate of one credit/dollar per minute, which is right down at the less expensive end of the sex porn cam market.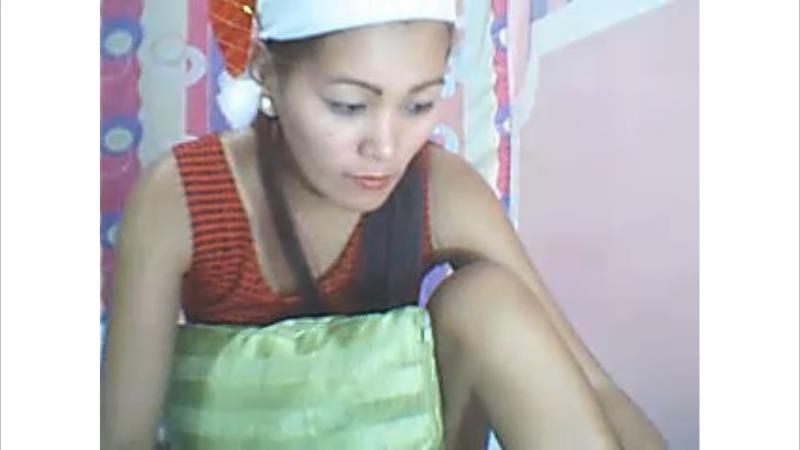 What's the video quality like?
I guess it ain't too bad, although I have seen better. The enlarged view is better than full screen view, as that gets rather blurred.
Money, money, money
You can buy packs for $25, $50 or $100, and as I said it's basically one dollar = one credit = one minute. Buy packs on Tues/Wed/Thurs for a 10 percent bonus. You can probably go to TrannyCamModels and buy credits there, as there's an auto 10 percent bonus with each purchase (or at least there was the last time I looked). You can then use your bonus credits here.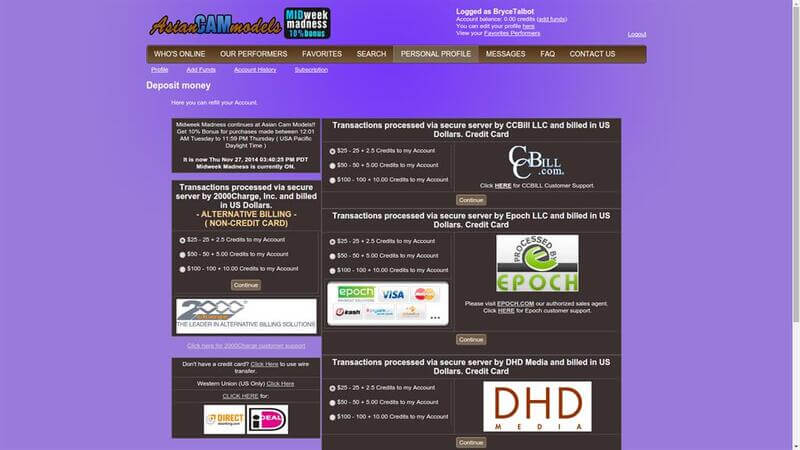 How to pay
You can use CCBill, EPOCH or DHD Media. There are different payment methods available via each of these, including Visa, MasterCard, Ukash, Paysafecard or Click2Buy.
The number of models
There are 4,500+ profiles on the site as I mentioned before but I think about 3,000 of these are dormant. There's usually a good 100+ online whenever you pay a visit.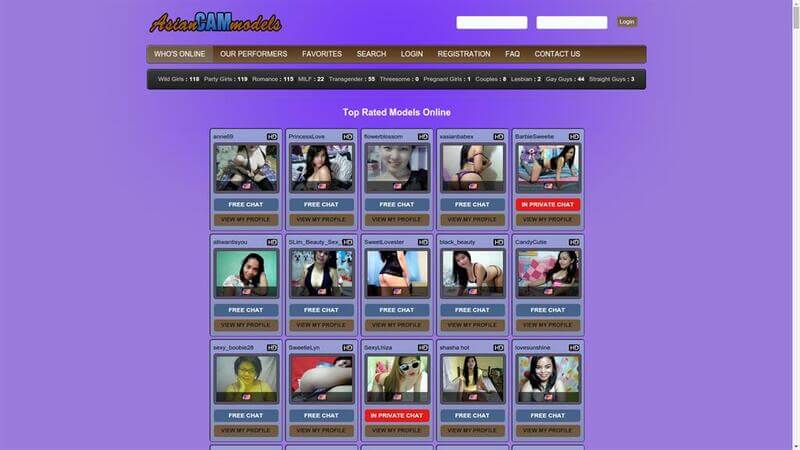 Customer service
Contact web form and chat applet. Unlike TrannyCamModels.com I did at least get a response when I used live chat, but the person manning the chat was not the most useful chat rep I've ever encountered.
Thumbs up and thumbs down
Thumbs up
✔ - At a nice price - it's slightly less than a dollar a minute if you get your credits when the deal is on
✔ - Always a good selection of models to choose from
✔ - Most of the models are very approachable and talkative
Thumbs down
✖ - The models don't like it if you hang around in free chat all the time
✖ - I'd like to be more confident about the support options
My considered opinion
There's a great deal that's positive about AsianCamModels.com, and if you're looking for screens full of gorgeous Asian models to have a natter and then play sexy games with, then I think you really need to be heading there. My only qualms are the support functions as I'd like to see phone numbers and email addresses. But then again, at only a dollar a minute, who the bloody hell am I to complain?
Review of AsianCamModels.com
- Reviewed by
sexcamexpert.com