TrannyCamModels.com - hunting for tranny sex action? Hunt no further!
Right! Let's get cracking and get another patented Sex Cam Expert review up and running. Oops. Pardon my manners! Hello mates! And hello all you lucky tranny lovers out there! Glad you could join me, the self-styled and by now extremely experienced Tranny Sex Cam Expert, for my latest top-notch shemale adult porn chat review. The site I will be reviewing today is TrannyCamModels.com.
This site is the tranny-only (well, nearly, as I will explain in a bit!) version of a general adult sex chat site called Cams2Chat.com, which I haven't gotten around to reviewing just yet. Both these sites are owned by a Las Vegas company called Labuya, although until just recently it was owned by a different company, still in Las Vegas, called Interactive Management Systems. They might be the same company, just rebranded. They must own other Cam sites as I spotted one cam when doing the review that looked as if it had no place on a tranny site - and indeed when I asked the cam model what they were doing on a tranny site, they had no idea they were and indeed told me to naff off because I was lying! I offered to send the model a screenshot with their cam on the TrannyCamModels.com site, but they didn't get any politer, so screw it!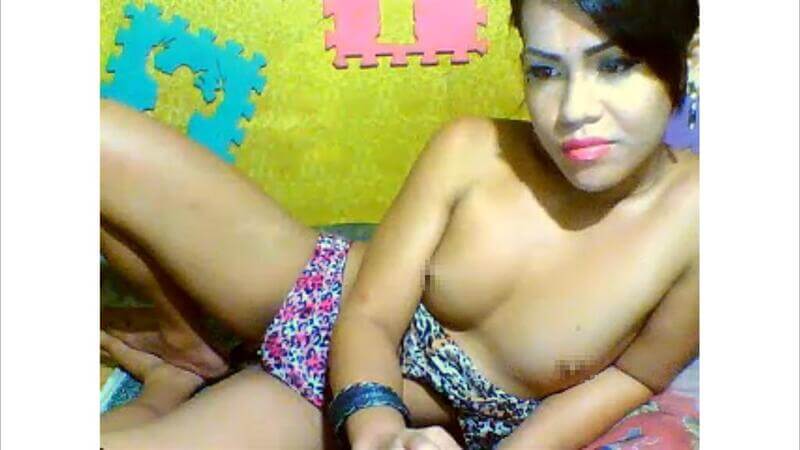 What do I think?
First impressions of TrannyCamModels.com are pretty good. I liked the look of the site, and lots of models appeared to be online. The colour scheme of blues and pinks against a deep purple background works well, if that sort of thing bothers you (it does me - I think the more effort that's gone into the design of the site, the better and safer time I'm going to have there). The models have the usual thumbnails, and the mouse-hover cam trick works! You don't get much more info out of the menu screen, other than the country the model is (supposed to be) from (most of them say USA, but once you get chatting you find most of them are from the Philippines or other Asian countries).
There's a bit of a menu across the top, which you can use to see which models are currently online, or all of the performers who have profiles at the site. You can also get quick access to any sex cam trannys you have favourited, and even look at your own personal profile if you have filled one out and any messages you might have received from any performers. These last three options are only available if you've signed up. Finally, there's the FAQs and the contact options.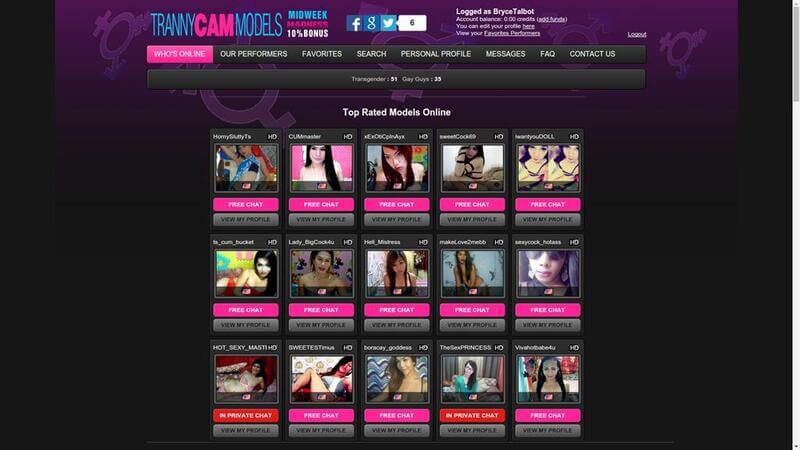 And that's really all there is to it. As I have learned as I have reviewed more and more of these sites, if you're a tranny cams fan, you don't really get a great deal extra to play with, especially with these types of cloned cam sites. I must say though, TrannyCamModels.com has one real USP, which I'm not going to divulge just yet as I like to keep people in suspense! (Evil laugh)
Some little extras
Well, you can see pics and vids of the models, but you have to pay for the more explicit ones ... and that's about it!
Registration
No doubt if you've already signed up for that other site I mentioned, then you're already a member of TrannyCamModels.com. If not, then the registration process is not too onerous. Just click on the registration button on the menu, then fill in your username, your chosen password and your screen name. You also need to reveal your gender for some reason (but not your sexuality, which is kind of the point with any 'specialist' porn cam site) and give a valid email address for your confirmation email. Check that you've read the T&Cs (which I am sure you have) and click the big button. Once you've sorted your activation email, you're good and ready.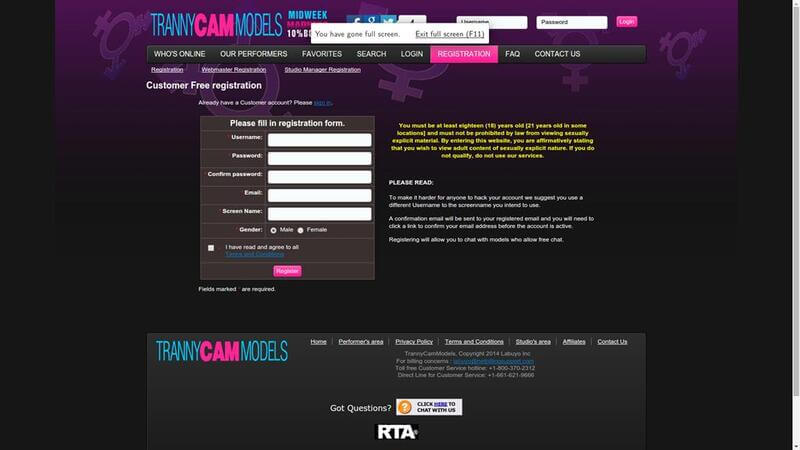 How to chat
Free chat has a limit of one hour per model. Once you've chatted free for an hour in total, then you can't chat to that particular model again for free for another 24 hours. Aside from that there's Group Chat (extra special sexy stuff that all of you can watch) and Private Chat, which is just for your eyes and the eyes of your model.
Now I come to that USP: All non-free chat is fixed at the rate of one credit per minute, and each credit costs you a whole one dollar! I think this explains why most models are from Asia, as the cost of living is pretty cheap there, so one dollar a minute goes a long way. You can't really complain at such an inexpensive rate, can you?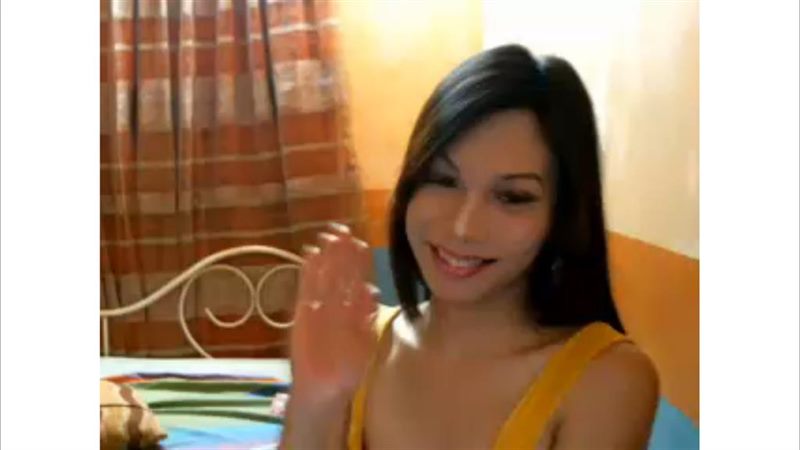 What's the video quality like?
Hmm ... well, the video quality is pretty bonser, unless you go full screen, which can end up looking a little blurry. A lot of the models say they have HD, but it's not half as good as the HD I've seen at other sites. It's kind of the luck of the draw, really.
Money, money, money
As I metioned, it's one dollar per credit, and you can buy credits in packs of 25, 50 or 100. In fact, it's even a little cheaper than one dollar per credit, as with each purchase you get a 10 percent bonus absolutely free! Amazing value for a sex cam site, shemales or not!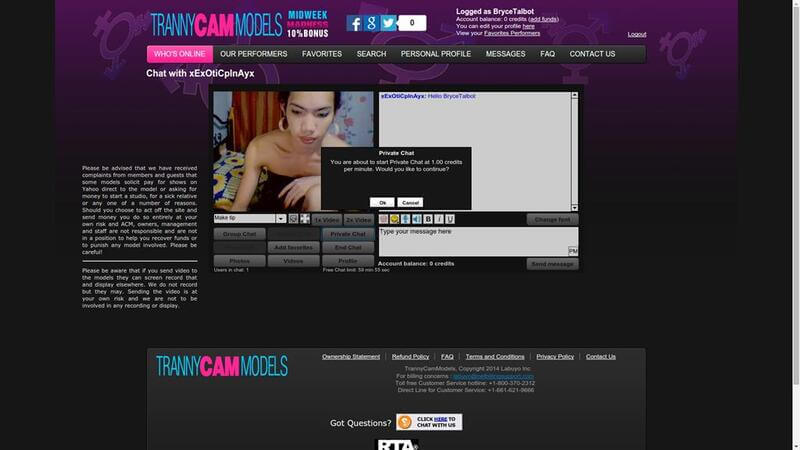 How to pay
You can either plug in your plastic, or use wire transfer. Folks in the US can use Western Union, although isn't that the same as wire transfer?
The number of models
There are just under 1,000 active profiles at TrannyCamModels.com. Every time I have checked at the site there have been between 50 and 70 models online, so you get a really good variety of porn cam shemales to choose from.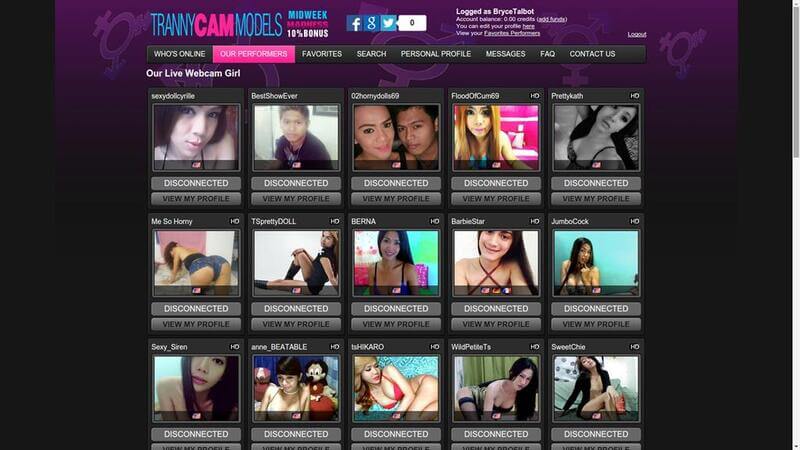 Customer service
I think this and the lack of extras are the only thing that lets this site down. There's only a contact box in the way of support. There is a live chat applet, but every time I tried it, no one responded.
Thumbs up and thumbs down
Thumbs up
✔ - A very reasonable price - less than one dollar a minute, when you factor in your discount
✔ - The models are very friendly and very polite, and nice to just chat to
✔ - Decent number of models
Thumbs down
✖ - Because of the low rates, most of the models are too keen to get you to go private
✖ - The support functions are not the best
My considered opinion
Well, as a Sex Cam Expert I can say this is one of the better sites for tranny lovers I have seen, although it needs to brush up on its extra features and support. The porno cams are okay if not brilliant, and the models themselves are certainly sexy enough and they are very polite, which is fine unless it's only filthy-mouthed, cum-guzzling whores who turn you on. If shemales are to your libido's liking, and you have a bit of a thing for Asian shemales, then I'm pretty sure both your libido and you will love TrannyCamModels.com.
Review of TrannyCamModels.com
- Reviewed by
sexcamexpert.com