Hookup.com is a Wild and Kinky Adult Dating Service
How have you all been behaving? I hope the answer involves the word "naughty" and if it doesn't, Hookup.com is the ideal site to remember the true meaning of the word. As the name suggests, this adult dating community is more of a fling portal than a romantic matchmaking service and while some people here certainly end up in short or even long term relationships, heaven forbids, mostly everyone is here for casual sexual adventures, which is of course, just the way I like it.
Are you ready to find out what I think about this website, as well as to hear all of the dull details such as prices, features and whatnots? If you're not, get ready because this Hookup.com reviews covers the works.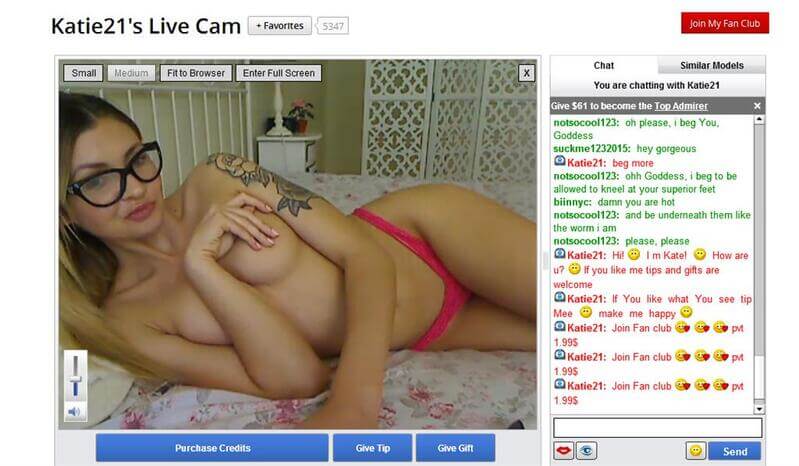 What do I think?
Hook up is designed like a sexy adult community and it shows. It has a cure, friendly ambiance and it's a bit messy, like any amateur site ought to be. Some profiles are extremely detailed and full of images, some are amusing, erotic and others feature close-up on genitals. I was tempted to click on many buttons here, so I took the free tour, which is a good idea if you want to check your options.
You can search through the online options on the home page by clicking on the links - Who's Online, New Matches, Members Near Me and VIPs, but don't go and think that these are your only options. This website is actually divided into two sections: The amateur members who full around for free, and the sexy camgirls that full around for cash. Where can you find these babes? At the top of the page under Live Action, and the member chat rooms are also there.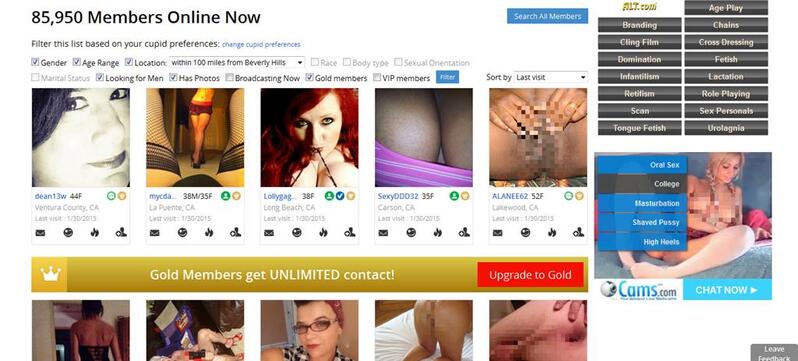 I have chatted with quite a few members, and a handful of models, you know, just doing my regular research for this Hookup.com review, but I was soon captivated by the nice, beautiful women that I ran into. Not all were stunning, of course the amateurs weren't – but they were pretty attractive and very open. I really felt like I was just having a nice, flirtatious conversation with a woman that was very clear about her sexuality. It was very entertaining and I think this site succeeds where other fail: In creating a genuine fling community where sex is on the table, but also just having fun.
Some little extras
Try the What's Hot link at the upper navigation menu and you'll see the site's cream of the crop – the hottest vids, pics, members – you name it. You can add members to your HotList, play the Tope Fan program where you big points to become a top fan and create or edit Blings, which are small icons that members use to feature their personality or mood. Members can communicate by various means – IMs, emails and of course live chat rooms and there is even a sex academy, adult movies, groups, blogs and contests.
Registration
Some adult dating sites make users feel in a lot of information while they sign up, but Hookup really only asks for some general information, an email and an intro sentence. There are many other boxes to fill in, but you can leave them out for later, although I highly recommend you add a physical description and photo – only when I added mine did I started to get messages from other members.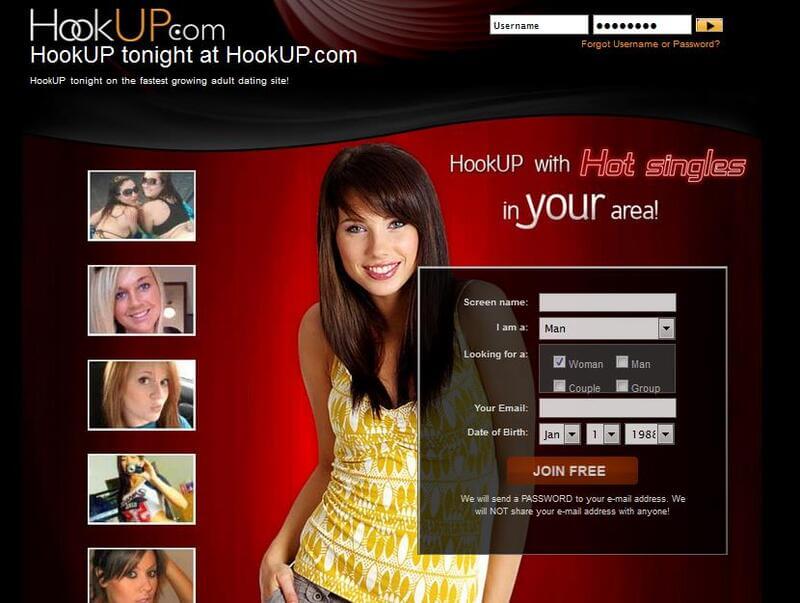 How to chat
You have a lot of options for chatting on Hookup. You can go to the member sex chats and see who's online – in your local area or wherever and watch them exhibit their lust and talents online. These amateur chats are less organized than the camgirls' sex shows. But they tend to be more intriguing and the women certainly enjoy being watched – it's clear from the loudness of their moans. Then there are also the camgirl chat rooms. They feature professional models that give professional live sex shows. In any event the chatting process is simple: Choose a sex chat room, click, watch and if you like the free chat, go private. Keep in mind that the camgirls here do get naked on free chats as well, as long as they're tipped.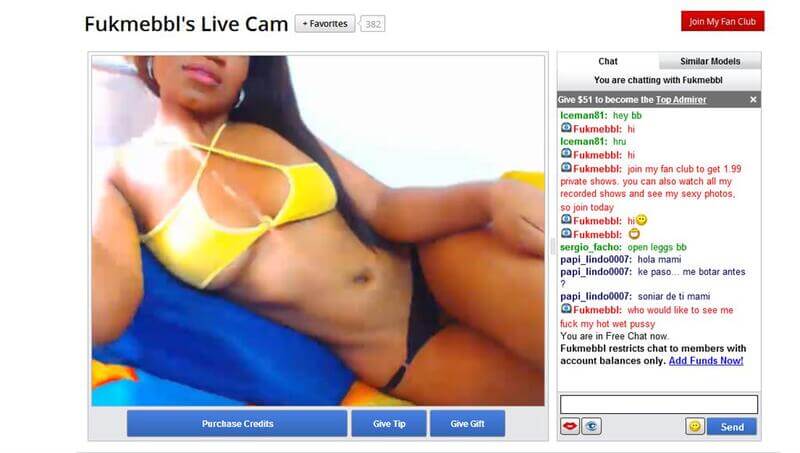 What's the video quality like?
The camgirl chat rooms are amazing – lots of HD and the best web cameras imaginable. The member chats range from okay to horrible – not necessarily because of the web cam quality (nowadays even the cheap webcams you get in stores are pretty good), but mainly because of lighting and angles. Amateurs – what can you do, right?
Money, money, money
Hookup.com has a free basic membership. Once you figure out that'll get you nowhere, upgrade to Gold: $29.95 per month, $59.80 for 4 months (the fourth one's a bonus) and $179.10 for 18 months (that includes 6 bonus months). As a new member you can sign up for 1 month of Gold for only $20 – totally worth it if you ask me, and of course you ask me, otherwise you wouldn't be here, reading my Hookup.com review. Access to one profile for a month costs $2.95, sex chats cost between $2 and $5 per minute, on average, and voyeur view is $2.95.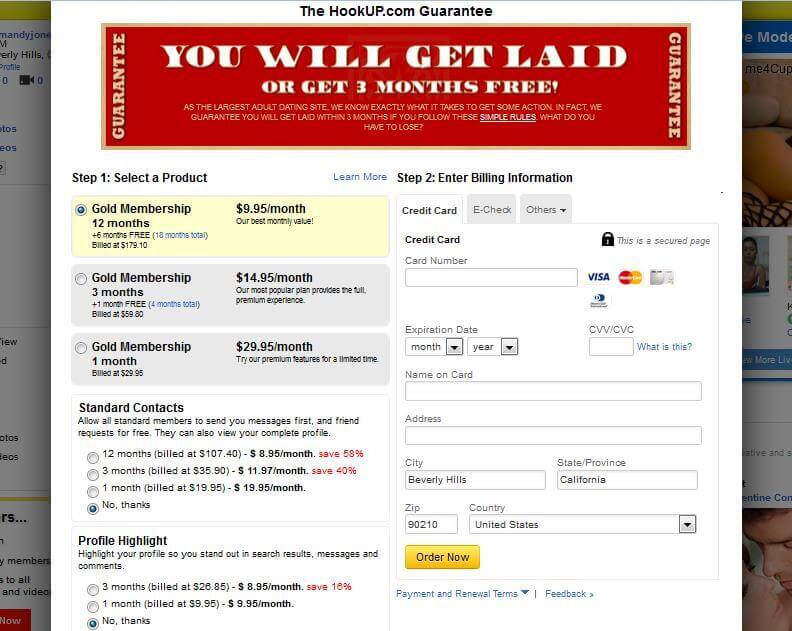 How to pay
Payment options include major credit cards such as Visa, MasterCard, Discover and Diners and a money order or an E-Check also works. Other payment methods include Ukash, phone and fax payments. Yep, you heard me – apparently people still use faxes.
The number of singles
You will find between 15,000 and 20,000singles on Hookup, but if you're looking for ones in your local area, the number obviously drops significantly. There are around 1000 members in live chats and about 4,000 live camgirls so you have plenty of babes to choose from.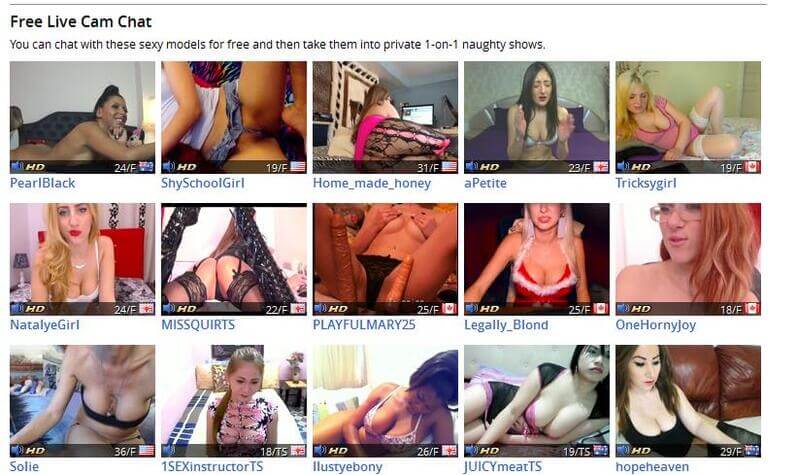 Customer service
Follow the Contact Us link at the right upper corner of the site to find the online Help form and there is also a mail address, if you prefer. You can also browse the very impressive FAQ page – it's one of the longest and most detailed ones that I have ever encountered.
Thumbs up and thumbs down
Thumbs up
✔- There are a lot of members on the live chat rooms
✔- There is free live sex chat and some of the models strip for tips
✔- There are a lot of funky social features
Thumbs down
✖- The site is packed with stuff and links and it's fairly easy to get lost
✖- You can't get anywhere without a monthly membership
✖- It seems like the site is more about webcam sex than actual hookups
My considered opinion
Hookup.com was nothing like I've expected, and that's a good thing. This adult dating community manages to stand out in a blur of sex dating sites that all look the same and it does so by offering users plenty of sexy social activities, competitions and adult entertainment. I am not sure if you manage to hook up on this site, but the people are real and there is plenty of amateur as well as professional webcam sex. Sign up for free, take the free tour and I believe you'll have a great time.
Review of Hookup.com
- Reviewed by
sexcamexpert.com