Fling.com is an Inviting Adult Dating Site
Welcome to my Fling.com review! I know I've been piling up those sexy sites on you lately, but here is one adult dating community that I think you'll be needing to clear your schedule for. Here you'll be able to enjoy a very nice choice of amateur singles as well as instant access to adult chat rooms where smoking hot camgirls will perform on command. This is not the most innovative website that I have ever seen, but it certainly focuses on what counts and it's difficult not to be dazzled by so many beautiful women that for some reason or other are open to sexual adventures in and out of live webcams.
I have done substantial research while writing this Fling.com review and I have plenty of interesting conclusions that I intend to share here with you. This is a fantastic opportunity for you to learn what this website offers, what kind of cash is involved and what types of memberships are available, as well as lots of other details that could help you decide if this is the right sex dating community for you. View the following information – I've collected it just for you.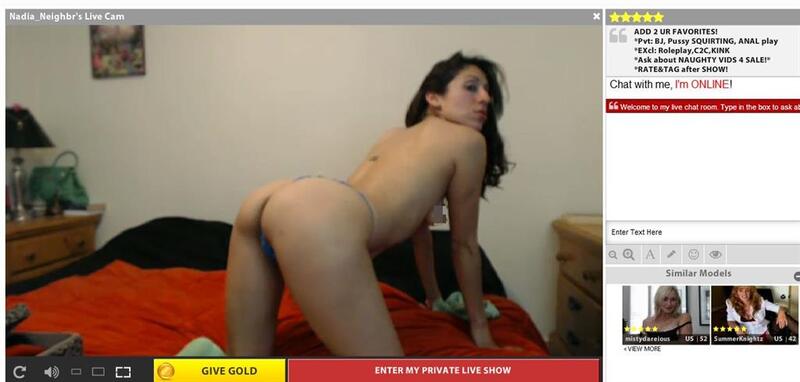 What do I think?
My first impression of Fling.com was a very positive one. I liked the design which I feel balances well amateur-style and a sexy "come hither" approach and it's not difficult to understand what you need to click on in order to see some tits. The site feels alive – stuff keeps changing, new pics keep appearing and there are plenty of different sections where your eyes wonder off to encounter nude babes in naughty poses. This actually looks like some kind of a social network, but I don't think that's what Zuckerberg had in mind when he first created Facebook – or maybe he did, if you ask me most male initiative began from sheer horniness.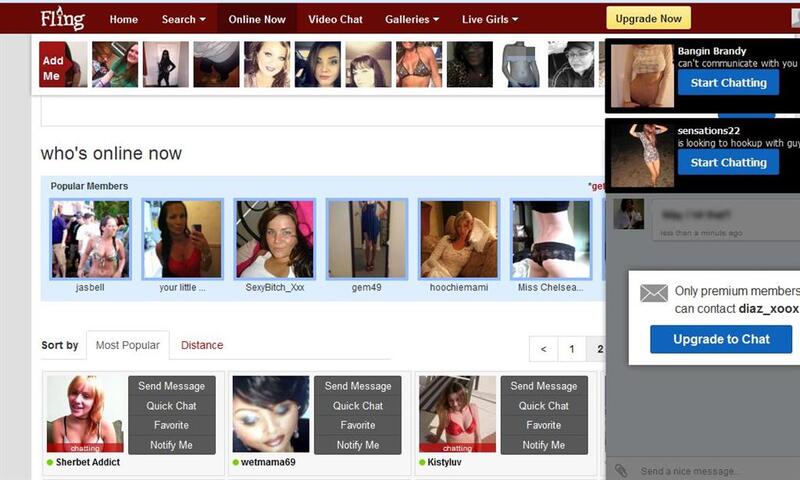 I've invested some time in making my profile pretty and the site certainly provides you with all the tools you need to do it. Remember that your profile is a very important piece of your success on adult dating sites and try and add some images and info that will appeal to other singles – or swingers or swappers, if you're into that. I've used the advanced search tool to find women in my area and was pleased to see I had plenty of appetizing results. The streaming quality on the chat rooms was satisfactory and while I was a bit confused when I saw that the Live Girls link threw me to a whole different website, I managed to figure out where everything was fairly quickly and started to communicate with other members. There were many online, so the only problem was deciding where to begin. As far as result go, I had high success-rates and by the end of the first two days have scheduled 3 or 4 actual dates and had many other potential ones.
Some little extras
In all honesty I expected my Fling.com review to include a long, elaborated list of features and tools, because you know, this site looks cutting-edge. I am not saying it's not, but there were a lot less features than what I've expected, and that was a bit disappointing. Some exclusive tools would have been great, but there were only ones you'd see on any other hookup service: Cams, messenger, IMs, flirts and user rating.
Registration
The first stage of signing up to Fling is very simple. You list your email, choose a nickname and password and you're all set. When you'll want to upgrade you will also need a credit card, but that comes later on.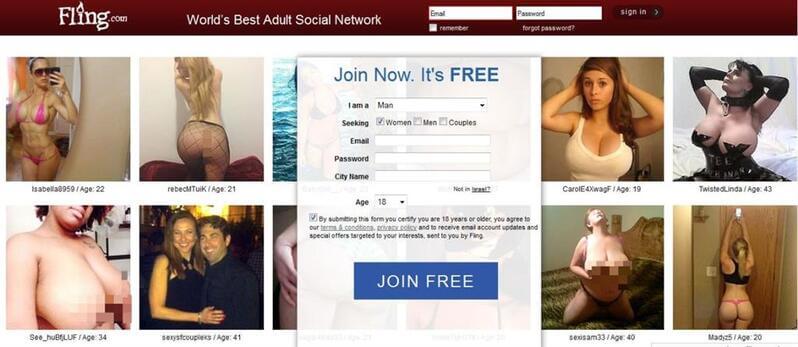 How to chat
When you decide it's time to chat, which is euphemism for having webcam sex of course, you have two options. You can decide to stay on the main Fling.com and chat with other members – there are always open rooms although on certain times you'll find more, and they use short descriptions to let you know what they're about. Not all are clear, but you may as well go in and take a look – you don't have to stay.
Your second option is to click on the upper link Live Girls, and go to the LiveFlingGirls arena where hot models chat and show off and do whatever it is that turns you on and gets you off. However, before you can chat with the models, you will need to sign up again as if you were on a different site – keep that in mind.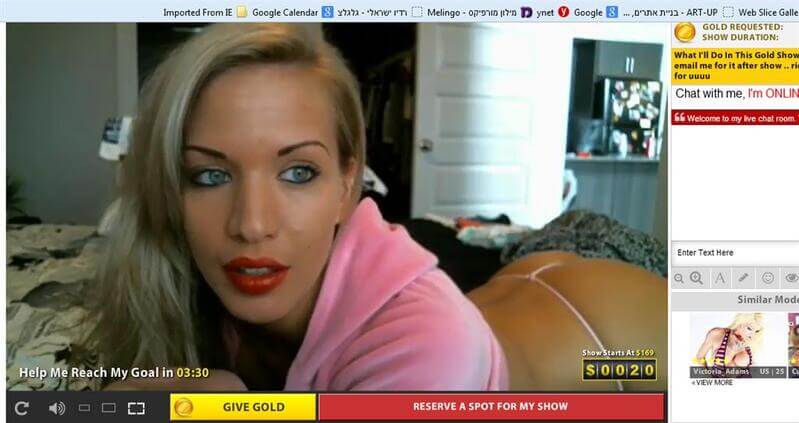 What's the video quality like?
The video chat quality is a bit inconsistent, although the average is still pretty good. Some folks have bought a half-decent web camera which ensures that their partners enjoy fantastic live sex chats and others… well… didn't. If you're free chatting, this doesn't matter much and in fact, some fuzziness can even contribute to the realistic feel of the chat. However, if you're paying per minute, I'd make sure in advance that the web camera looks okay. The site offers great streaming, so it's really up to every single performer.
Money, money, money
The basic membership on this website is totally free – you just feel in your details and email and you're an official member. However, in order to initiate communication with other members, to access their full profiles and basically to do anything that will improve your chances of hooking up, you will need to upgrade. Silver membership costs $24.95 and you can lower the monthly cost significantly by signing up for a full year – which costs a total of $99.95. 1 month of Gold membership is a bit expensive - $24.95, but the 18 months offer costs only $119.95 and you can also tae advantage of the 2 day trial for $1.
How to pay
The best way to pay on Fling, as is the case on most other adult webcam sites is with your credit card and the site welcomes most of the major ones such as Visa, MasterCard and Diners Club.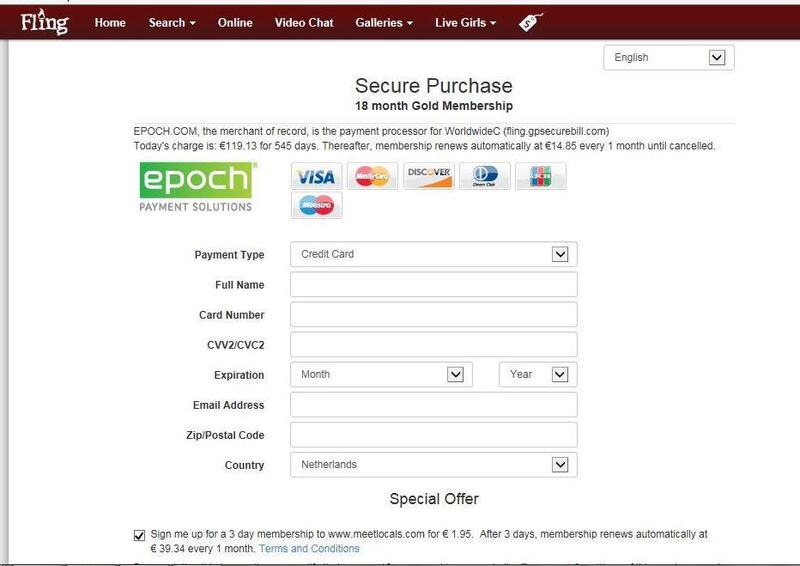 The number of Sexy Singles
Fling caters for millions of users and there are between a few dozens and a few thousands in different cities across the globe. If you're after webcam models, there were well over a thousand every time I've checked.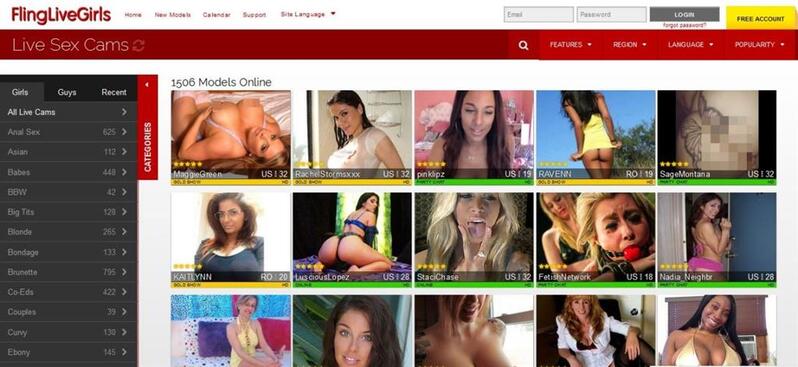 Customer service
When I was writing this Fling.com review I decided to test this site's customer service by sending them some questions and my experience was very positive. Click on the Help link at the bottom to find the customer support info and you'll be assisted quickly and efficiently.
Thumbs up and thumbs down
Thumbs up
✔- There are lots of pics and vids to keep you entertained
✔- It's easy to find a sex date
✔- There's no shortage of webcam sex
Thumbs down
✖- It takes some time to get the gist of this place
✖- There's a major confusion between the models and singles
✖- If you only want to sign up for a single month, price isn't exactly low
My considered opinion
If I was the kind of guy who is strictly into sex dates and just wants a site that would help me schedule a one night stand, then I don't know if I would be fully pleased with this particular sex dating arena. It has enough singles and cheaters, cuckolds and clearly, but webcam chats take as much center stage as hookups and there are a lot of distractions and activities that accede the standard "let's get together tonight" kind of attitude. However, if, like me, you enjoy the fun options online and are equally partial to webcam sex, then this could be the right place for you. Fling.com definitely has a lot on its plate. Go online and grab a bite.
Review of Fling.com
- Reviewed by
sexcamexpert.com